Food markets are one of my favourite places to visit. I love how there's so many different cuisines bundled into a small area. There seems to be a new one popping up every week at the moment and I always enjoy visiting them, be it in London or abroad (like the Time Out Market in Lisbon). Market Hall in Fulham opened back in May and we've visited a few times over the last couple of months.
Market Hall is located in the old entrance to Fulham Broadway underground station and they've done a great job of renovating it. They've kept old features such as the Ticket Office and signage of some of the shops which used to be located in the hall – it looks great and they've made it into a really cool space. It has a pretty buzzy vibe and usually has a good playlist playing too. It's a perfect chilled date night location.
There's such a range of food from pizza to ice cream, and Thai to BBQ. Here's a bit of a round-up of what we've had so far…
Yard Sale Pizza
Our first trip to Market Hall was a quick stop-in for a look around and a quick lunch. We chose to share a pizza between us (and yep, they do gluten-free bases!). This was one of the best GF pizzas I've ever had…usually the ones in restaurants seem a bit stodgy but this tasted a lot more like how I remember normal pizza tasting. I'm not sure how they cooked it, it tasted stone baked but I'm not sure about how they are for cross contamination – probs worth checking if you're highly intolerant or a celiac.
We went for the Evil Maestro – a tomato and mozzarella base topped with anchovies, caper berries and olives, it was SO good.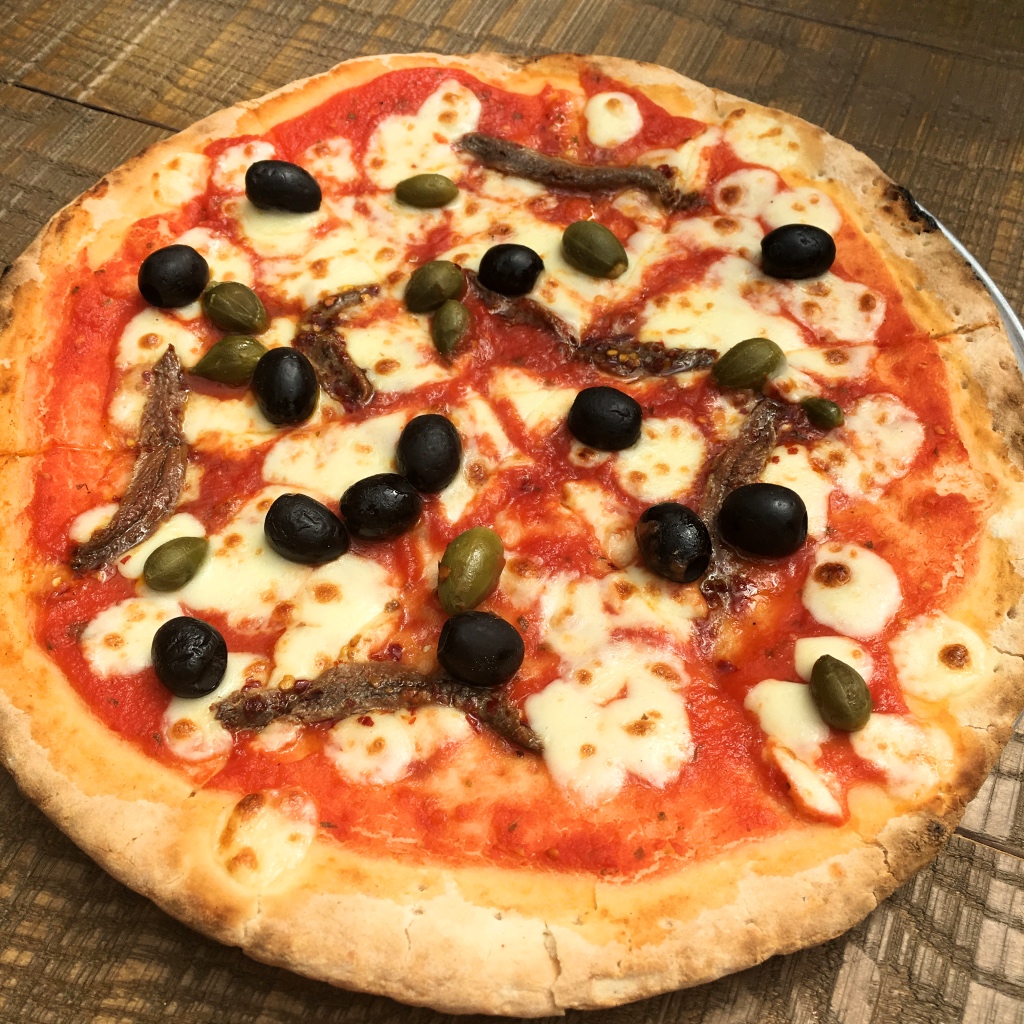 Thima by Farang
Thai food is always a winner, and this was no exception. Sadly, I didn't get any blog-worthy pics of our food from here but we had the most delicious sea bass. It was served with sour fruit and spices and was so tasty. Unlike anything that I'd usually order but it was definitely a good choice. Having just had a quick look on the menu, I can't see it on there anymore but hopefully they'll bring it back! They were also really accommodating for gluten-free and when I mentioned my intolerance they were able to grill the sea bass for me, rather than fry it like they usually would.
Hot Box
Hot Box brings BBQ to Market Hall. They have a pretty large menu, but we opted for the Brisket Poutine to share. When we went, we were trying quite a few things from different vendors otherwise we would definitely have ordered more! Due to cross contamination the Poutine isn't suitable for those with severe intolerance to gluten, but they were also really clued up on what I could/couldn't eat. As you can see from the pic, the Poutine was stacked high on the plate. This is meant to be a side but it's massive! It was so tasty. The beef was really tender and there was just the right amount of chilli and spice.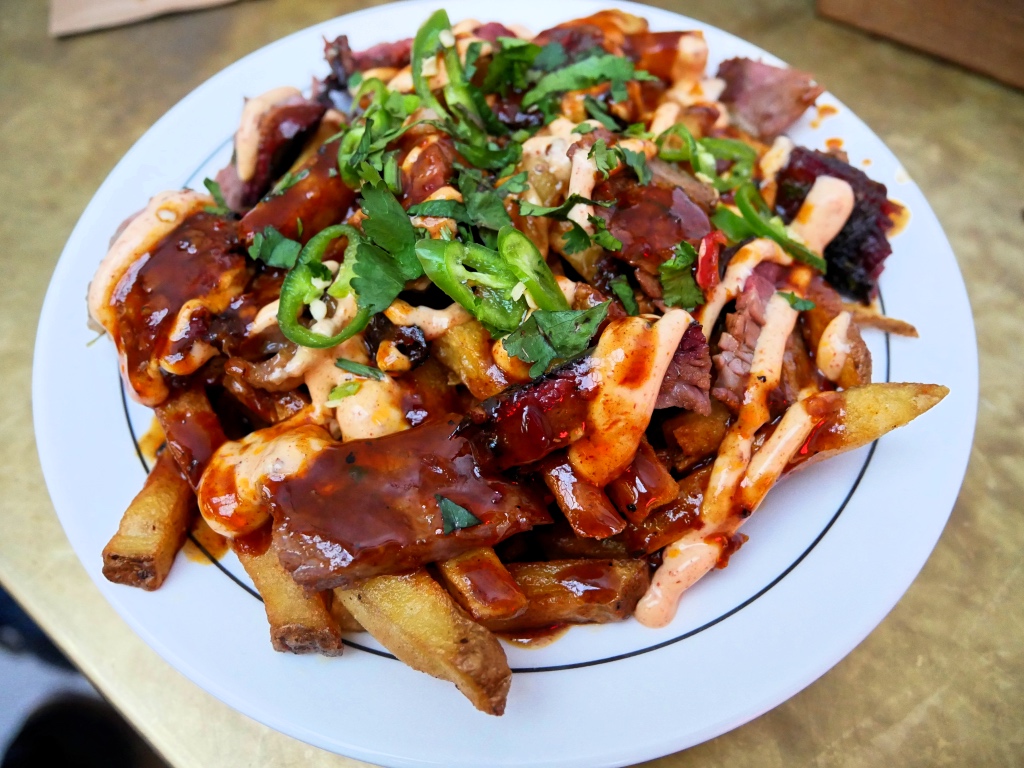 Calcutta Canteen
I've ordered from Calcutta Canteen on a couple of occasions and it never disappoints. There are a lot of gluten-free options here, a lot of which are naturally gluten-free. On my first visit, I ordered the Bihari Phulki – small fried lentil fritters which came served with a green chilli chutney and a Tamarind chutney. The portion was quite large and I would recommend getting them to share. The chutneys compliment them really well, the green chilli one was my favourite.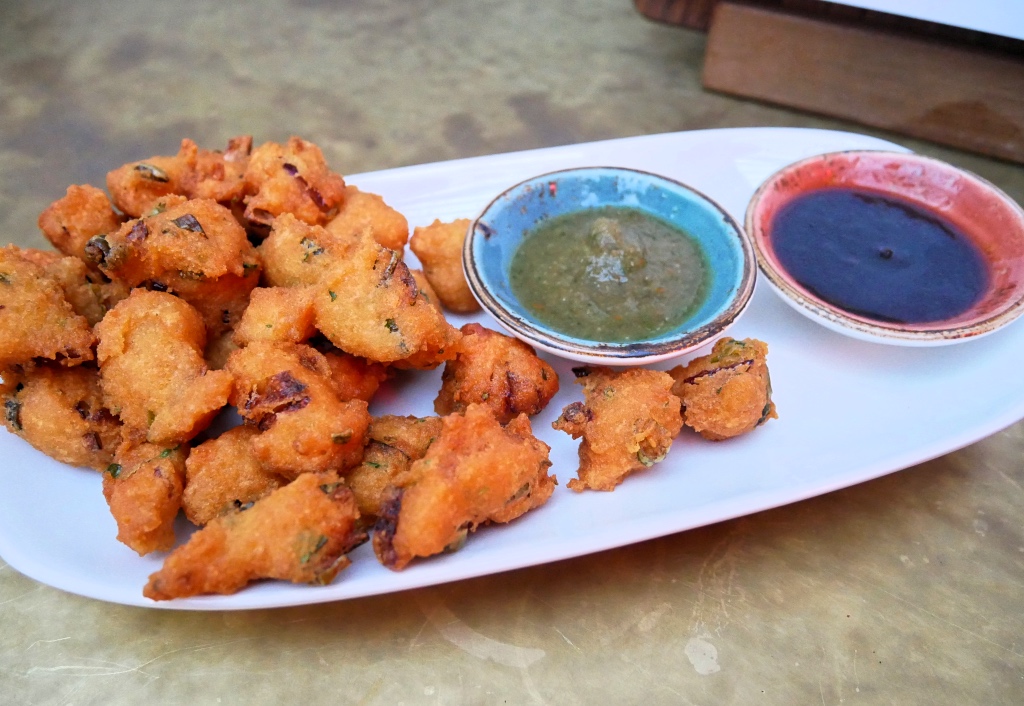 On my next visit, I had to get the Tangra Garlic Chilli Prawn. At £8, these are slightly on the pricey side, but I had seen them featured a lot on Instagram and they looked delicious. These did not disappoint. The prawns were large and tasty by themselves. But then when you added in the spicy flavours that they were infused with, these were next level. Genuinely one of the best things I've eaten. I'll have another few plates now, please and thank you!
To go alongside the prawns, I opted for the Lamb Thali. Served on a segmented metal tray, the lamb curry came served with rice, dal, tomato chutney and pappadoms. This made for a great main meal. The selection on the tray made it a really interesting and varied, and it was pretty filling too. If I had two comments, it would be that the portion of dal could have been bigger (I enjoyed it, but wanted more!) and the lamb curry could have done with a tad more spice. Overall though, I would definitely recommend.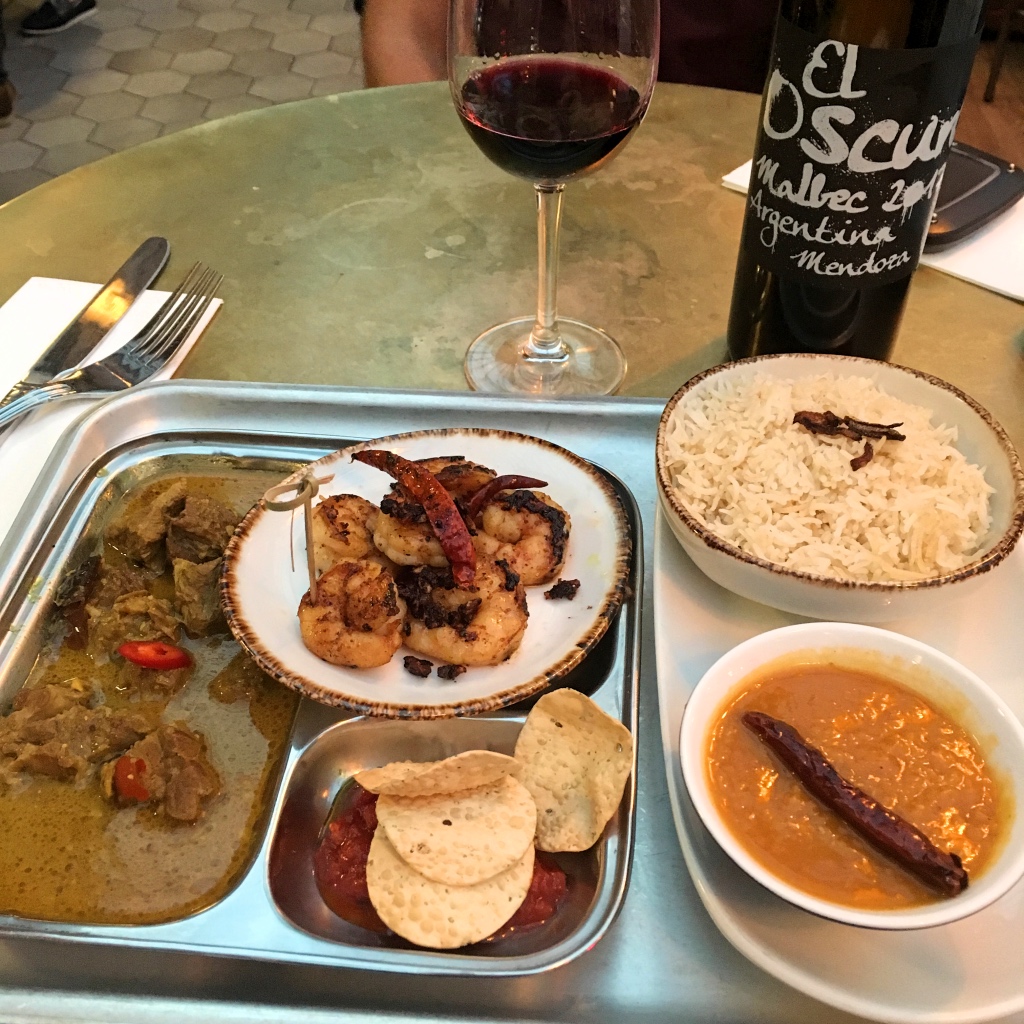 There are still a number of vendors that I'm yet to visit including Fanny's Kebab, Ahi Poke and the Soft Serve Society…watch this space!