Bottomless brunches (or any type of meal TBH) are one of my new favourite things. This year, myself and the boy decided that we would start to work our way through some of them. Yes, I know, it's a hard life. So far, we've ticked off; Sunday Feast at The Ned; Infinity Sunday at Pix; Electro Brunch at Gaucho, and we've just added The B 'N T Afternoon Tea at Le Méridien Piccadilly to the mix.
The B 'N T is a new afternoon tea concept, based in the Terrace Grill and Bar at Le Méridien Piccadilly hotel. It combines the best of brunch, the best of afternoon tea, and bottomless sparkling wine. Genuinely, what is there not to like about that combination?!
We booked a table on what happened to be like the nicest bank holiday Sunday ever, and I'm not going to lie, I'm surprised that it wasn't busier. There was only us and about 5 other tables in there…maybe the weather played a part. We chose to sit inside to benefit from the air con, but there is a small terrace where you can also go to eat outside.
From the offset we were impressed with the level of service. As soon as we were seated and had our drinks preference confirmed, we never had empty glasses. The waiting staff were extremely friendly, professional, attentive and made sure that you never had to wait for a drink.
It didn't take long, and before we knew it, we were being presented with two great towers of afternoon tea. One gluten free, and the other gluten full! I was super excited to see that they had tried where possible to make the gluten free version as close to the gluten full one as they could. From the bottom, here's what we had: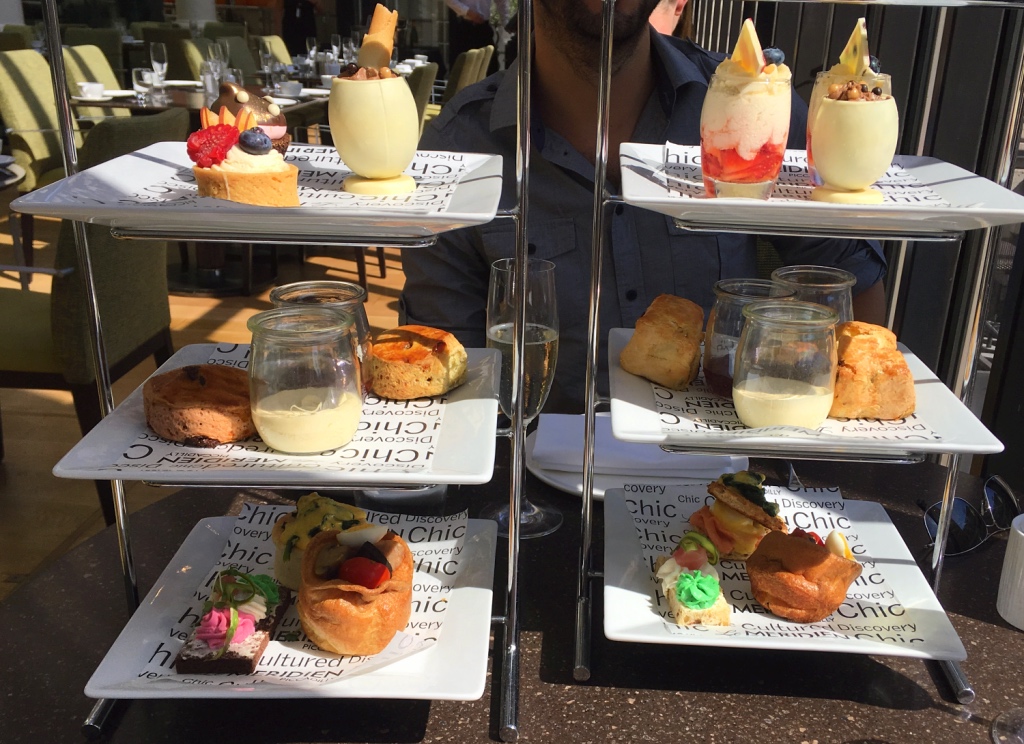 Left (gluten version): A Yorkshire Pudding basket filled with a full English, Duo of Rosary – Rosary ash and asparagus on charcoal bread, Eggs Piccadilly – a miniature Eggs Royale. Red pepper scone and a chocolate scone with clotted cream and jam. White chocolate egg, filled with a mango coulis and chocolate mousse with a tuille for dipping, a chocolate brownie with a beetroot marshmallow and a miniature fruit tart.
Right (gluten free version): A Yorkshire Pudding basket filled with a quail's egg, tomato, mushroom, bacon and beans, Duo of Rosary – Rosary ash and asparagus on gluten free bread, Eggs Piccadilly – a miniature Eggs Royale on gluten free bread. Two raisin scones with clotted cream and jam. Two White chocolate eggs, filled with a mango coulis and chocolate mousse and two Eton Mess.
The gluten free Yorkshire was probably the best I've ever tasted. Scrap that, it was definitely the best. The ones in the Sainsbury's gluten free range had nothing on this! The scones weren't crumbly, which makes a change bearing in mind that a majority of GF bread products usually disentegrate into a pile of crumbs as soon as you touch them. This meant that they were the perfect consistency for layering up the jam and cream (jam first, obvs).
By the time we got to the top level, we were starting to struggle. Afternoon tea is always so deceptively filling! But, I was not about to skip dessert. That would just be criminal. The chocolate filled eggs were delicious – the mousse was light and the mango coulis cut through it, making it not too sickly. The Eton Mess style dessert was also light, with the strawberry element breaking up the cream and stopping it from being too heavy as a finisher.
Overall, I would definitely recommend a visit. We're already planning on taking the mothers here if they're ever in town. The service was great, as was the food. And I loved how attentive they were to dietary requirements. When we went, they had a special offer on. That's now finished but it's still only £45 which is on par with a number of other bottomless brunches and for the quality that you receive, it's well worth it.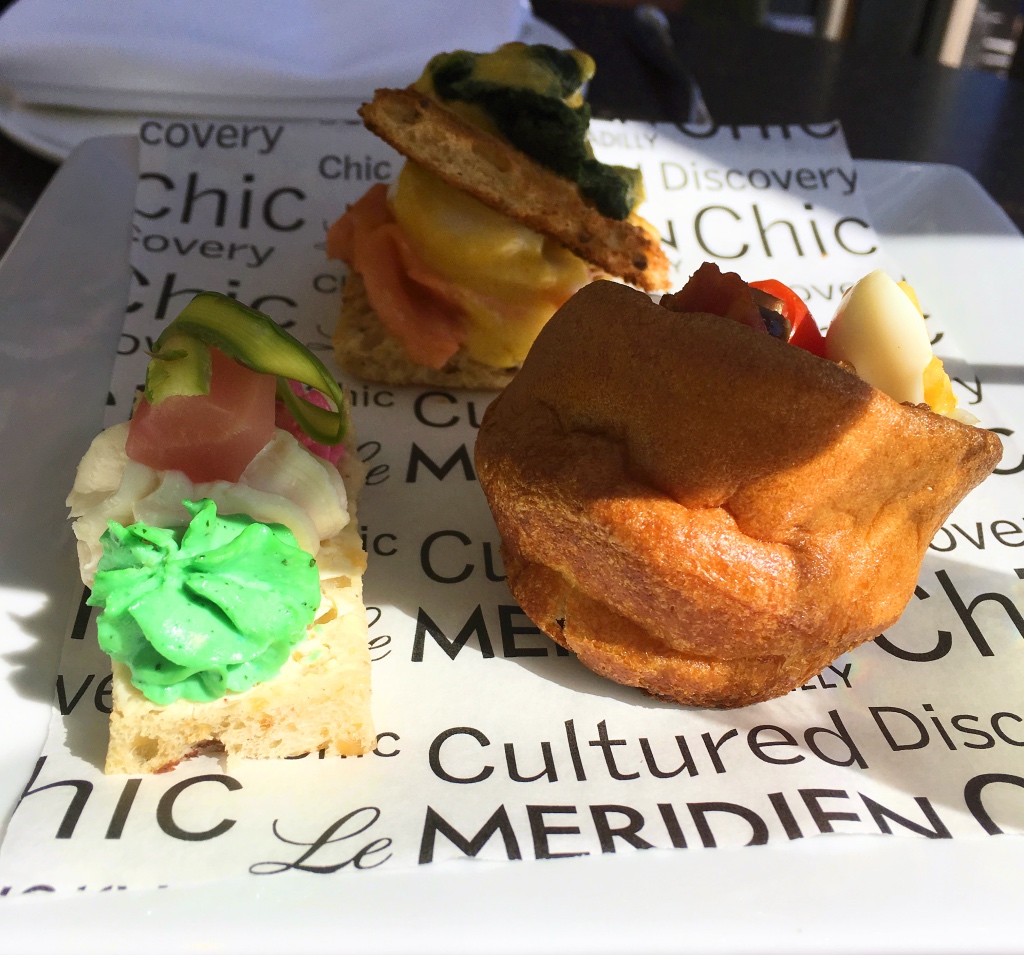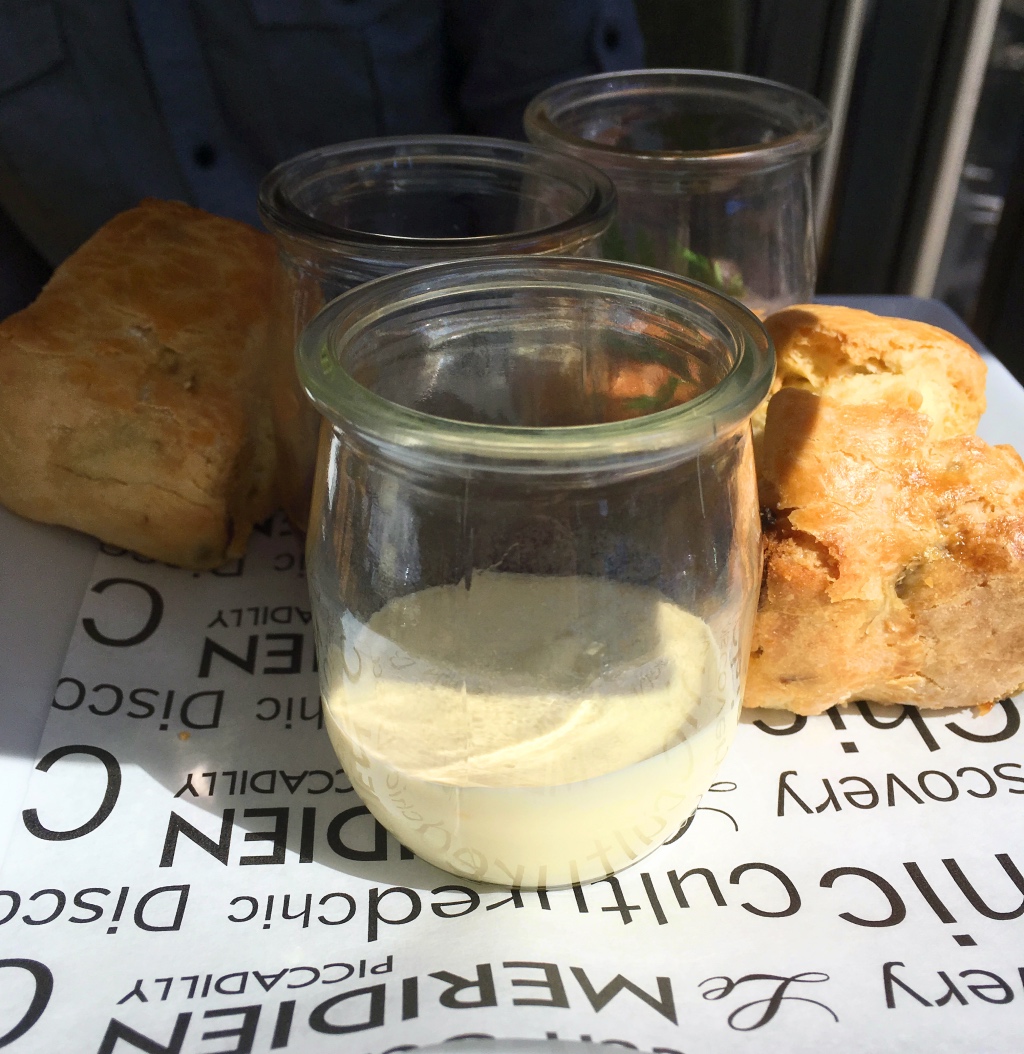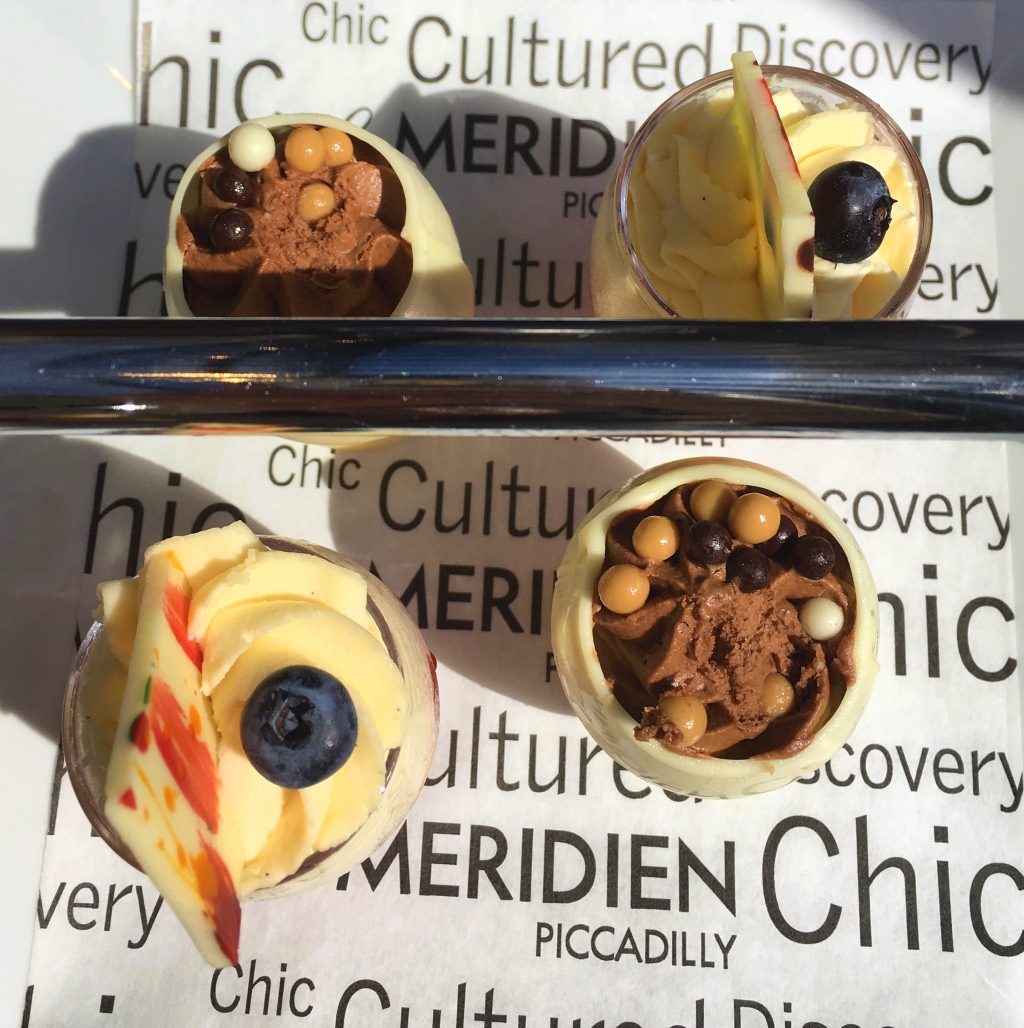 Have you been, or got any other recommendations on where we should try next?
Sammy x