Where do I even start with this place?! Since discovering it about six months ago, it's safe to say that we are hooked. I'm ashamed to say that we lived around the corner from Thaiphoon on Wandsworth Bridge Road for 3 years before discovering it, but since we have, we haven't turned back. It's a cute little Thai restaurant, offering both in-restaurant eating and a takeaway.
The menu is fairly extensive and they have a great gluten-free selection too – all clearly marked. We have been here so many times, so I'm going to mainly talk about our latest trip in this post. But take it on good authority that ALL of the curries are super tasty!
On the latest visit, I had the Thaiphoon Fishcakes to start. These are a fave of mine. A mixture of fish, moulded into small round patties and deep-fried. These are served on a small salad and topped with a sweet chilli sauce with peanuts. The fish cakes are the perfect starter. They're packed with flavour and are really complimented by the sauce and peanuts. The boy always opts for spring rolls – either duck or vegetable and always loves both options. Obviously for the table we also got some spicy prawn crackers – that's always a no brainer.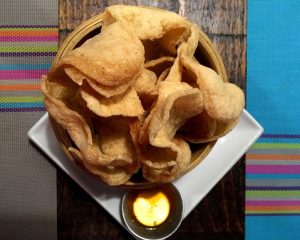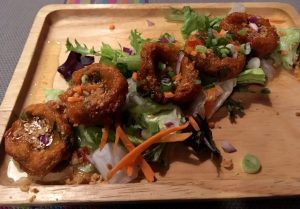 Moving on to the mains, I opted for the Lamb Shank Massaman with a side of Thai sticky rice. The lamb shank was absolutely melt in the mouth. The meat fell off the bone and into a rich, sweet sauce. The piece of lamb was really big but luckily the curry didn't have many vegetables – just some potatoes, onions and pineapple, so the portion wasn't too bad….and let's be honest, it tasted so good that I'd have eaten it all anyway.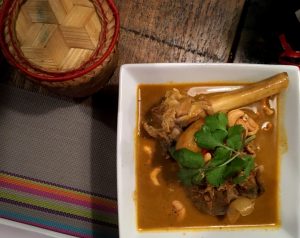 The boy went for the Hangover Remedy with Beef – fried Udon noodles with lots of veg and lots of spice. This is a firm favourite of his, so he knew to go for medium spice rather than full-on spice. Full-on spice is saved for the days when the hangover is particularly bad….today, there wasn't one in sight! He loves this dish as it's so flavour-some and really packs a punch…on this visit, it didn't disappoint.
Whenever we go to Thaiphoon, we're always way to full to try dessert, but if the rest of the food is any indication, then I can't imagine there being anything bad on the menu.
Final thing to mention about this absolute gem is the service. They're always so friendly and attentive, the food comes quickly and is always top-notch. It's worth mentioning that the takeaway is always well packed too….no one wants curry sauce leaking all over the bag! Thaiphoon always seems to be busy, and it's no surprise – it's a great local restaurant and one I'd highly recommend.
Thanks for reading!
Sammy x