When a new wine bar pops up in the area, it's always something to get excited about…and this one has a very handy location, on the corner of Wandsworth Bridge Road and New Kings Road. This bar bills itself as a pop-up. and so we were keen to give it a go as soon as possible. Oh, and also because they said that they did cheese and meat boards and wine. So you know, all that you need in a date night, right?!
Whilst Petite Terre  claims to be a pop-up, we were told that they were going to have the license for a year, with the option to extend, so fingers crossed that it will be around for a while longer!
On Thursday, we decided to pop in for a drink to try it out. The decor is pretty chic – a bit shabby chic in places and not so much elsewhere, but it all worked well together and I can imagine it being super cosy to visit in the winter. We opted for a bottle of Merlot and decided to try their meat selection.
The wine its self is a little bit more pricy than your average bar. Our Merlot was £32 a bottle, and the cheapest is £24. That said, the service was extremely good – very friendly and attentive. Truth be told, I was a little bit surprised that they didn't ask if we wanted to try the wine, neither did they sniff the cork to see if the wine was corked, but that may be me being a bit picky. God, on reading that back, I sound like a complete wine snob….soz. I'm not….I am very good at drinking wine, but I just don't know anything about it. And with that in mind, I can say that the wine was very nice – and very easy to drink…but that's all I'm going to say on the Merlot!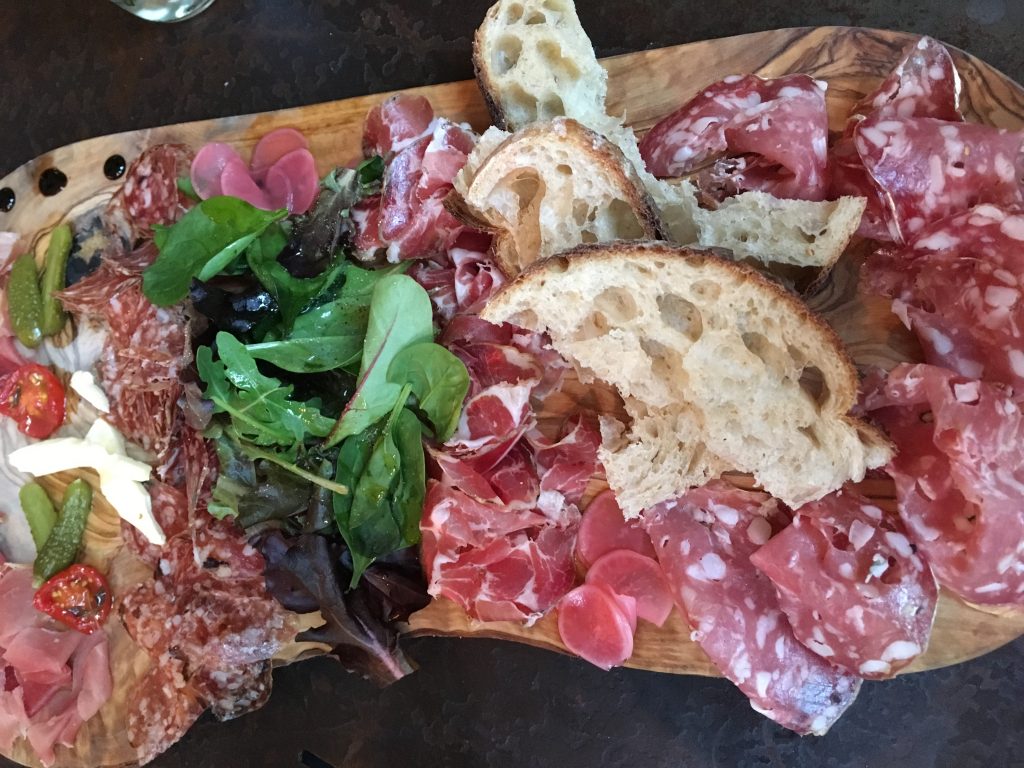 Moving on to the meat board, this was amazing. Look at the photo – there is nothing bad to be said about it. They have a fantastic selection of cured meats and cheeses. For £13, this is excellent value – as you can see, you get a good quantity and it was super tasty.
I'm not going to lie, we may have had more than one bottle…and definitely more red wine than is sensible for a Thursday, but y'know, YOLO. If you're in the area, I'd definitely recommend a trip to Petite Terre – good food, nice surroundings, good service and even better wine. There isn't really anything else that you need from a bar, is there?
Sammy x