I tell you what, finding a new brunch place is for me, the equivalent of finding £20 down the back of the sofa. It's so great when you find a new local brunch place, and you know that your weekend brunch routine has just upped the ante. So, luckily, this is how me and the boy felt when we visited Local Hero on Fulham Road over the weekend. I'd seen some pics of the food on Insta and so we headed down to try it out.
Luckily for us, Sunday was a lovely day, so we grabbed a table in the little garden out the back. Straight away, both myself and the boy commented that the cafe was bigger than anticipated. The garden has fairy lights and the ability to pull a cover all of the way over, so I can imagine that this place is lovely and cosy in the evening.
We'd been planning to go for a walk that afternoon, so it was time to fuel up. First thing for me to note is that there is a good number of GF items on the menu, including GF bread – so already I was in heaven! I opted for the courgette fritters with rocket, halloumi, pesto, guac and red pepper. They also gave you the option to add bacon…..well let's be honest, that's a no brainer! The boy went for a full English. Drinks wise, we both opted for an apple juice and coffees.
You order at the bar, which is absolutely no issue, but what I did find disappointing was that the boy came back carrying two bottles of apple juice, as opposed to freshly squeezed/pressed apple juice. Not long after we ordered, the coffees came over – it was nice coffee, full of flavour and good quality.
Now, on to the really good bit – the food. I was slightly taken aback by the tower in front of me – but after snapping a few pics, I was ready to tuck in. The whole plate worked really well together. There's a risk that the fritters could end up being a bit dry, but the guac sorted that out. The bacon and halloumi made the dish fill a bit more decadent and naughty – exactly what you want from brunch!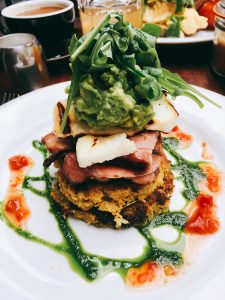 The boy said that his full English was good. The sausages were of high meat quality and flavoursome. I didn't try any, but the scrambled egg looked amazing – more like folded eggs than scrambled. Trying to get a review out of him has proved tricky…..all I kept getting was, 'it was good, really tasty'. Like thanks, super helpful for when you're trying to write a review!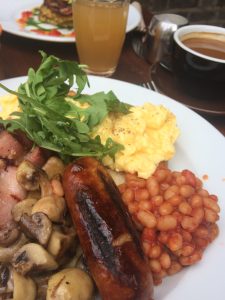 Anyhow, I'm excited to get back and try out more of the menu – especially their Eggs Benedict – LOVE them! If you're ever in the area, I whole heartedly recommend this place. I would also love to try it for lunch, the salad bar by the till when you walk in has a great looking selection.
Have you tried it out? What's your favourite dish?
Sammy x