Before heading off to Vienna, I did the usual Google to see what places I could hit up in Vienna to get some gluten-free meals. I can tell you now, I shouldn't have worried! Austria has the best system that I've come across so far for marking up food and allergens. They have a standardised letter system, and in a large number of restaurants, these letters are found next to the food items on menus. For gluten containing food, they use the letter 'A', all you have to do is steer clear of foods marked with this. Super easy! So, with that in mind, here's my run-down of some good places to visit, where you can have some typical Viennese food…
BlueOrange
Did you know that the bagel is apparently of Austrian origin? According to Google, an Austrian baker made it for a Polish king back in 1683 (bet you weren't expecting a history lesson in this, were you?!). Anyway, BlueOrange is a little cafe, set slightly back off the beaten track. They have a couple of cafes, and we went to the one on Margaretenstraße 9. They have an extensive menu, including a number of breakfast items and of course, bagels. Sadly, the entire range of bagels isn't gluten-free, just the ones with a red G (not an A) next to them. I opted for the Italien – cream cheese, pesto, mozzarella, tomato and rocket. It came out slightly toasted, and the flavours were nice and refreshing. The boy opted for a meat bagel, which sadly wasn't gluten-free. He must have liked it as he keeps asking me to see if I can remake it at home! To be completely honest, one wasn't enough to fill me up, but as we had the prospect of cake to look forward to, we held out at just one each.
Cafe Korb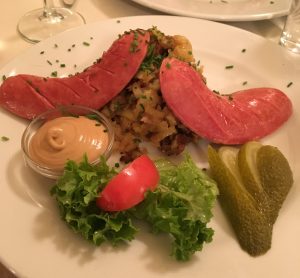 On the Saturday night, we were looking for somewhere to go for dinner, and oddly, all of the restaurants were either super pricy or super empty. Being on a bit of a budget, but not wanting to go to somewhere that was a ghost town, we settled down in a bar for a drink. After a quick look on TripAdvisor, we saw that Cafe Korb was right next to us. The reviews rated this place highly, so we decided to check it out. Interior-wise, it is pretty dated, but it helps to add to the charm. The nice thing about it was that everyone in there was Austrian, so we really felt that we were on to a hidden gem. Sadly, there wasn't too much gluten-free food on the menu, but I did spy one thing that took my fancy – Knackwurst. The dish comprised of an Austrian sausage, potato rosti, a gherkin and mustard. I'll agree with you now – in writing, it doesn't sound great but it tasted awesome! It was nice to have something that felt like proper Austrian food. The sausage had a strong, slightly garlicky flavour but this was offset nice with the rosti. Plus, this is where we discovered our new favourite drink – the Kaiserspritzer. A Kaiserspritzer is white wine, soda water and elderflower – and it's hands down the most refreshing drink I think I've ever had. There will be a lot of these consumed in our household this summer!
Konditorei Oberlaa
Before heading to Vienna, everyone told me that cake and coffee was a BIG thing in Vienna. Luckily, thanks to the good old interweb, I was able to hear about this place – Konditorei Oberlaa. It's a small chain of tea rooms which just so happen to do GF cakes. And an extremely good selection at that! There's quite a few dotted around the city and one is just around the corner from Stephansplatz. We popped in there for breakfast (because cake for breakfast is always acceptable!) The counter when you walk in is the best welcome into a place ever! Lots of beautiful looking cakes, with the GF and dairy free cakes clearly marked. We settled down at a table and opted for a couple of coffees and two slices of GF cakes, the Esterhazy Cake and the Schoko-Mousse Torte. Not much more to say really, as I think the picture speaks for its self, but the cakes were super yummy, melt-in-your-mouth and made the most perfect breakfast. A definite must-have!
Cafe Griensteidl
We ended up going here by sheer luck really. We had been wondering for a while, trying to find a traditional Viennese restaurant to go to for our last meal and after what felt like eternity, we found this place – Cafe Griensteidl. Situated just across the road from St. Michael's Gate at the Hofburg Palace, this place is a bit of a tourist trap but luckily we were able to get a table very quickly. The menu didn't have a huge choice for GF eaters, but I opted for something that seemed like nothing we'd get back home – boiled beef, root vegetables, potato rosti and apple horseradish. Granted, the picture doesn't look very appetising but it tasted amazing. The beef was super succulent and literally fell to pieces. The vegetables and potato rosti complimented the beef by not overwhelming the dish and the apple horseradish was a revelation! Not too strong, it pulled the whole dish together. It's worth noting that the service was also fantastic and if you order a glass of wine, you get a cute little jug of wine to pour into your glass. So it's a winner all round really.
So there you have it, a few GF food recommendations for Vienna. Have you tried any of these, what did you think?
Sammy x