This is THE ultimate comfort food! And the great news is that if you're trying to be healthy, you can just remove the cheese topping and then you're on to a clean eating winner! I first had this meal at a restaurant about 10 years ago. They've since taken it off the menu, but it's a firm favourite in my cooking repertoire.
It's also a complete hit with the boy, which is even better. With autumn now well and truly here, this will definitely warm up those cold evenings.
Ingredients (serves 4)
400g of beef mince
1 x tin of chopped tomatoes
1 x onion
1 x clove of garlic
1 x red pepper
1 x can of kidney beans
1 x beef stock cube
4 or 5 large sweet potatoes
4 x slices of Mexicana cheese or cheddar
Paprika, smoked paprika, chilli powder, salt and pepper for seasoning to taste
Coconut oil to cook with
Method
Start by prepping the veg. Chop the onion into small pieces. Cut the pepper in to bitesize chunks. Peel the sweet potatoes and cut in to small-ish pieces.
Put the sweet potato into a  saucepan and cover with boiling water. Leave to boil over a medium heat.
In a large frying pan over a medium-low heat, heat the coconut oil and fry the onion until it starts to go transparent. Try not to let it brown.
After about 5 mins, add in the beef mince. Stir this in with the onion and break it all up. Continue to cook until the mince has browned.
Crush the clove of garlic in to the onion and mince, and add in the red pepper. Continue to fry for about another 5 minutes.
Add in the seasoning. I like to add in a good amount of the different seasonings, so that it becomes flavourful and a little bit spicy. Also add in the beef stock cube.
After stirring, add in the chopped tomatoes and kidney beans, and stir again.
Turn down the heat and leave it to simmer.
You can leave the chilli to simmer until the sweet potatoes are soft enough for mashing.
Once softened, drain the sweet potato and put it back in the saucepan. Mash until it has a smooth consistency. Sweet potato is much easier to mash than normal potato, and so you should find that it doesn't need any milk or butter.
Take the chilli off the heat and pour it in to a large ovenproof dish. Flatten out so that it covers the entire bottom of the dish.
Spoon the mash on top and flatten so that it's all covered. According to the boy, it's imperative that you then drag a fork across the mash to make a nice pattern.
If using cheese, put the cheese on top of the mash.
Place the dish in to an oven, pre-heated to 180 degrees. Leave to cook for about 15 minutes, or until the cheese has all melted and is starting to bubble.
Enjoy the happy food coma that this will undoubtedly put you in!
You can easily eat this dish on it's own, or you can serve with a side of greens.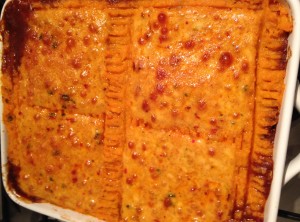 Sammy x