Back in November, myself and the boy decided to take a mini-break to Prague. Before going, a number of people had asked me whether I was going there on a hen-do, and this did make me slightly concerned about what we were getting ourselves in to, but it was all booked, so there was no choice but to go ahead! And I'm so glad that we did!
To be completely honest, we didn't really know too much about Prague, but we had found a good deal on flights and on a centrally based hotel and so decided to just go for it. We went for 4 days and spent the entire time sight-seeing, walking, and generally taking in the vibe of the city. Despite going in November, it was actually warmer there than here in the UK, which meant it was great weather for exploring. Here are my top tips on where to visit…
Take a night-time Jazz Boat tour
Boats and jazz seem to be two key attractions in Prague. The boy and I found this out through doing some TripAdvisor research before heading out there and so decided to book ourselves on to a dinner time Jazz Boat tour. This was genuinely one of the best things that we did! The boat takes one of two routes up the river, and we saw some beautiful lit up sights. We chose to do this on the first night, as we thought it would give us a really good insight into the city, we were completely right. The jazz band that we had on board were really good, and provided a great backing track to the evening. The 3 course meal that we had was really tasty, and they catered well for my gluten-free self. The main thing to mention here is the value for money. A 3 course meal and a 2 hour boat tour cost just £31 each…definitely can't argue with that!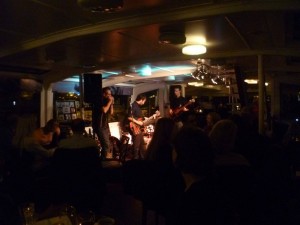 Climb to the top of the hill with the Petrin Tower
There's a number of hills that surround Prague, and on top of one of them behind the Old Quarter, is the Petrin Tower. This tower was built as a mini-version of the Eiffel Tower. It sits at the top of a rather high hill, and is quite a trek. We actually didn't bother to go to the top of the Petrin Tower, instead we walked a little bit down the hill until we got to a place called the Restaurace Nebozizek. Here, they had a number of outside tables and the most amazing views. We settled down to reward ourselves with a couple of glasses of hot wine and admire the beautiful views of the city.
Have a gluten-free traditional Czech meal at the Švejk Restaurant U Karla
When I visit another country, I love to try the local cuisine. Czech food tends to be rather stodgy and gluten heavy. Before visiting I did a bit of research and this restaurant was recommended by a number of other bloggers for serving classic Czech food, but without the gluten – win! The restaurant was actually pretty empty when we showed up, and to be honest, if we hadn't hunted it out specifically I doubt we would have gone in. The service was a little bit cold, and they did bring over the wrong starter for me, but that aside, the food was good! I had a local Czech cheese with relishes and GF bread to start, followed by goulash with dumplings. The goulash and dumplings was delicious! Warm, filling, well seasoned. All very good! The boy had a rather large steak tartare to start, followed by the biggest piece of goose I have ever seen! He was equally as complimentary about his food, but we both agreed that the portion sizes were far too large!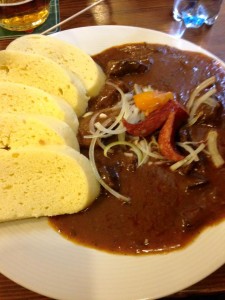 Take a stroll across the Charles Bridge
The Charles Bridge is a proper tourist attraction, but one not to be missed. It links two of the quarters together, and provides beautiful views of the city. These views are interspersed with large religious sculptures, all in a rather Gothic style.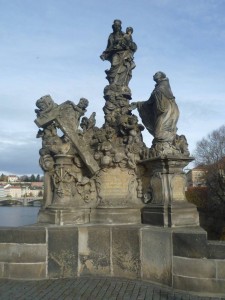 Visit the Astronomical Clock
Another tourist trap, but worth the trip to see it. It's situated in the main square, and is a real spectacle. The crowds all gather round a good 15 minutes in advance to see the clock whir into action on the hour. It's hard to describe, but you want to be at the front to get a good view.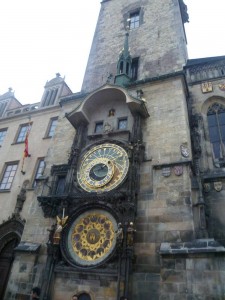 Have a drink at the rooftop bar at the U Prince
This hotel bar is situated in the Old Town Square, and has fabulous views. We visited the bar on our final evening, before our flight. We watched the sun set over the city, watched the buildings all light up, and sipped on some delicious wine. A perfect way to end a lovely trip to Prague!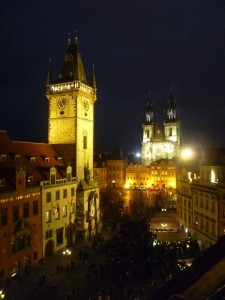 All in all, Prague was a great getaway. We walked so far, ate some delicious food, drank lots of wine and didn't actually spend that much money. We went on a Monday to a Thursday and didn't see a single hen or stag party. Had we been there at the weekend, then it may have been slightly different, but we didn't see any of that side of the city. It's a great romantic place, and we loved all of it.
Sammy x