The boy and I were looking for somewhere to go for a good Sunday lunch and decided to try a new local haunt – The Lucky Pig. We haven't been out for a roast for ages and so thought we'd mix things up by doing that and going somewhere new.
The Lucky Pig is new in Fulham. It opened back in May and has an already established sister bar in Fitzrovia. From looking on the site, it looks pretty damn snazzy. Upmarket, but without the associated price tag. Perfect.
One thing I have found since going GF is that I can't eat some types of gravy. So, ahead of our trip, I called to see if they could do me GF gravy. For me, this is a deal breaker. A roast without gravy is nothing. Who wants dry meat and veg? No-one. The guy on the phone was a bit sarcastic to be honest – more pressuring me to book a table rather than appreciating that this was a genuine question. However, he was good humored and so I let him off. After a bit of discussion, he was told that the chef would do me GF gravy on the day – the ideal solution! We promptly booked a table.
The day before, I did receive a rather impersonal automated email from Open Table, telling me that my table had been cancelled but for no reason. I called them and they said that it was just because they had modified my booking, and that I was very much still booked in. Truth be told, the email was pretty awful, and had my table just been cancelled with no reason, I would be pretty annoyed. Luckily for me, this wasn't the case, but I would see if I could personalise it if I was them.
When we rocked up on the day, we were shocked to find that we were the only two people in there. It's a large place, with cool, contemporary deco. Slightly kitsch, with vintage looking objects. Basically, the ideal Fulham joint. Oddly though, it was empty. Whilst we were there, a couple of other parties did come in, but it remained quiet.
The good thing was that even though it was empty, the music was at a good volume, and the staff were good not to hurry us. They could have hovered too much and they didn't. If anything, it felt like we were being given a private opening. Every silver lining and all that.
On to the food, we both chose the same starter – Brixton cured salmon with an Asian slaw. This was super tasty. A good size portion of both salmon and the accompanying slaw. It looked really pretty and kind of effortless. The sort of thing that you want your Instagram pictures to be. The asparagus was maybe a bit thin – it kept falling off my fork, but it looked cool and was seasoned well.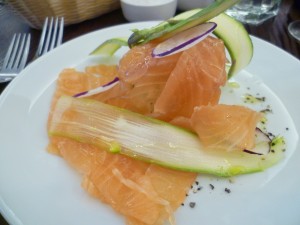 For mains, we both went for roasts (obvs). I went for the roast lamb and the boy went for the beef. It was everything we had hoped for. That sounds like a massive over-exaggeration, but it was great.
My lamb was pink, tender and flavoursome. The accompanying veg complimented it. It came with tenderstem broccoli, chargrilled courgette and carrots, and of course, beef dripping roast potatoes. TASTY. This was all coated with a GF gravy. The portion size was so good, for £15.50, you definitely got your moneys worth.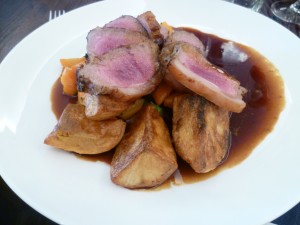 The boy had roast beef. He was equally as complimentary. He had the same veg as me, but also had a Yorkshire – jel. It looked awesome! To me, it looked like he had much less beef than I had lamb, but he assured me that it was a big slice and that it was cooked well.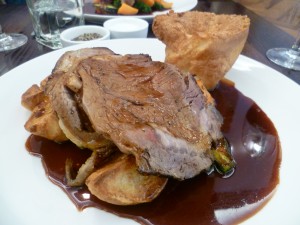 Despite eating all of this food, we were then up for desserts. The menu wasn't very large, but it had a GF option and a couple of other goodies. I went for a dulce de leche panna cotta, whilst the boy went for a chocolate and rum mousse. There were a couple of amusing typos on the menu (e.g. mousse = mouse and raspberry =raspbarrie). I did ask if these were on purpose, you never know, the mousse may have been mouse shaped and a chef may have been called Barrie. But apparently this wasn't the case.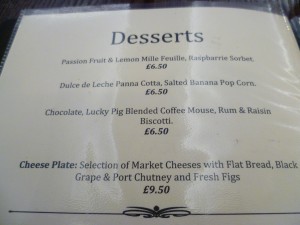 My dulce de leche panna cotta was spot on. It came topped with salted banana popcorn. It's dishes like this that don't make you sad to be GF. I tried a bit of the boy's mousse and it was pretty thick. Luckily the portion size wasn't huge and so it meant that it wasn't too rich to finish the meal with.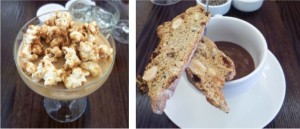 The service at The Lucky Pig was really good. To be fair, it was empty so had it been bad, I wouldn't have been impressed. Our waitress was very attentive, without being too much. She was also very chatty (at the right times, i.e. taking the order, taking our card payment). If I had to find a let-down, it was that the napkins that we had were paper. Every other table had cloth napkins, whilst we had thin paper serviettes. Whilst I understand that they probably run out of cloth napkins, they could have had the thicker paper napkins that whilst they are disposable, are of a higher quality. It's a small gripe, but everything else was so top-notch, I would expect little details like this.
I'm disappointed that this place wasn't busier. It seems to be the sort of place that the Fulham lot would love, however, it seems that a Sunday afternoon isn't the time to go. I do wonder if this is because they're all nursing their hangovers that were bought on by Saturday night here?! Next time we go, we'll be trying Friday night cocktails and seeing if night-time is the time that The Lucky Pig comes to life.
Sammy x