On Saturday I went for brunch/lunch with a friend who I haven't seen in ages. We wanted a cute little cafe, where we could have good food, catch-up and watch the world go by. We wandered up Northcote Road in Battersea. Or it might be Clapham. I'm not quite sure where it falls to be honest! Anyhow, we had a leisurely stroll up the road and found this little gem – Cafe Tamra. I can't find a website for them, so can't link to it, but the brunch was so good, that I'll let them off.
The place was pretty busy, and the tables are quite close together so we settled down on a couple of stools at the bar by the window overlooking the street. The waitress then gave us a couple of sheets of double-sided A4, one of these was purely for drinks – the menu is huge! They serve everything it seems – coffee, tea, smoothies, milkshakes, juices, cocktails, wine, beer….you get the jist! After much deliberation, my friend opted for a flat white and I chose a Detox smoothie. This was seriously green! It was packed with apple, pear, melon, mint, spinach, ginger, spirulina, avocado and spinach. Very tasty and you just knew it was good for you.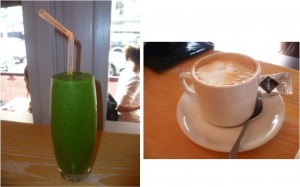 The food menu is extensive too. There is a very large range of brunch dishes, which are served all day. They also do more typical lunchtime dishes, such as wraps, soups and salads as well. My friend is a veggie, and I can't eat gluten, but we both found heaps of options that we could eat. And they do GF bread, which is a complete win for me.
Eventually we made our choices – scrambled egg on toast with wilted spinach and mushrooms for my friend and king prawns, chorizo, poached egg, toast and avocado for me.
The cafe has a very nice, laid back vibe. It was the perfect place for a proper catch-up. We were in there for about 3 hours and never felt rushed. Our drinks did take a little while to come, surprisingly my smoothie got to us before the coffee, but that aside, the service was good.
After much catching up on life, our food arrived. The presentation looked great! That was also true of everything else that we saw go by too. The scrambled egg that my friend had was that sort of folded egg. Something I've never worked out how to achieve but looks professional and yummy. I tried a bit of it and it was seasoned well. She also commented that the mushroom was really tasty – oniony and garlicky. So many times I've had a bland, watery mushroom with brunch, but this was the opposite apparently!
My dish was definitely the right choice for me. With the boy being allergic to shellfish, I often opt for it when I'm eating out and chorizo is just my absolute fave, so this was a winning combo. The chorizo and prawns were in a chilli tomato sauce, it was quite spicy but not too hot. Put it this way, it didn't have me reaching for a glass of water with every bite! The GF toast was under all of this and so it had soaked up all of the juices and was really moist and tasty. The avocado on the side cooled down the dish and was a nice fresh addition. If I had to find fault, I would say that it was that my poached egg yolk wasn't runny. Not a deal breaker, but it is something that I always look forward to with a poached egg!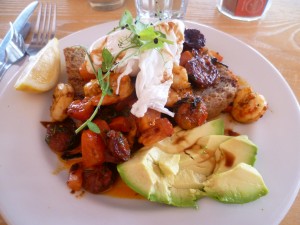 By the time we had scoffed down our food, it was about 2pm, which is definitely an acceptable time to have a drink. So we treated ourselves to a glass of Cava and a Bucks Fizz. One thing to note in this place, is that the drinks are CHEAP! Like, super-cheap for London prices. £4.50 for a glass of Cava is a bargain in my eyes.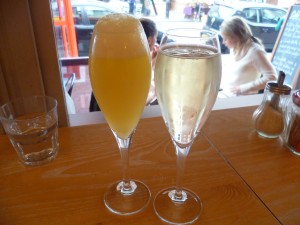 Then, we decided that we also wanted dessert! They do a flourless chocolate fudge cake, so that was a no brainer. We decided to get a slice to share and it was definitely the right choice. It was all chocolately, gooey goodness.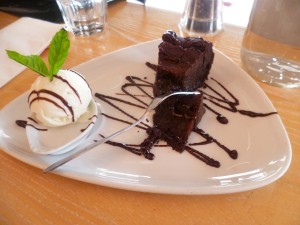 Cafe Tamra was a great find – heaps of brunchy delights in a cute, relaxed environment. And, it's a decent price too – all of that, plus a peppermint tea came to £43. Not too pricy at all really.
Definitely worth a go if you're in the area!
Sammy x