If you follow me on Insta you'll have seen that I recently went to San Francisco. I was incredibly lucky as the boy organised a surprise trip for (ahem) my 30th. I'll be writing another post about what we got up to, but I thought I'd write a separate post about the Grayline Tours trip that we took to Sonoma and Napa Valley for some wine tasting.
Being in California, it would be rude not to try the local produce and so we booked ourselves on to a last-minute trip to the vineyards. The entire holiday was incredible but I'd put this as one of the highlights (along with seeing the baseball and our helicopter trip – more on that to come…).
We felt that the wine tasting was well priced – it was about $100 (£80) each for a full day out – being driven around in a coach and visiting 3 vineyards. Our guide, Antonio was brilliant. He was both the coach driver and the guide and gave us loads of interesting information as we made our way out of San Fran and towards Sonoma. It must be difficult talking over a mic for that long with no interaction but he nailed it.
I had no idea that the wine making region of California was so large. There's 98 wineries in Napa and 36 in Sonoma alone. They're broken up by a hillside which means that they all have different environments which are good for growing different wines. For someone who loves wine, I'm horrendously uneducated when it comes to it, but this trip taught me a lot!
For instance, did you know that there are types of leaf fungus which can effect the vines? To try to get early warning of this fungus, a lot of farmers plant rose plants near their vines. Rose plants are more susceptible to this fungus and therefore when the roses start to suffer, the farmers know that they have a problem and can start to tackle it before it properly takes hold.
As we drove to our first vineyard, we drove past lots of fields full with vines and every one of them had at least one windmill. We learnt that the reason for the windmill was to help the airflow. The weather can be quite extreme in the valleys and it can be very cold in the evening. The windmills help to keep the air moving and help to stop the grapes from frosting over.
Our first vineyard was the Nicholson Ranch. This vineyard is well-known locally and positioned on a busy intersection – it used to be a cattle ranch and was often used to help people when giving directions! Now, it's a beautiful estate. We were greeted with a glass of Chardonnay and as the guy said 'you can't drink all day if you don't start in the morning'. Tt was about 10am at this point, but that's a motto I'll carry for life!
He talked us through a couple of the different types of Chardonnay that they made on the estate. Did you know that in California, if someone claims to be an estate it means that they do everything on site? So the fruit that the grapes are infused with is grown there, it's fermented there and then bottled on site too.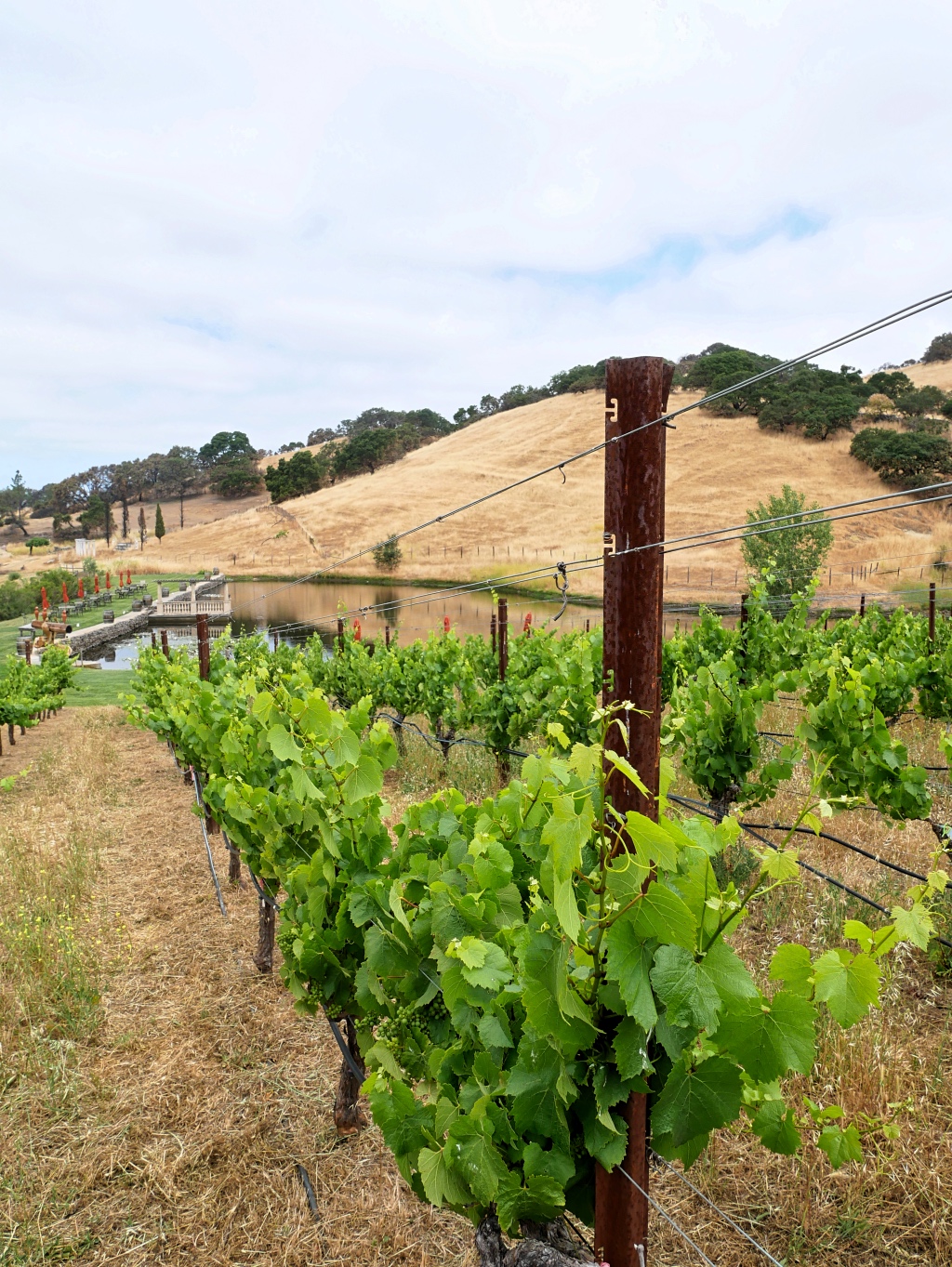 They also talked us through the difference in Sonoma produced wines vs. Napa wines. As I mentioned, they're separated by some hills which mean that the climates are quite different. In Sonoma they suffer from the same fog that San Francisco gets which means that the vines cool down a lot more. The vines react well to the high temperatures during the day and then the severe drop in temperature during the night. For that reason,  Sonoma is well-known for its Chardonnays and Pinots and Napa is better for Sauvignon Blancs and Cabernets.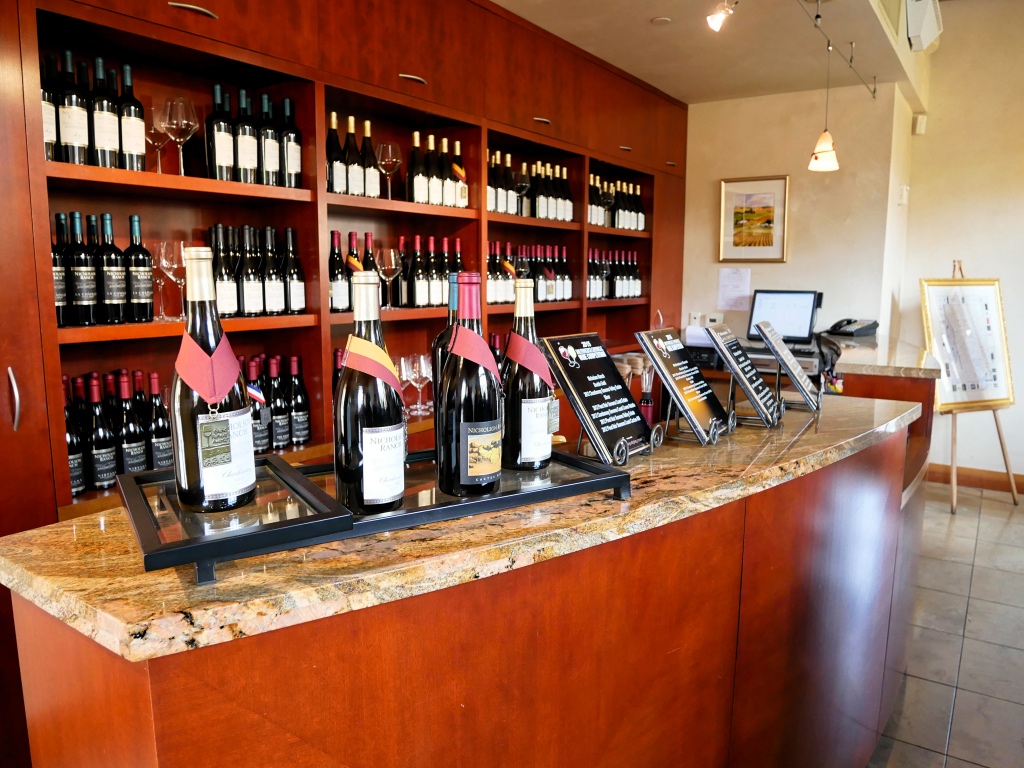 The Nicholson Ranch was probably the most informative of the trip and I felt like I learnt a lot there. That might also have something to do with the fact that it was first on the tour and therefore the first few glasses of the day.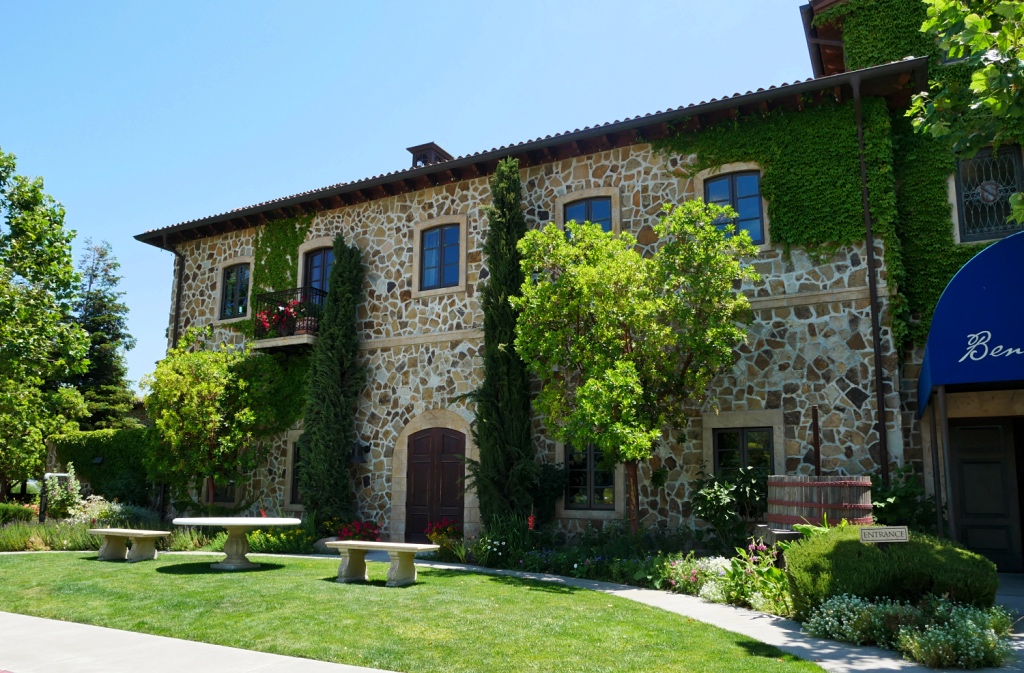 From there, we made our way to the Jacuzzi Family Vineyard. This place was stunning, it was like rolling up to a Tuscan villa and was so pretty. This was the one vineyard where they took ID'ing very seriously – apparently they've been caught out in the past and so everyone had to show ID on their way in. This made it feel like the more serious of the tours but as the tour went on, it definitely lightened up. Truth be told, I was a little bit more distracted by the views here and so didn't focus on the educational wine part as much. After our tasting (primarily focused on their 'Family Wines' such as the Bianco Di Sei Sorelle and the Rosso Di Sette Fratelli, we went to the gift shop for another glass and also to try their chocolate shot. The chocolate shot is a dark chocolate cup filled with a shot of red wine – you pop it in your mouth in one go and it's delicious. After getting some more shots of the vineyard for the 'Gram, it was time for lunch.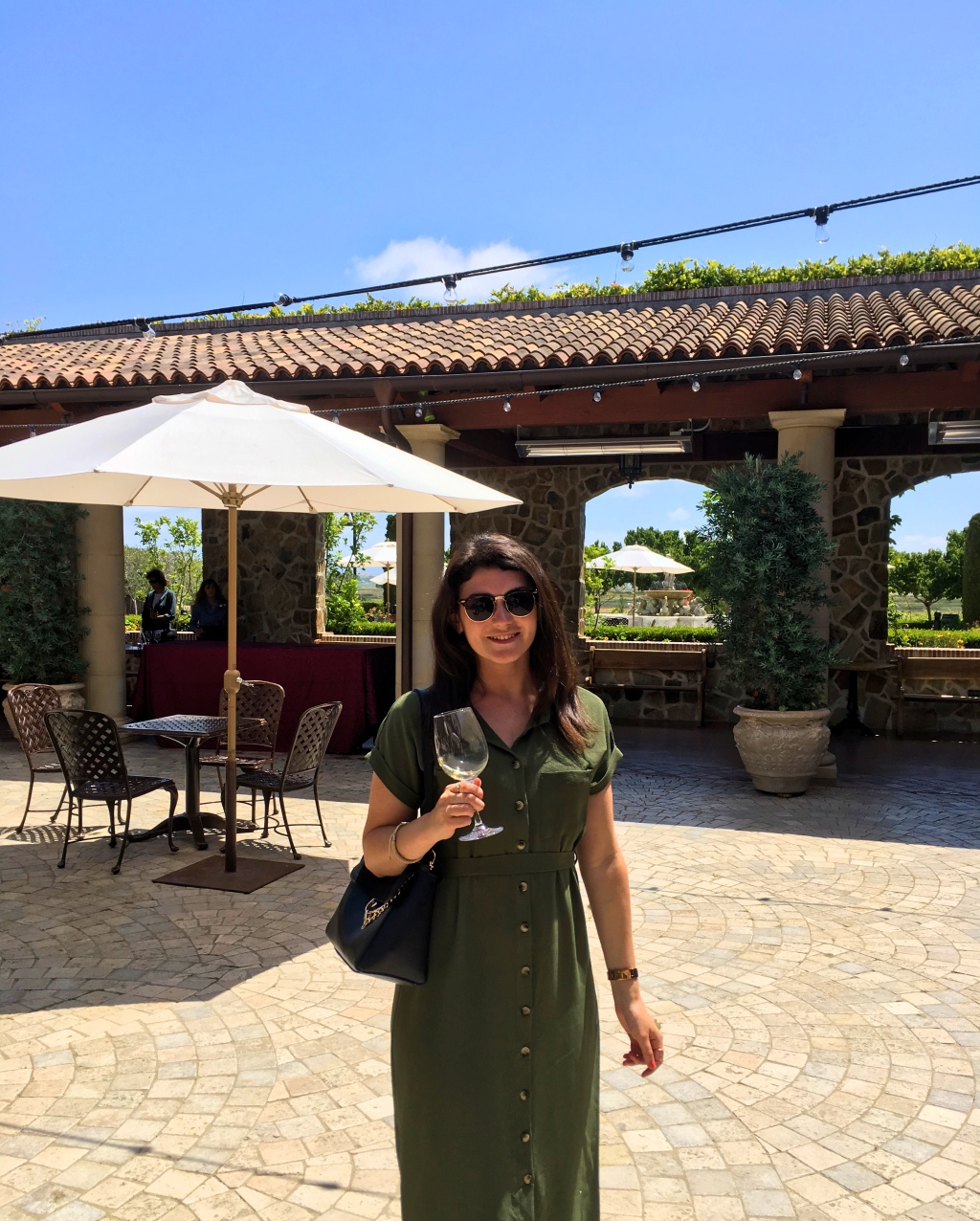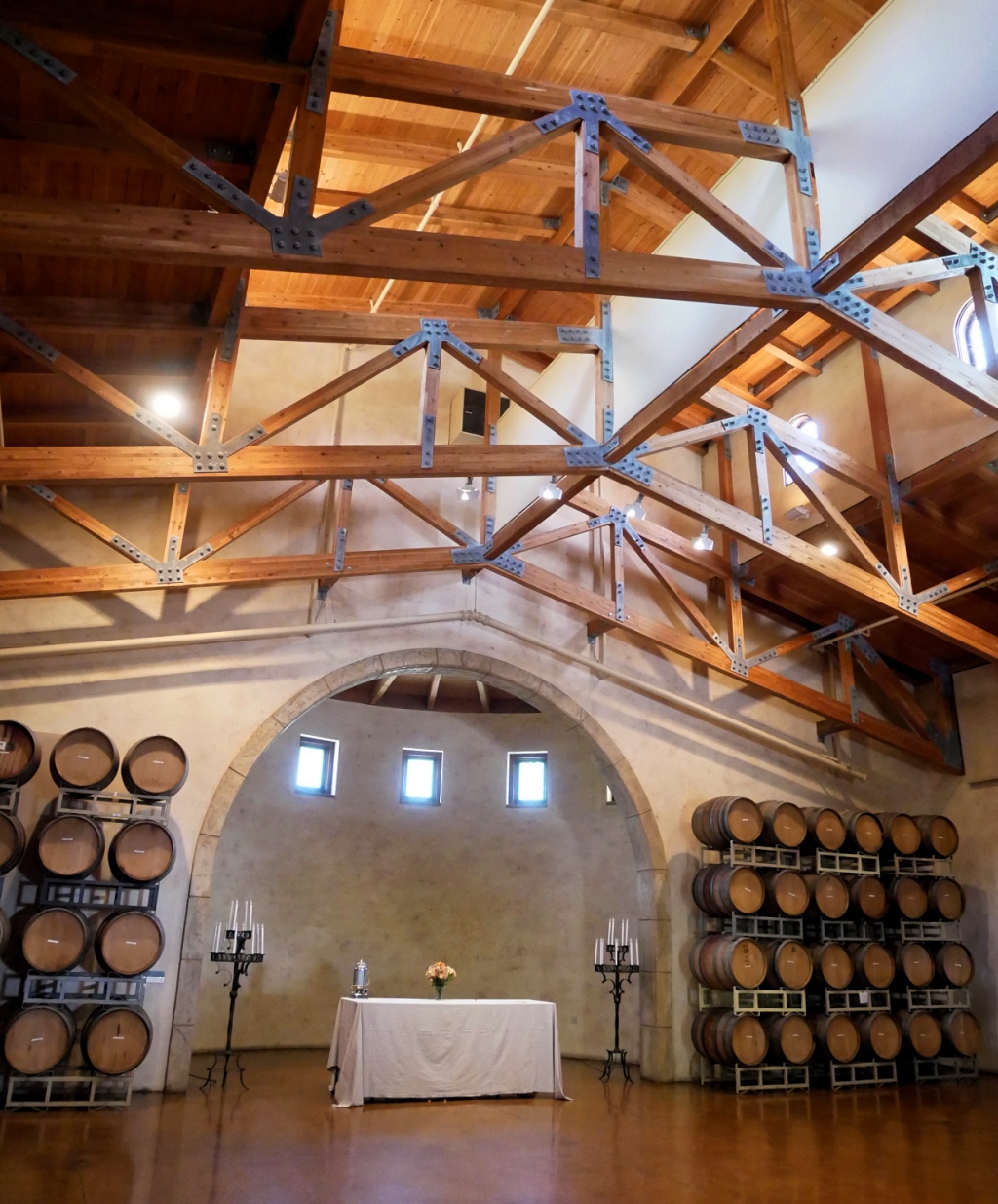 We headed into the town of Sonoma where there is a large range of restaurants. The town is so pretty – it could 100% be something from a film set. We opted for the BBQ at B&V Whiskey Bar & Grille, located just off the central square. The food here was delicious (perfect for soaking up the wine!) and they were extremely good for gluten-free. The BBQ sauce was probably one of the best I've ever had, to the point where I asked if they sold it by the bottle…sadly they don't!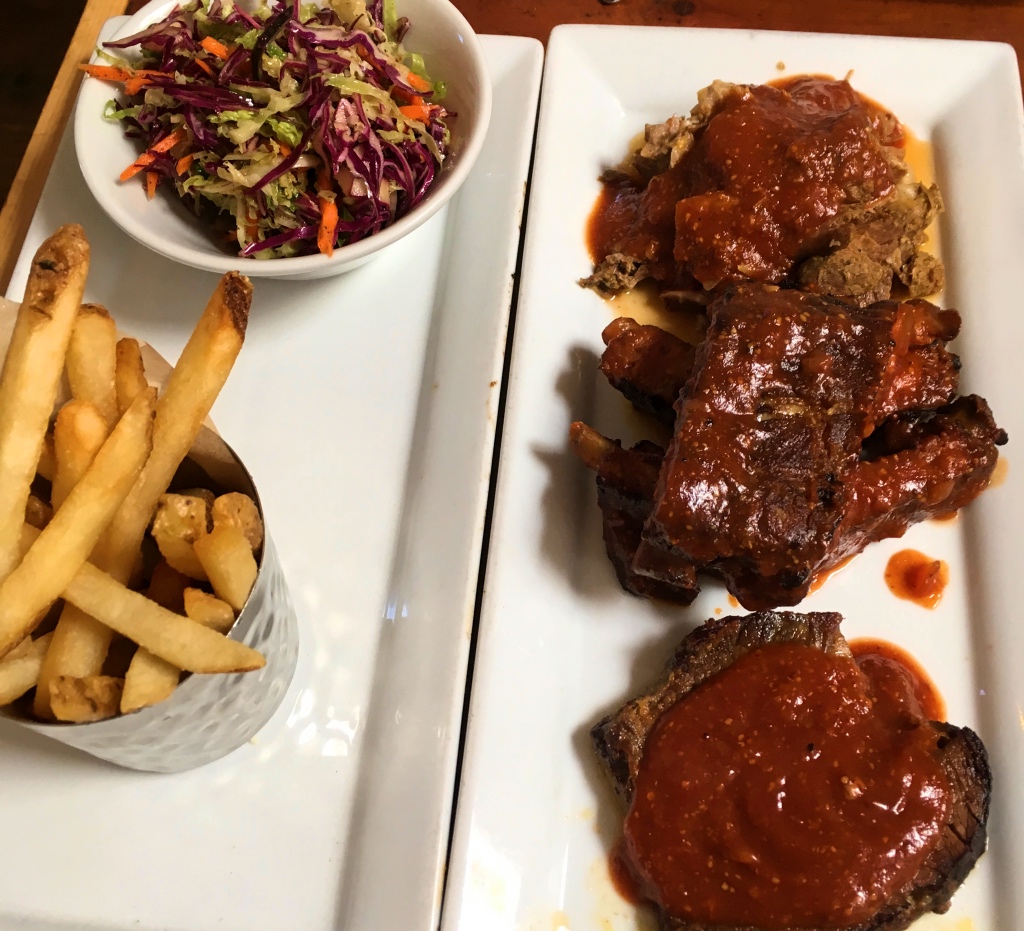 After lunch, we headed to the final vineyard – the Madonna Estate in Napa. We didn't really see much of the estate, we were shown straight to the barreling room. Here, we learnt a bit about tasting the wine – apparently the act of swirling the wine in your glass before you taste it is known as 'volatising the esters'. This then releases the aroma of the bouquet. From the barrel room we went into the gift shop where we tasted some more wines. We had a Gewurztraminer which was delicious – much better than the versions that they sell in the UK supermarkets. We also had the Rosetto which was one of the best rose wines I've had for a while…we bought a bottle to bring home. That plan failed when we then drank it at midnight that night to toast in my 30th – YOLO and all that.
Overall, it was a brilliant day out. Our guide was great and stressed the fact that he was the designated driver for the day so by all means, buy some wine to drink on the coach – winner! We learnt a lot but also had a lot of fun, as none of it was taken too seriously. At some points, the vineyards did get a bit sales-y trying to sell you membership to their wine clubs but I guess that they also need to get something out of the day. Luckily, being from the UK, we couldn't join the wine clubs so we could ignore all of that. If you're visiting SF, I would 100% recommend doing the Grayline tour – wine and sunshine…what else could be better?!