I follow a lot of different health and fitness, foodie types on Instagram, and one ingredient that I always see them add to their food is protein. As part of this new, healthier lifestyle that I have recently embarked on, I am doing more exercise and I decided that I should supplement this with some protein. After looking around online, I decided to go for the Vanilla Cookie Diet Whey Protein from MyProtein.com. It was £19.49 for 1.45kg and after looking online I managed to find an offer for 10% off.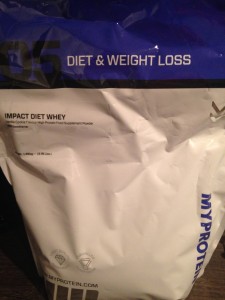 After going for my first run in a very long time today, I decided to give the whey protein a go, in the ultimate refuel brunch – pancakes! Below is my recipe for a gluten-free, yet tasty and filling pancake. You don't need to use protein for this recipe to work. I always used to do it without. What I have found is that doing it without, results in a lighter pancake, but it still tastes just as good! I also added flaxseed to today's pancake, but again, this is totally optional.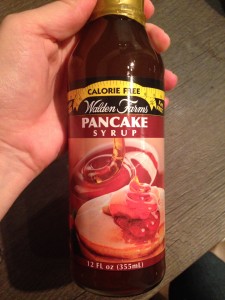 I also tried another new purchase to top the pancake with – Walden Farms Pancake Syrup. This syrup is free of gluten, calories, sugar, fat, carbs….everything! I'd seen about it online so decided to give it a go. I bought this and their Chocolate and Caramel sauces from a store on Amazon for about £3.50 each (excl. P&P).
Ingredients
1 x ripe banana
2 x eggs
Sprinkling of flaxseed (optional)
1 x scoop of Vanilla Cookie Diet Whey Protein
To top, Walden Farms Pancake Syrup
Method
Get a mixing bowl or measuring jug and mash up the banana. I like to make sure that it's pretty mushy before going any further.
Crack in to the bowl, the two eggs and if using, the flaxseed and protein.
Whisk it all together until their is a very light froth on top of the mixture. If you're using protein, you'll find that the mixture if much thicker than if you don't, but that doesn't matter.
Once mixed, add some oil to a hot pan (currently I'm using Lucy Bee Coconut Oil) and pour in the batter. It's up to you how you do this – you may choose to do a few small pancakes or just one big one. Leave the pancake to cook on a medium heat.
After about a minute, use a spatula to loosen the pancake around the edges. Lift it up to check how it's doing and when you're happy with the colour, flip the pancake over. My pancake usually takes about two minutes on the first side.
After flipping, leave it to cook on the other side. Again, when you're happy with the colour (for me, this is usually a minute or so later), it's time to take it out of the pan.
Finally, add your chosen topping. I used my new Walden Farms Pancake Syrup.
The pancake was really good. You have to accept that it's missing a lot of the good pancake ingredients, and so won't taste like your usual pancake, but they're a very good replacement. And it's good to know that they're so much better for you. The Walden Farms Pancake Syrup is so good, and I can't wait to try the other flavours. For my next pancake brunch (more than likely next weekend!), I think I'm going to add some cocoa powder to the mixture and maybe add in some chocolate chips…will follow that one up with a post!
Enjoy guys!
Sammy x