So, usually I take my lunch in to work, as it is SO much cheaper, however there were a couple of days last week where laziness and/or hangovers got the better of me and I didn't bother.
My usual go-to places are either Pret or Abokado, but this week I decided to mix it up a bit…I chose to venture to Leon on Regent Street. I went to Leon once a few years ago and remember it being nice, but not too healthy and expensive. I'm not sure if that's accurate or not to be honest, but after checking out the menu online I decided it was time to give it another chance.
From looking at the menu online, I could see that they had heaps of gluten-free options, something which can be hard to come across for lunch. The range is extensive, from Thai Green Curry, to Meatballs, to Lamb Kofte Salads. For my first visit, I went for the Meatballs Lunchbox with a Clean, Green Shake.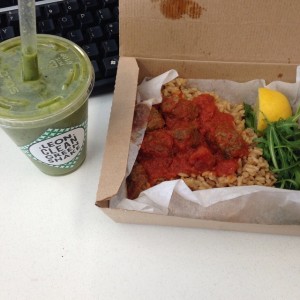 The Meatball Lunchbox was both tasty and filling. 100% beef meatballs in a tomato sauce, on a bed of brown rice with a bit of rocket. Warming and just what was needed to keep me going for the rest of the afternoon. For less than £4, it was also cheaper than what I would usually order from Pret (Chef's Italian Chicken Salad, FYI). The Clean, Green Shake was different…! It's made up of avocado, kale, blueberries, ginger, lemon juice and coconut water. It tasted pretty nice and it was good to know that it was full of nutrients, but there was something about it which just reminded me of a soup I had had once when I was a child!
For trip number two, I opted for the Chicken and Chorizo Club Superfood Salad. It was made up of a salad base with quinoa, chicken and chorizo. My main comment on this was that it was good, but there was far too much cabbage! I'm not a huge pink cabbage fan, I can tolerate it, but this had far too much for my liking. That aside, it was pretty good. I hadn't realised that the chicken and chorizo were going to be warm, but they were and it added a nice twist. It did leave me rather hungry later on in the day, which makes me think that perhaps I wouldn't get it again. But it's also the sort of thing that would be pretty easy to recreate at home, so I could make it, but just make it bigger. And of course, not add as much cabbage!
Sammy x