I think it was their photos of good food and pretty white and blue tiles which lured me to their Insta page in the first instance. Having followed Bar Douro on Instagram for a while, I finally decided to go and try it out for myself a few weeks ago. I'd fallen in love with Portuguese food when we went to Lisbon and Porto last year and so was very keen to see what they had on offer.
It's a bit hard to find if you're not familiar with the area, but it's located within Flat Iron Square and under the train bridge arches. It's a small, intimate restaurant with bar style seating. We were shown to our stools which were overlooking the kitchen, so that we could see the chefs at work.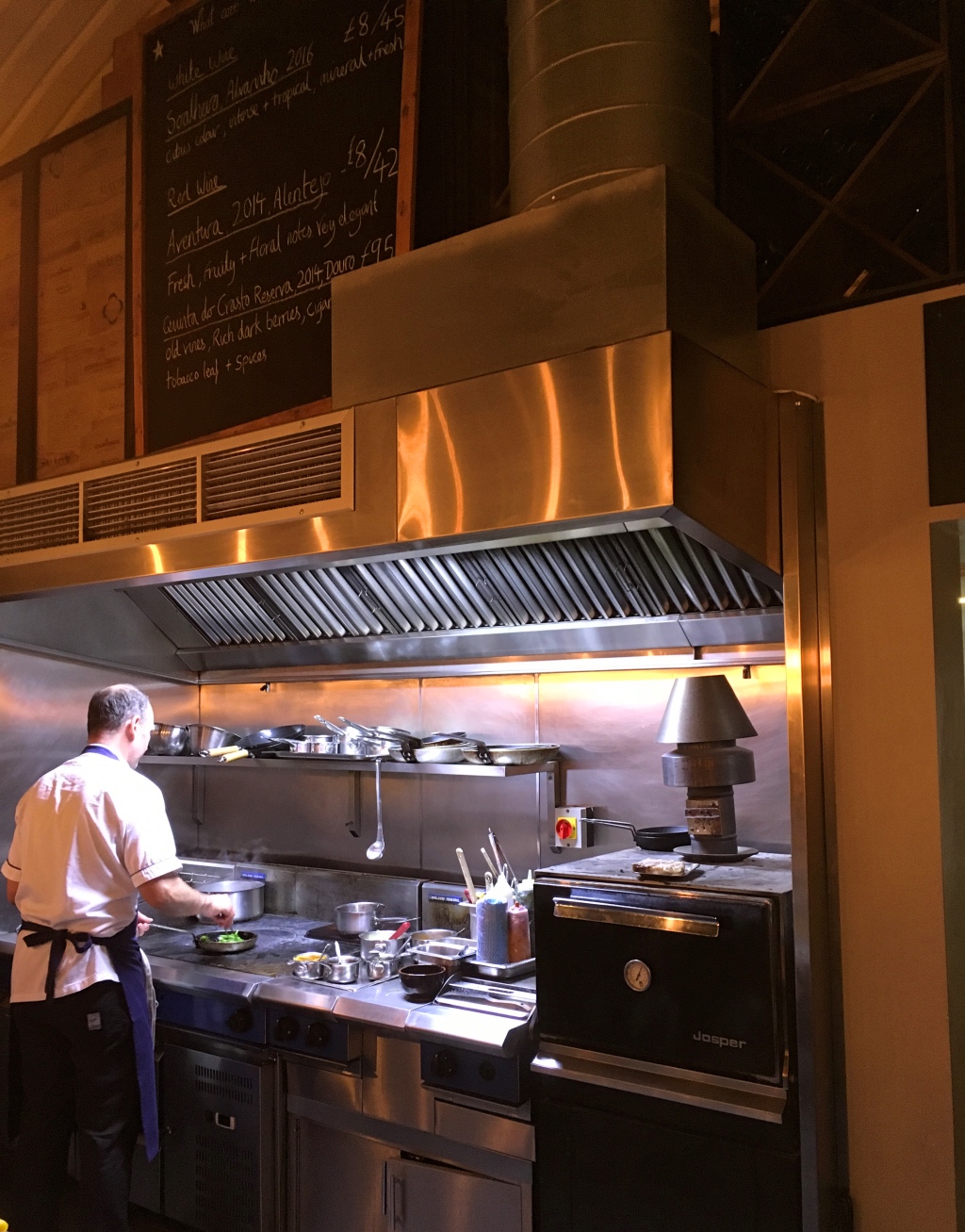 The Food
I'd just been promoted at work, so we decided to kick things off with a bottle of Portuguese sparkling wine whilst we perused the menu. Before visiting, I had emailed them to find out about their gluten free options and was happy that there was so much on the menu that I could eat. Quite a few things do involve being fried, so it's worth checking about cross contamination if you're really sensitive to gluten.
To kick things off, we opted for the Bacalhau à Brás (salt cod hash), the BD Potatoes with Coriander Mayonnaise and the Braised Pork Cheeks with Turnip Top Salsa Verde. When they came, the first thing I noticed was that the portion sizes were much bigger than I had anticipated. The salt cod hash was piled high with thin fried potato, flaked pieces of cod, onion and olives. This was delicious and the perfect start to our evening! The potatoes were a bit crunchy and so added texture, whilst the cod was plentiful and so added lots of flavour. I could have eaten a lot more of that to be honest!
The potatoes reminded me a bit of a potato snack that I used to have as a kid, but they were tasty and went really well with the coriander mayo. I'm not a huge coriander fan but it wasn't overpowering at all and helped to lift the flavour of the potatoes.
The pork cheeks was delicious. Very melt in the mouth and they went so well with the rest of the dish.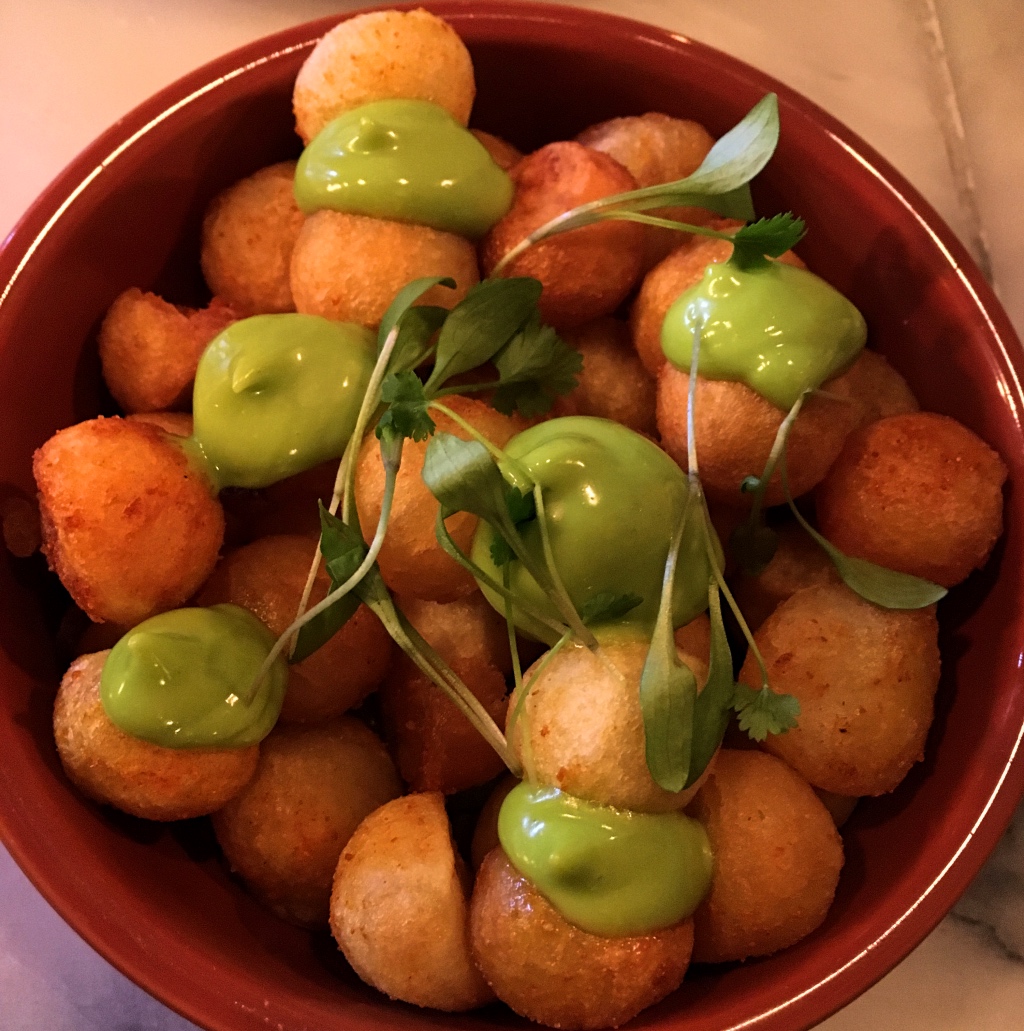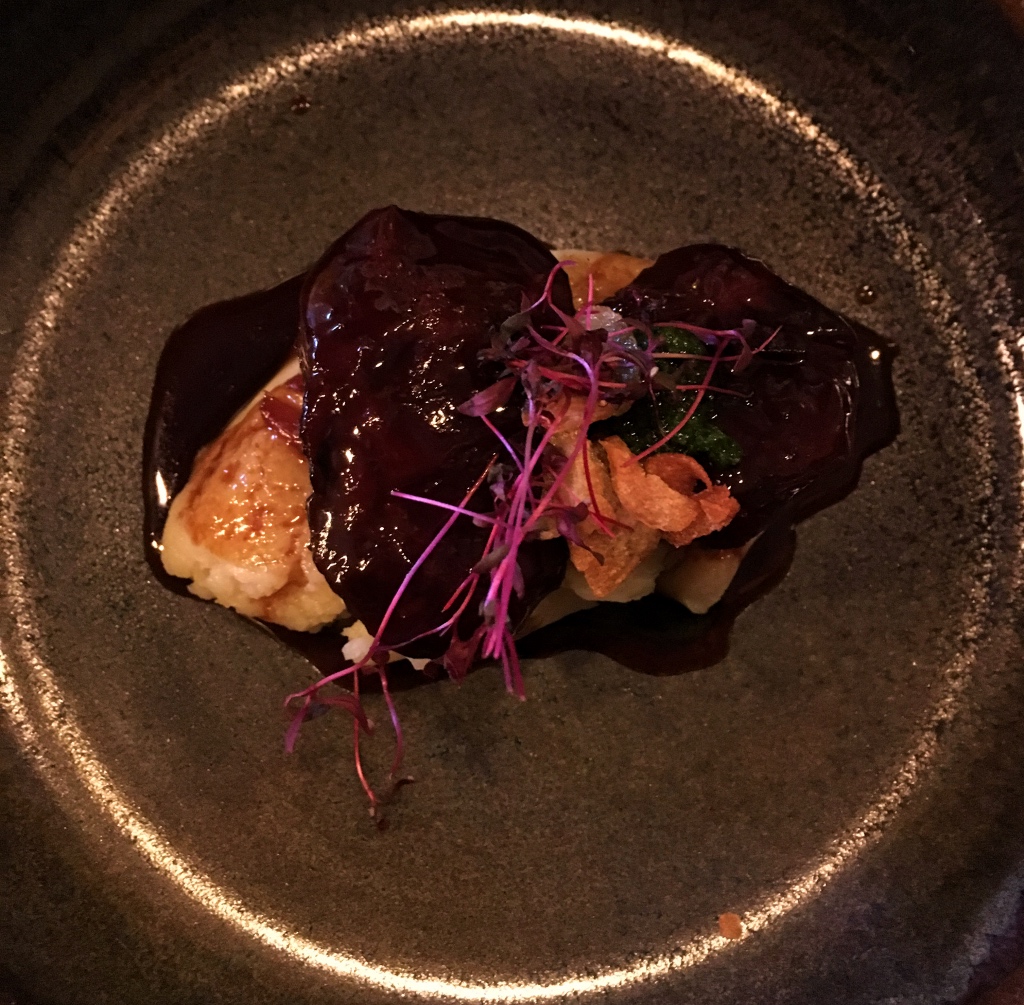 After a little while, we decided that we were ready for round 2. We'd seen them cooking a lot of the octopus and so chose that along with some chargrilled tenderstem broccoli to up our vegetable count for the day. The octopus was cooked very well. It had a great flavour and was extremely meaty. But, I'd be lying if I didn't say that I think my favourite dish of the night was the broccoli…yes, I know. All of that delicious food and the broccoli was the star! The tenderstem was well cooked; it's put on the chargrill to give it some colour and smoky flavour. It's also cooked in garlic, chilli and ginger,  and it was amazing. I wish I had the recipe and a plate of it right now TBH.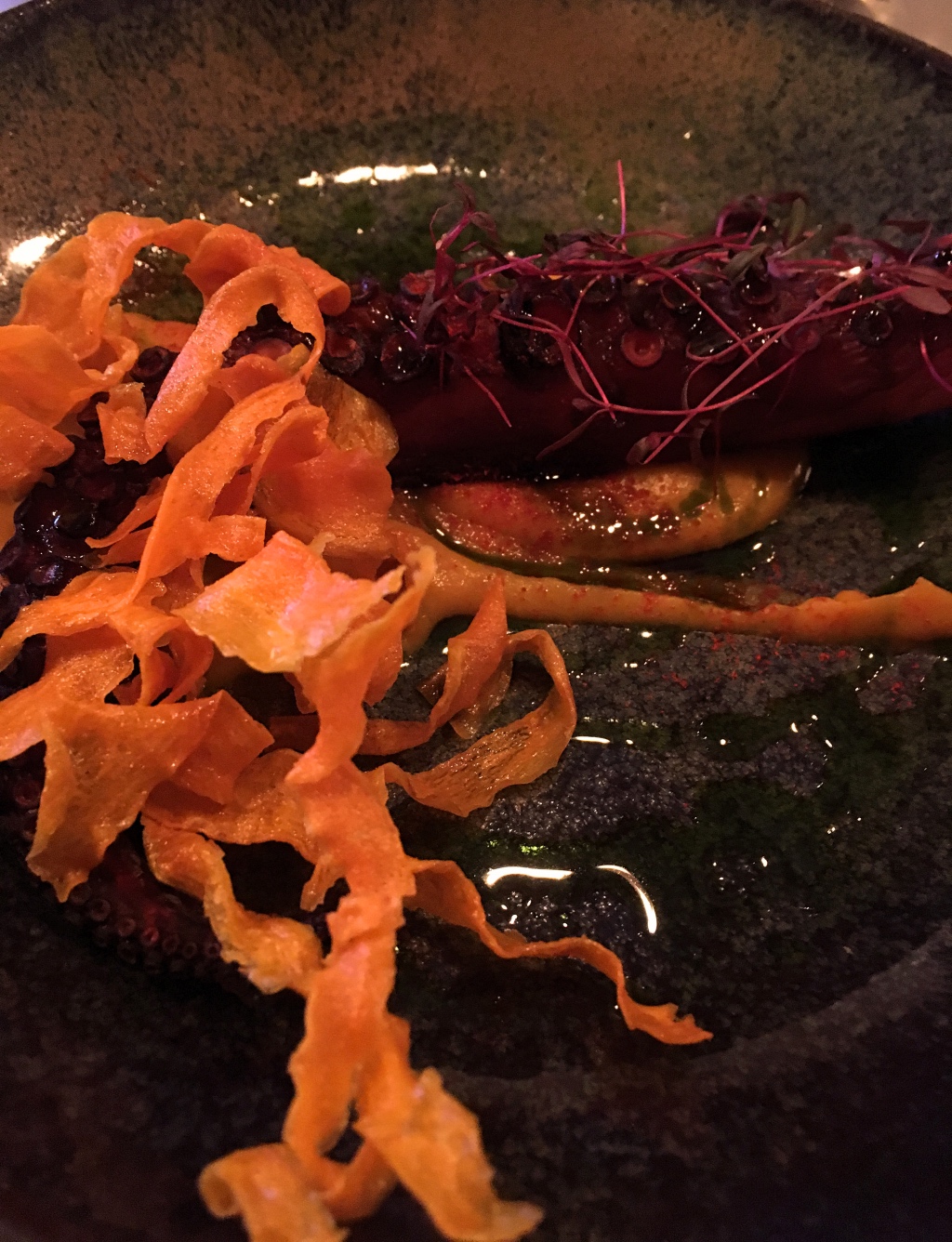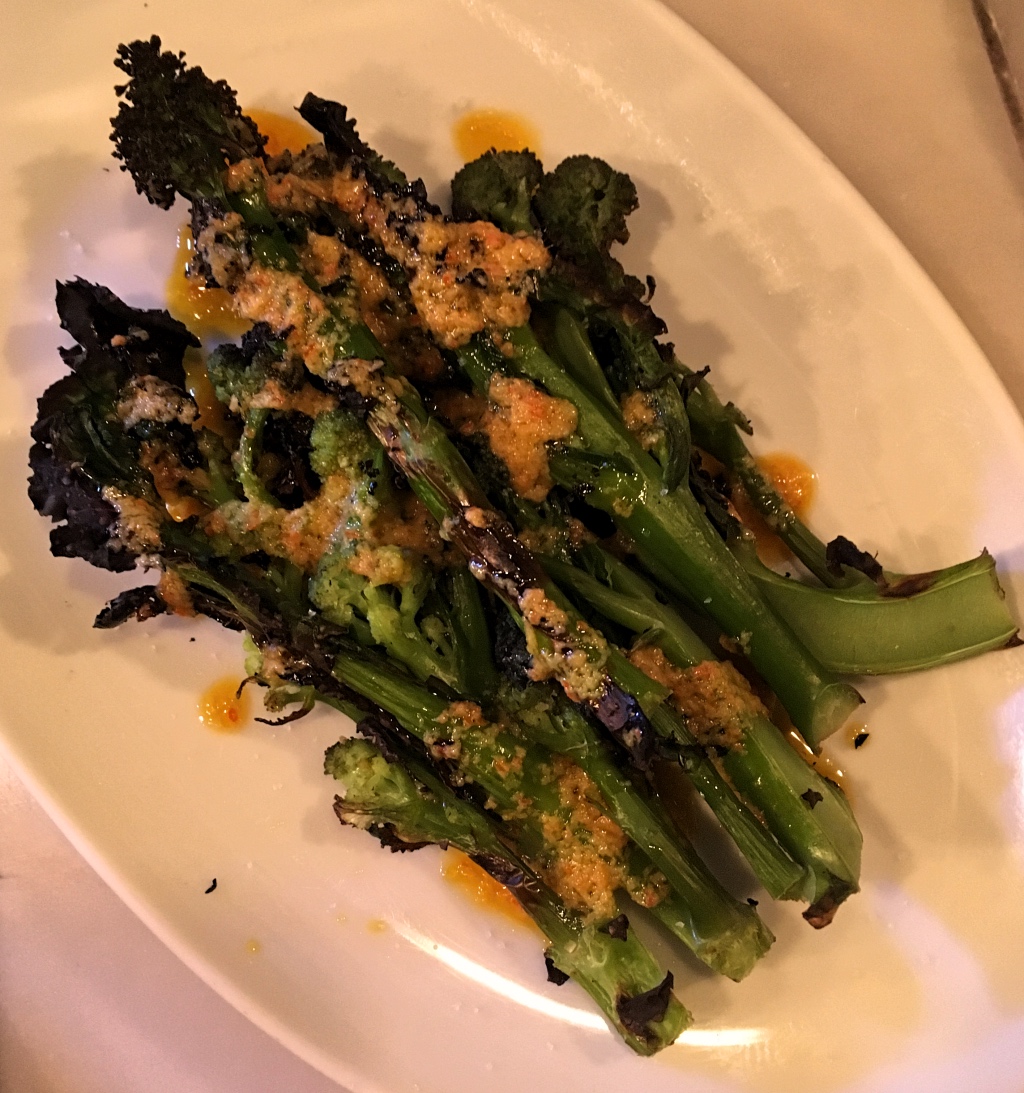 After all of that, we decided that it was time for a dessert. We went for the Baba de Camelo (caramel mousse) – it was not quite as I expected, more like a parfait than a mousse but still very tasty. It had a strong caramel flavour but wasn't too sweet and so rounded off the food nicely.
It would have been rude not to go to a Portuguese restaurant and have Port….so naturally, we opted for the Port flight. There were 3 types, a white, 10 year old Tawny and a LBV, all from the Churchill's cellar. All were very nice, but we're still on the hunt for some Calem Port which is what we had so much of back in Porto.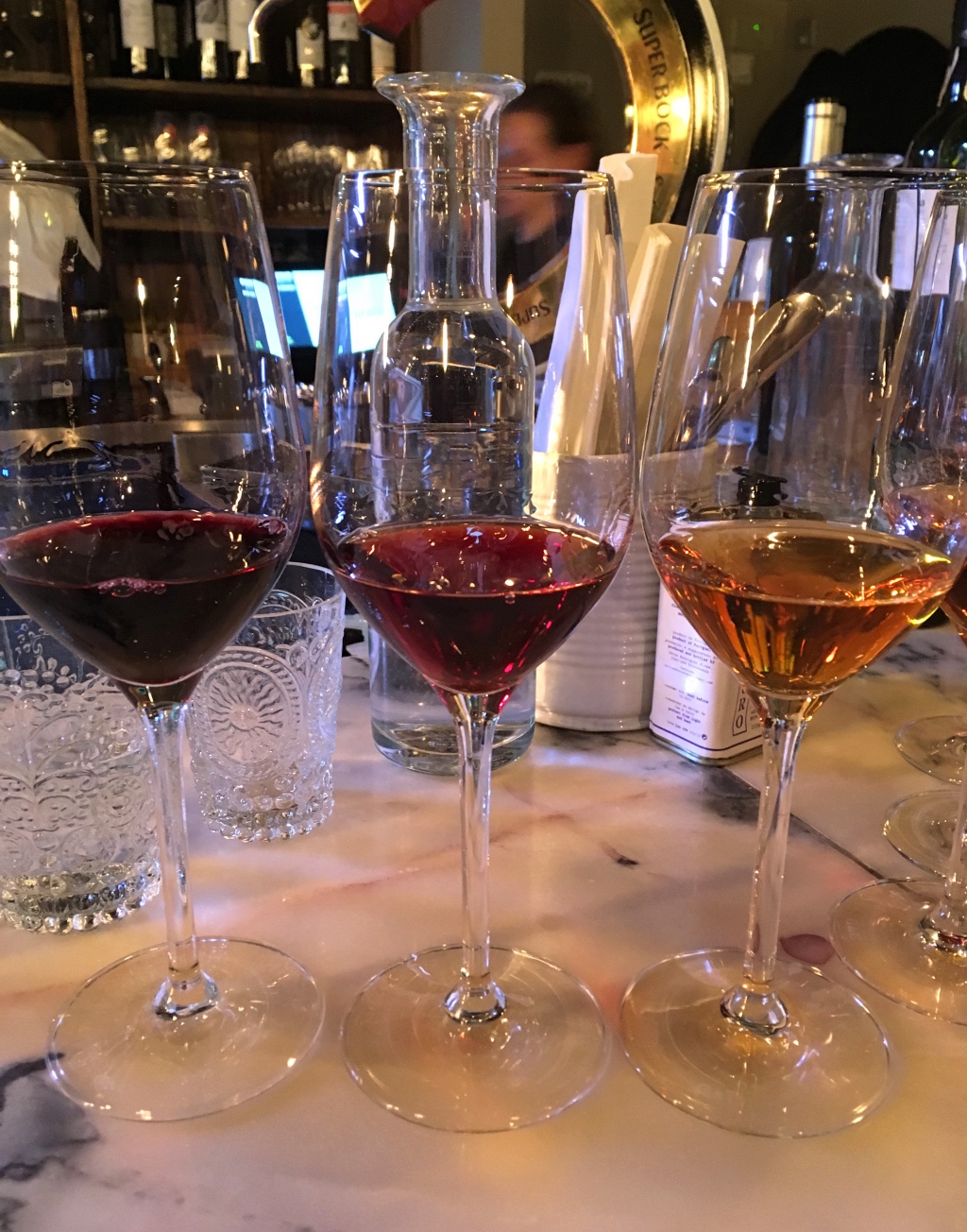 Finally, and it would be totally remiss of me not to say about this. We had a few shots of our favourite liqueur – Ginjinha. This cherry flavoured liqueur was something that we had tried in a tiny bar in Lisbon and absolutely loved. Warning: it's VERY easy to drink and probably stronger than you realise. But it's so tasty that it's worth the slight headache that it might leave you with.
The Service
Service wise, things started off well – the staff were great, very attentive and friendly. However, after we'd been at our table for just under a couple of hours, 2 staff appeared at our table in quick succession to ask whether we wanted to order anything else. We were in no rush to leave and once they clocked this, the manager came over to remind us that we needed to leave very shortly. It turns out that when you book in busy times then you only have 2 hours for your meal. I get that this happens in a number of places but we hadn't been told it when we booked nor did it say it on the site so we were pretty annoyed by this. By some strike of luck, there were some cancellations so we were able to stay. But I'm not convinced that this situation would have been handled all that well had the other table turned up!
Overall
Anyhow, that blip aside, we had a lovely evening at Bar Douro and would totally go back. The food was amazing and having it cooked in front of you just adds to the whole experience. It caters well for those with gluten intolerances and offers very reasonable portion sizes for the amount that you pay.