This post is so massively overdue, but it's here just in time for the summer, so that's something.
The original plan for our time in the Sierra Nevada had been to hike for the two days that we were there. Day one went well, but we had massively underestimated how tired it would make us. So, we changed our plan for day two and decided to what we termed as an 'Andalusian culinary tour'. Basically, eating and drinking our way around the small town of Laujar de Andarax. It was genuinely one of my favourite days of our trip.
So, if you're like us and near Laujar de Andarax but your legs are telling you that hiking is a bad idea, why not try this route out instead?
The best thing about Andalusia is that if you order a glass of wine, they automatically offer you a plate of tapa. If you say no (like we did at one point when we were full), they look at you as if you've just grown a second head. I loved this place for so many reasons! As this post is rather late in going up, I can't remember how much everything cost, but like a lot of Spain, it was extremely cheap and very good value considering the excellent quality of the food and wine.
If you're a celiac, then what I'm recommending below may not be the best idea as there was a lot of bread. However, if you're gluten intolerant and can deal with cross contamination, then this is a great way to spend an afternoon.
To kick off our 'tour', we went to the first bar that we came across, a place called Cafe Bar Molina. We ordered a couple of glasses of wine and they offered us some tapas – we opted for a mixed plate where we got some anchovies, artichokes and olives. All in all, a good start! We enjoyed these small plates with a chilled glass of the local wine, sitting out on their terrace and admiring the view.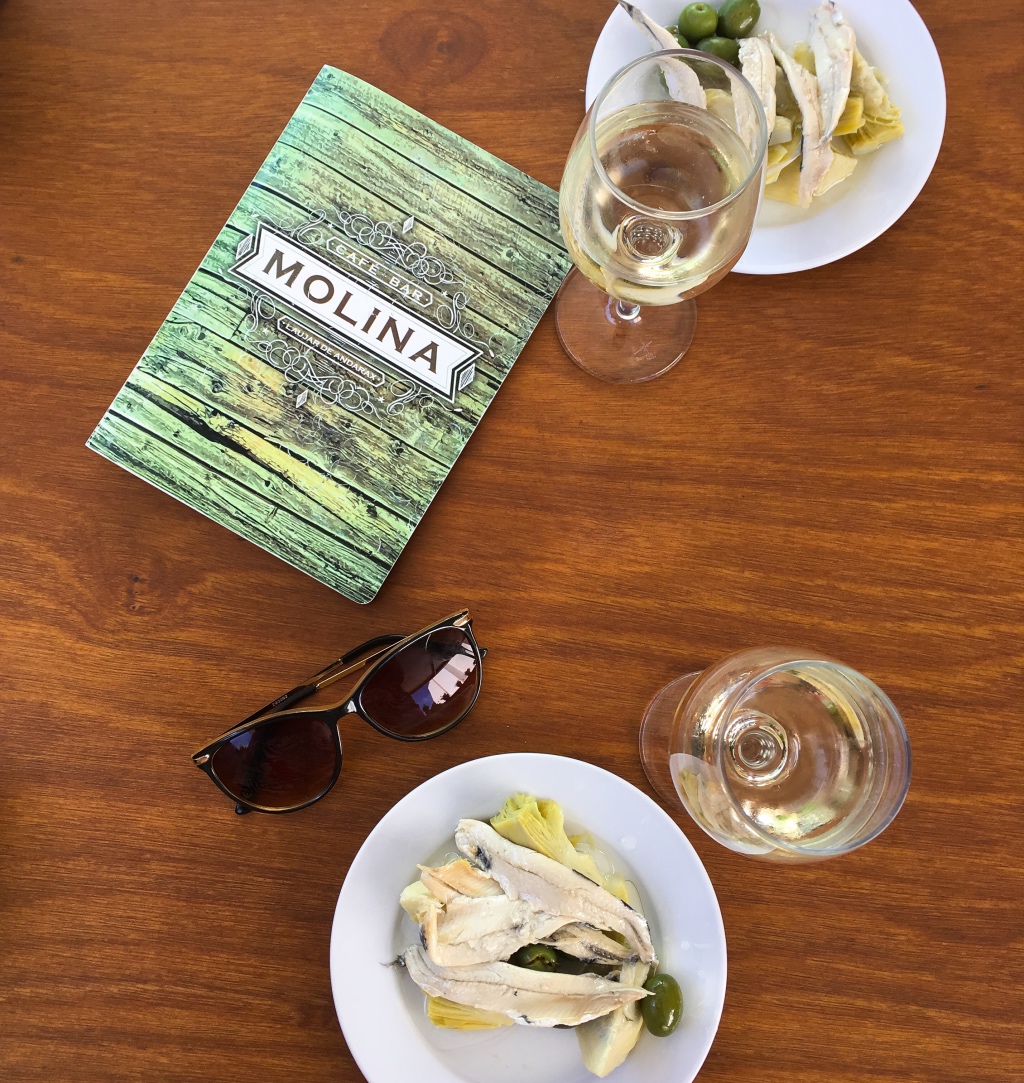 Molina had quite an extensive menu and so we decided to stay for another plate. This time we opted for the pork skewers which were really tasty and well marinated and some crisps. Another perfect accompaniment for the wine. Excuse the photos – they're not my finest work!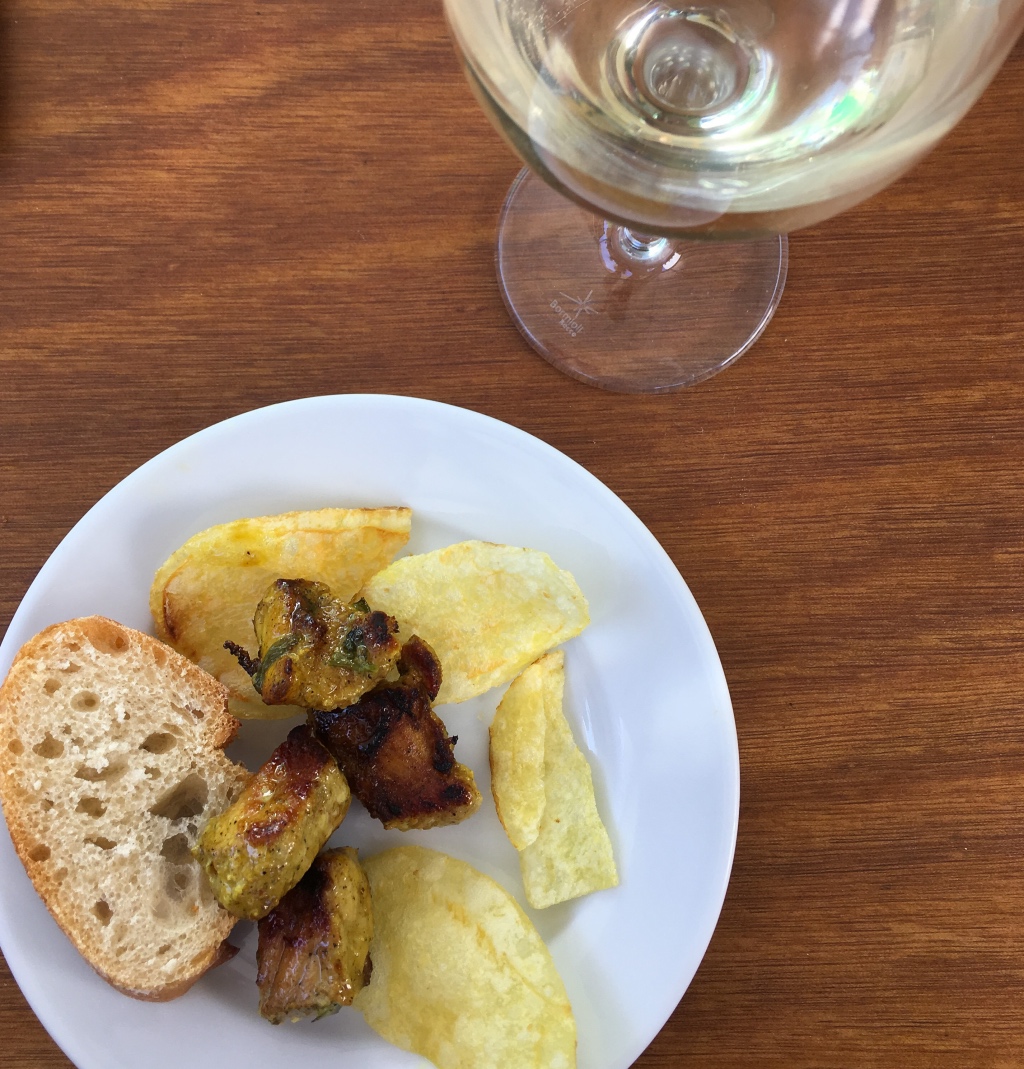 Whilst we could have stayed in Molina all afternoon, we decided that we should continue with our adventure. For round 3, we headed up the road to Bar Monterey. The kitchen was starting to close so we ordered 3 things off of the menu – the meatballs, patatas bravas and pork with vegetables. Oddly everything in this bar came served with bread but I was able to leave this to the side and enjoy everything else. The outdoor area here wasn't as nice as the Molina as it was by the roadside, but the bar was very popular with the locals and has great Trip Advisor reviews. The food was very tasty and I would have loved to been able to order more.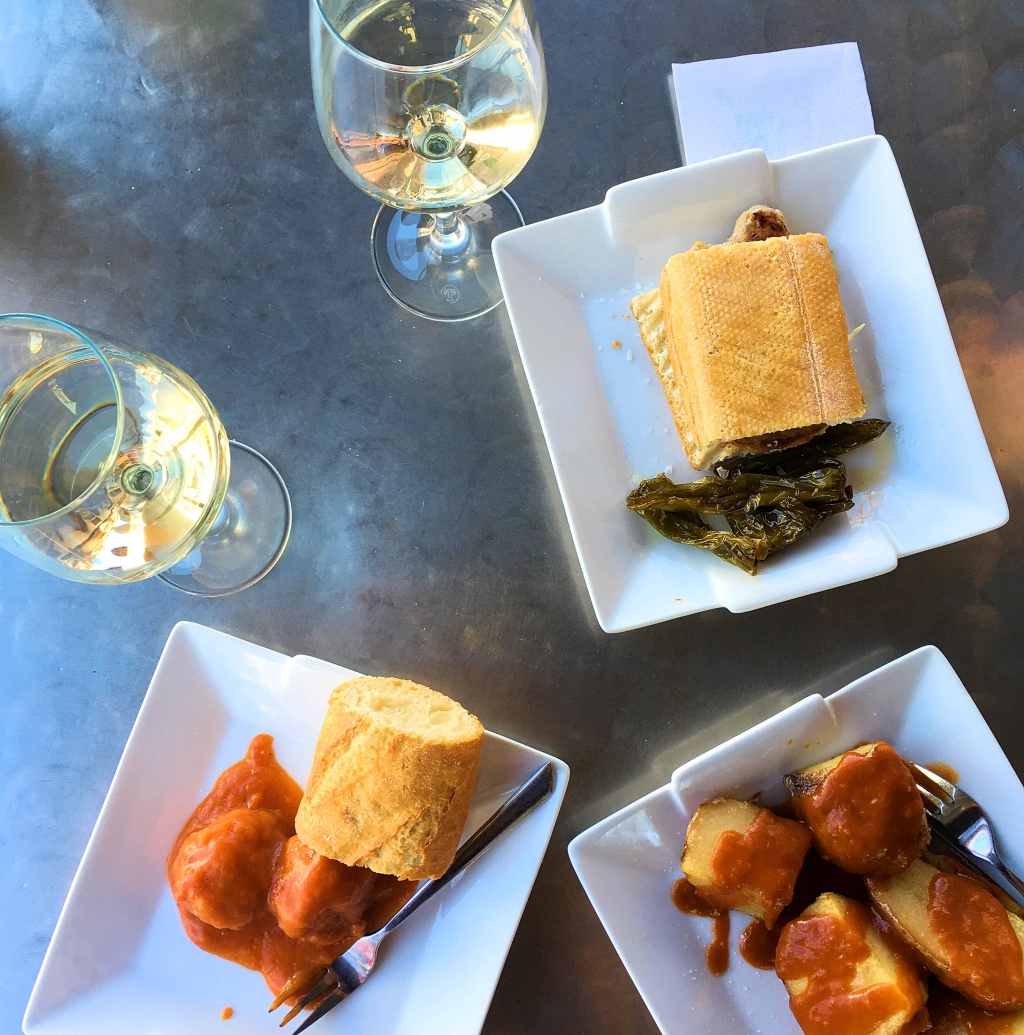 As Monterey was closing for the day, we decided to continue on to the next place. We walked back up the main street, back the way we'd come from. We opted for a cute little bar on the side of the main street. Admittedly, whilst the outside of Bar La Barandilla was very Instagrammable, it was probably the worst tapas that we had of the day. The serrano ham was very fatty, and the crisps, cheese and almonds weren't very interesting, and so we finished our wine and moved on.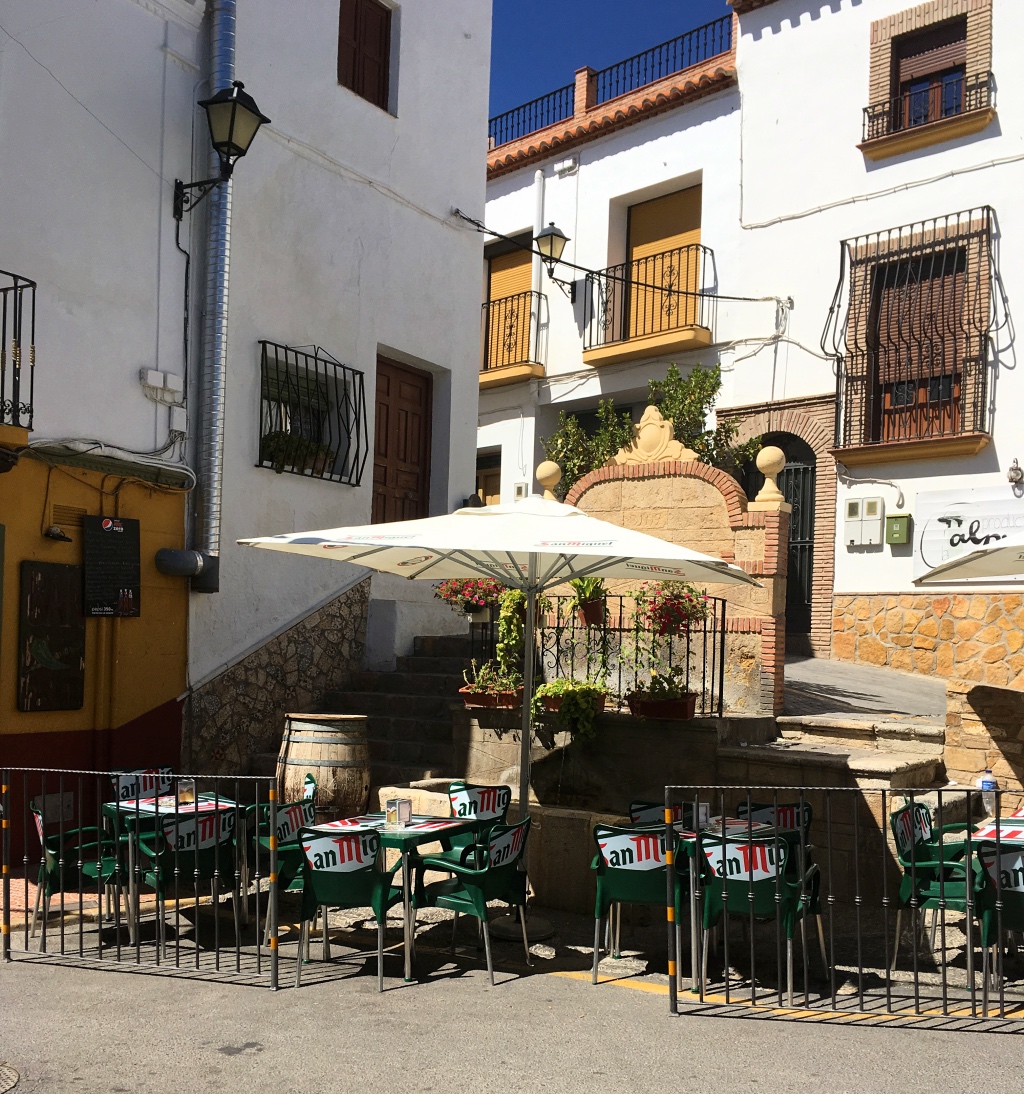 By the time we finished there, it was late afternoon and a number of the bars were closing. So, we headed back to our favourite – Molina. For our final dishes of the day, we went for more meatballs, serrano ham and crisps. We were pretty full by this point so this was the perfect finisher. The ham that we had here was much better than what we'd had in the previous place – you can tell that just from the photos!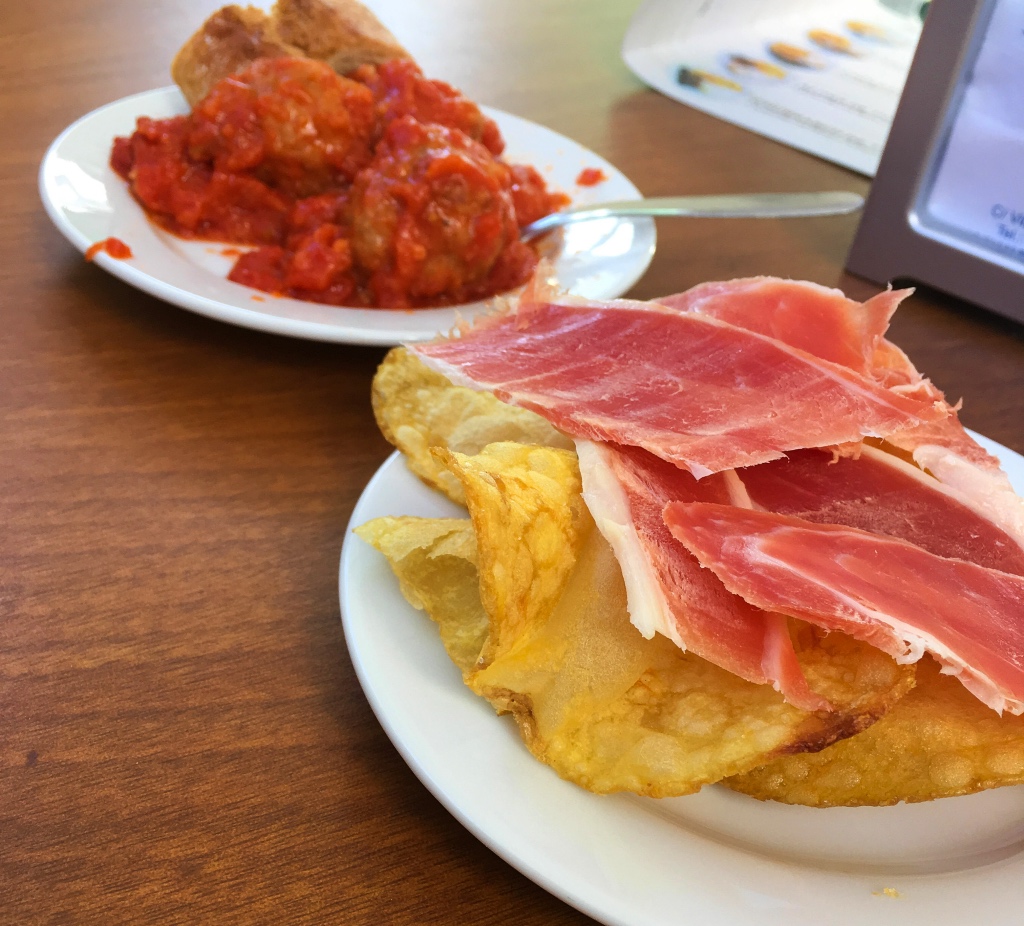 Whilst we hadn't planned our 'culinary food tour', it was a perfect way to spend an afternoon. The sun was shining, we were eating tapas and drinking delicious wine. And, it didn't cost a lot. It meant that we got to try some local food and drinks too, therefore feeling like to an extent, that we'd spent some time taking in the culture!