To kick off our tour around Scandinavia, the boy and I chose to visit Oslo. Admittedly, we didn't know too much about the city, but the pictures we saw looked lovely (and the flights were cheap) – so we booked up straight away!
Before I get into the detail, one thing you need to know…Norway is pricy. Admittedly Brexit doesn't help, but apparently it was expensive beforehand. To put this into context I'll relate it to a subject we can all relate to – wine. A bottle of wine such as Campo Viejo which you can find in a UK supermarket for about £8 is on restaurant menus for about £42 a bottle and that's the cheap end of the scale. Yep, pricy. It's not a place to take your girls for a wine-filled weekend, that's fo'sho'.
But that aside, it's a great city. Here's the low-down on our trip…
Where we stayed:
The Comfort Hotel Xpress Youngstorget
This is a 3* hotel about a 15 minute walk away from the central station. It's about a 10 minute walk to the main street, Karl Johan Gate. The premise of the hotel is simple. They strip back on features to allow you to experience low rates. Rooms are cleaned every four days and there's no breakfast or mini-bar. They do have a 'Barception' which is open 24/7 where you can grab a drink or a snack/breakfast. Downstairs they have a hangout room called Grandma's which has sofas, pinball machines, darts, ping-pong table. The vibe is laid back and friendly. As a base, it's perfect. And if you really want, it has a gym. And a roof terrace. But this weekend was bloody freezing, so I can't tell you too much about that.
What we did:
Walked. A lot. On Saturday we did 12 miles. Uh-huh. Knackering. But we did explore, here's what we saw:
The Royal Palace (and changing of the guards) – we happened to see the changing of the guards more by luck than design, but it was good to see, and it's something that we did in Stockholm too…I sense a pattern coming on. There's also lovely views of the city from up by the palace, looking right down Karl Johan Gate.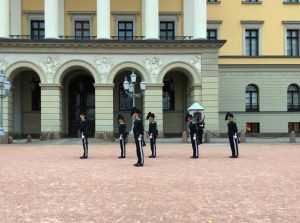 Karl Johans Gate – a long street with shops, restaurants and bars – it's pretty and leads you all the way up to the palace, right past the main Parliament buildings, the National Theatre and some cute parks.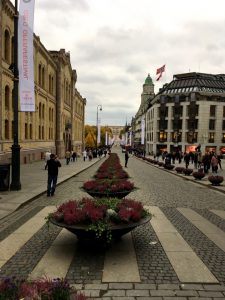 Vigelandsparken – tucked away in a residential area, this park is a popular one with tourists and locals alike. The kids seem to love it to play Pokemon Go (!). Word of warning, the statues here are pretty phalic…maybe not one to visit with your parents. Unless you like your dad making inappropriate and embarrassing comments!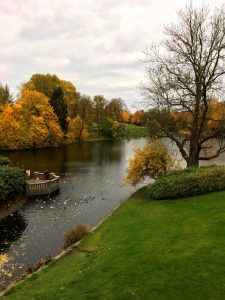 Oslo Cathedral – I'll admit, it's not the fanciest of cathedrals but the artwork on the ceilings is really pretty. And it's just off of Karl Johan Gate, so worth a look if you're in the area.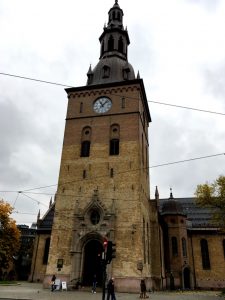 Akershus Festning Og Slott (the castle and fortress) – Up on the cliffs overlooking the harbour, it's worth a visit for the views alone. For about £7, you can pay to go inside the castle and see the dungeon and banquet rooms – some are still in use today for state dinners.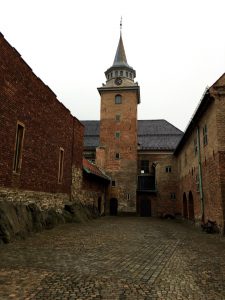 Aker Brygge (the docks) – the area down here has been fairly recently developed and it's full of fancy apartments with a load of restaurants and bars. We found that it was a good location for grabbing lunch and I can imagine that it's heaving in the summer.
Gamlebyen (the old town) – not going to lie, I was expecting a bit more, but it's a good bit of history. You can visit the ruins of the old cathedral and church which were hit by numerous fires over the years. In 1624, they moved the city away from this area and covered it up, but it was reintroduced as part of the city in the 1800s.
Operahuset (the opera house) – before going I had read that this was one of the most impressive opera houses, one to take on Sydney even! It's been designed to look like an iceberg and you can walk up the side and on to the roof. You get some great views of the city, fjords and Norwegian countryside. The photo at the top of this page is of there.
The Sky34 bar at the Radisson Blu – located right next to the train station, it's a great place to get some stunning vistas of the city. Even when it was hammering with rain, it was still a good view. It's free to come up here, or if you do fancy a drink, it's about £9 for a small glass of Hardys.
The weather
So, we went on the 21st – 23rd October. Not gonna lie, it was cold, between 3 and 6 degrees. And it rained/sleeted. Because we were prepared, we were okay, but if you're going to go at this time of year, accept that it might be cold! If you're also keen to go on a boat on the fjord or the like, then check that they will be running. I think that we missed out on being able to do this by about a week. But it does give us another excuse to visit.
Overall
Despite the price, we loved Norway. Yes, it was cold but as we were prepared, we could deal with it. The people are lovely, there's beautiful architecture on every street and there's a lot to see. We really want to go back in the summer to take advantage of boat trips, visit the islands and see it looking not so grey!
Have you been to Oslo? What did you think of it?
Thanks for reading!
Sammy x