Hola chicas!
As autumn draws in and with winter probably not far behind it (insert sad face), I'm way more up for staying in than going out. Nobody wants to spend their Saturday night out in the cold trying to find their Uber. And it's for this reason that we've started doing themed dinner nights. We pick a country/cuisine and then I whip up a feast. I'll be sharing a number of these on here, and to kick it off, we did a Spanish night…
For the main event, I decided to attempt a Paella. I've made one before, and I'd probably say that this one turned out better. I was reading on the internet the other day that Jamie Oliver posted a recipe for a Paella that wasn't too dissimilar to the below. He got absolutely ripped for it. Apparently this isn't a real Paella, it's more like (and I quote) 'Rice with stuff'. Either way, I made it this way and it was tasty. So whether you think this is Paella or 'Rice with stuff', let's not dwell on that.
I'll put the recipe for the main course further down the page. But first things first. Drink. We had a bottle of Sainsbury's Vintage Taste the Difference Cava (£9) to kick things off. And then to accompany the main course, we got a bottle of Carta Roja Gran Reserva (£6.75).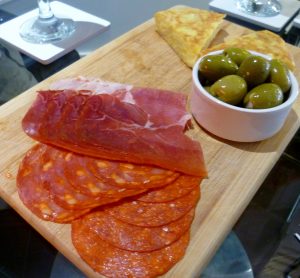 I cheated on the starter – we had some Spanish meats to start (Serrano Ham, Chorizo and Chorizo Pamplona) alongside some garlic stuffed olives and a couple of slices of shop-bought Tortilla. It was nice and simple, and as the main course was going to be pretty large, I didn't want us to fill our selves up too much.
For the Paella, I found a number of recipes online. I decided to take some bits of a few different ones and combine them to come up with the below…
Ingredients (serves 2)
1 x small onion
2 x garlic cloves
1 x red pepper
Half of a Chorizo sausage, chopped
400g chicken
200g Paella rice
650ml water
A sachet of Paella seasoning (I use one I got in Spain, but Sainsburys do a Paella paste you could use instead)
2 handfuls of peas
Method
On a medium heat, cook the chicken, chorizo, garlic and onion. Cook until the chicken is white/nearly cooked through and the onion is softened.
Add the rice, red pepper and seasoning.

  S

tir it all together for a couple of minutes until the rice is translucent and everything is mixed in together.
Add the water and stir. Allow this to simmer for 10 minutes.
Add in the peas and stir through.
Allow this to simmer for another 15-ish minutes, until the rice is cooked. If the rice isn't quite done but you're out of water, add in some more water to help it cook.
Once all of the rice is cooked, it's time to plate up!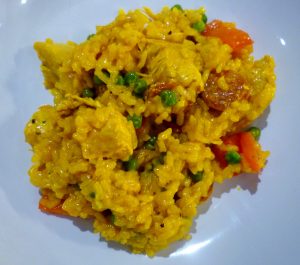 We didn't have any room for dessert after eating all of this…but if you do have space, then Creme Caramel would finish this off nicely!
Let me know if you give this a try – what's your favourite themed night to do?
Sammy x