Hache is one of those places that has featured a lot on my Instagram feed over the past year or so, but I've never ventured there. Over the weekend, my girlfriends and I decided to pay a visit to the branch in Camden. Hache has five branches in London, and my friend highly recommended it, having been to the one in Clapham a number of times. 
The Camden restaurant feels quite small and cramped, but luckily we were able to get a table straight away. As the lunch service went on, it did fill up pretty quickly. Having been craving a burger all week, I was super excited to try the Steak Milano burger – topped with mozarella, Parmesan shavings and on a sundried tomato tapenade, this sounded like it was right up my street. When it came to ordering, I asked if I could have my burger without the bun as I can't eat gluten. This is when I was informed that the burgers have gluten in them, and so I'd need to order something else. As you can imagine, I was pretty gutted….even the patties from McDonald's don't have gluten in them. From a chain that prides its self on great burgers, I did expect more.
The waiter then pointed me in the direction of the chicken burgers. These were ones I could have without the bun to make them GF. I opted for the Club with a side of fries. Worth noting here that the fries aren't strictly GF, but I believe that this is because they're fried in the same oil as the breaded items. Luckily, I can still eat things that may have been contaminated, but worth bearing in mind for those of you with a much stronger intolerance.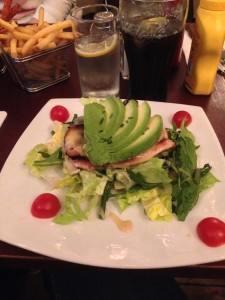 Our food came quite quickly, and we were keen to tuck in. My Hache Chicken Club was okay, but I probably wouldn't say much more than that about it. The salad was fine, but could have done with more dressing, the chicken was pretty dry and the bacon was far too charred in some places. Having heard such good things about this place, I definitely expected more. At first I thought that my sense of underwhelment (is that a word? Spellcheck is suggesting not, but I'm struggling to find a better adjective, so I'm just going to go with it!), was down to the fact that I didn't have the burger I was craving. However, the girls who both opted for burgers were unhappy with their meals too. They found the burgers to be dense, overcooked and not to the quality that one of them had had previously at the Clapham restaurant.
Admittedly we did all eat our meals, but when it came to the end, we did mention to one of the waiting staff that we weren't as satisfied as we had hoped by our meals. Her manager then came over to chat to us and they apologised for the quality of the meat, and she did tell us not to pay the gratuity on our bill to make up for our disappointment. We felt bad doing this, as the service had been fine, however she insisted.
Overall, our experience at Hache was underwhelming and majorly disappointing. For the price that you pay, you could easily go to GBK, Byron or the like and have a much wider selection, with much better tasting (and GF) burgers.
Sammy x