Before I start, I would like to apologise for the awful header photo! But, moving on….since it opened on Great Portland Street last year, Wahaca has been the go-to leaving lunch place for people at my agency. It's either there or Byron. Personally I prefer Wahaca as the menu is much more extensive and for a gluten-free person like myself, it's all about having lots of options! We headed there for lunch on Friday as it was someone's leaving do…
When going out with a big group of people, I always find it easier to peruse the GF menu before going to the restaurant. This just makes it seem like you can eat ordinarily, as opposed to having to explain 10 times that you don't eat gluten. So, inevitably, by the time that we arrived, I was pretty hungry! There was a large group of us and it was a Friday lunchtime, but even still with this in mind, the service was pretty slow. It took a while for our order to be taken and later on, they did forget to bring out something that someone had ordered.
Enough of that though, on to the food. I'm never disappointed with the food at Wahaca. It always tastes fresh and the variety on the menu means that there is something for everyone. I decided to go for a bit of variety, 1 x meat dish, 1 x fish dish and a vegetable side. This was such a good choice as I didn't feel like I was missing out on anything. See the pics below for what I ordered….totally wanting this in my life again today! So yummy!
MSC Crab Tostada (this may not be suitable if you have a very strong gluten intolerance, so check with your server)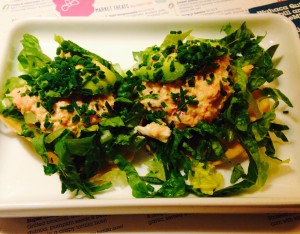 Grilled British Steak Taco with Grilled Cheese and Salsa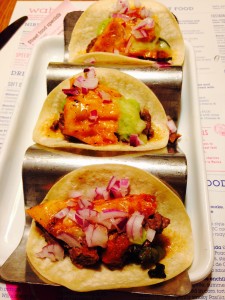 Sweet Potato