My boyfriend and I were in Covent Garden the other day and decided to pay a visit to Carluccio's for a late brunch. On reviewing the menu, we decided to actually go for lunch which was definitely a good choice!
On arriving, my main gripe was about how close the tables were to each other. There were booths on the edge of the restaurant and then in the middle there were a load of tables. We were seated at one of these and I had to move my chair around, as otherwise I probably would have ended up elbowing the bloke behind me!
Once I had sorted my seating arrangement, we then got some drinks in. We started off with a glass of Prosecco each, before moving on to a delicious cocktail. The Gin Giardino was lovely – gin, elderflower, Prosecco and apple juice with a bit of cucumber. It was such a refreshing drink, perfect for a hot day and not too heavy to be drinking at lunch. We may have gotten through one too many of these…!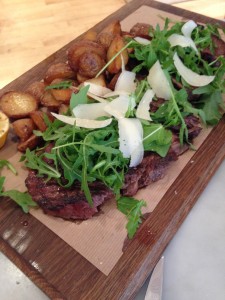 As you may have gathered, myself and the boy are big meat eaters. After perusing the menu, we decided that we could both go for some steak and chose the Tagliata di Manzo. This is a sharing board for two, with steak, potatoes and rocket and Parmesan. It was definitely the right decision. We had asked for the steak to be medium-rare, and for the most part it was, but there were a few bits that we more well done than we would have liked. The potatoes were delicious, they tasted like they had been fried slightly, which is by no means criticism! The rocket salad also really complimented the steak.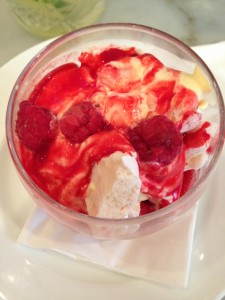 Following this, we both decided to treat ourselves and go for dessert. I opted for their Eton Mess style dessert – meringue, raspberries and raspberry coulis and passion fruit cream. One of the main reasons for this selection was the passion fruit cream, and unfortunately, the taste of raspberry was a bit over-powering, meaning that it was hard to taste the passion fruit, which was a shame. That said, as a dessert it was really nice, very summery and not too much after a large lunch and a few drinks.
Sammy x