Bodeans is without a doubt one of mine and my boyfriend's favourite restaurants. We often frequent the Fulham branch. Bodeans is an American BBQ restaurant, serving everything from burnt-ends, ribs and pulled pork to burritos and mac'n'cheese. They also do delivery. Making them one of the best hangover cures ever!
When I first went gluten-free, I asked one of the waiters if there was anything gluten-free on the menu, and was told that everything had gluten in it. This was pretty heartbreaking to be honest! However, I recently found the Bodeans allergy information for their menu on their website and the great news is, there is actually HEAPS of stuff that people who are gluten intolerant can eat. Day made. Now, obviously not everything is gluten-free, so do check the menu before you go.
Having not been to Bodeans in a while, due to the fact that I thought I couldn't eat it, I did perhaps over-order, but the good news is that they do doggie-bags!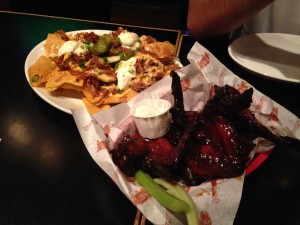 To start, myself and the boy got a couple of starters to share. We got the BBQ buffalo wings and the Memphis Style Pulled Pork Nachos. This was a great shout. The wings were messy and sticky and delicious. Basically, everything that buffalo wings should be. The nachos perhaps could have done with a bit more pulled pork, but that may be because I'm a pulled pork fiend.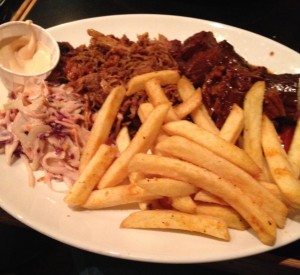 For mains, I opted for burnt ends, pulled pork (yes, more pulled pork!), fries and coleslaw. As per usual, it was great! The burnt-ends are literally melt in the mouth. The pulled pork was a tiny bit dry, but I added some of the BBQ sauce that they have on the table and that sorted it out. Whilst the fries don't look too great in this photo, they really are tasty and go really well with the sauce that's also in the pic. I'm not sure what's in the sauce, it's a bit like nacho cheese sauce.
As you can imagine from the amount of food that we ordered, desserts weren't even an option! It's worth noting that all of the desserts apart from the ice-cream have gluten in them.
Another thing to note with Bodeans is the service. Apart from once being told that I couldn't eat any of the food, the service is great. That said, not knowing the allergy information on the menu is a big no-no. The team at the Fulham branch are always really friendly and make you feel very welcome, even when the place is packed (which is often).
I'm yet to try out any of the other branches, but if you do see one, I definitely recommend.
Sammy x