We're off on holiday on Saturday and so, over the weekend just gone, we decided to hit up Westfield London to get some last minute bits. We decided to make a day of it, and go shopping, followed by dinner and the cinema. We ended up going to see Fast and Furious 7, which was horrendous, but hey, I'm not a film critic. Remarkably better than the film, was our dinner! We ended up going to Bill's. I've heard good things about this place, so we decided to check it out.
To kick things off, we started off with a couple of cocktails whilst we perused the menu. I went for the Strawberry Daiquiri, and my boyfriend had the Bramble Mojito. The Daiquiri was amazing – they make it using strawberry jam, which you could really taste. It was rather sweet, and so you probably wouldn't be able to have too many of them, but it was great to kick things off. I tried a bit of the Mojito too, which whilst it was rather fruity, you could definitely taste the alcohol. All in all, very nice though.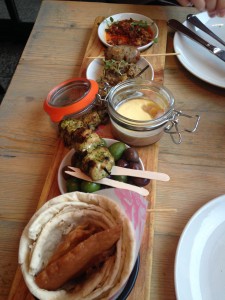 Now, on to the food. For a starter, we decided to share the Butcher's Board. As you can see, it was packed with lots of goodies, including olives, chicken liver parfait, mini cumberland sausages, marinated chicken skewers, baba ganoush, hummus, tortilla chips and grilled piadina bread. Whilst I don't eat gluten, I was a bit naughty and had a cumberland sausage, but for the most-part I was good and myself and the boyfriend divvied up the board between us. The sausage was good, and well worth deviating off of the GF wagon! The chicken skewer was tasty, and really nice when dipped into the hummus or baba ganoush. My boyfriend polished off the tortilla chips, bread and parfait, and by all accounts it was very good.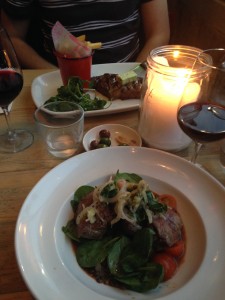 For my main, I went for the English Lamb Rump on Lamb and Lentil Moussaka. First impressions were 'wow, that's a lot of lamb'! There were three big bits of lamb rump, on a bed of lentils, carrot, cherry tomatoes and more lamb, all in a stock. I feel that calling it a 'moussaka' was perhaps a bit misleading, as I was expecting layers and a white sauce. However, as shown in the pic, this was more of a casserole. It was though, well seasoned and very filling. Probably down to all of the lamb! I had asked for my lamb to be cooked medium/medium-rare, and this was spot on. It was melt-in-the-mouth, with barely any fat. For £15.50 for all of that meat, it was very reasonably priced.
My boyfriend went for the Sirloin Steak with Garlic Butter. I tried some and it was amazing. Very garlicky, cooked to perfection and accompanied by some very tasty skin on fries. There were happy tummies all round!
Due to our main meal choices, we paired the meals with a bottle of Merlot.
By the end of our main courses, we were both stuffed and so decided to skip on dessert. There was a GF brownie which I had been eying up, but the lamb definitely defeated me! All in all, for our meal and drinks, including a service charge, it came to about £90. I did think that this was quite expensive, but the food was good, with a very varied menu and the cocktails were a tasty treat. The service was well worth the 12.5% service charge. All of the staff were very smiley and friendly and our main waitress was very good. Really attentive (without being too much) and chatty.
It wasn't until I started writing this review that I looked at the website for Bill's, and noticed that it's actually quite a large chain. If there's one near you, I would definitely recommend giving it a go. I've also heard that the breakfasts are amazing….so that might be on the cards for our next visit.
Sammy x