This post is rather delayed, but I was still keen to share it. I had a couple of late nights at work last week and when I finished, the last thing I wanted to do was go home and cook. A couple of months ago I got my hands on a free Tastecard and so I decided that me and the boy should go for dinner. We decided to go to the Pizza Express in Fulham Broadway, as it was so late and we hadn't been able to book anywhere. Another reason for the choice was the amount of GF (gluten-free) food on their menu, including a chocolate brownie…
The restaurant wasn't too busy and we were able to get a table. I'll jump straight to the service point…it wasn't very good. Extremely slow, not clearing starters before mains were brought out etc. When I was at uni I worked in a Zizzi and so I'm familiar with the things that chain restaurants are supposed to do. Needless to say, this didn't tick many boxes! Anyways, moving on to the food…
For starter, I was extremely jealous of my boyfriend's choice of garlic bread, although I did question why he wouldn't add melted cheese (weirdo!). I chose the Leggera Gamberetti Piccante as I love prawns and will always have a dish with them in where possible. Sadly I was then told that they had no more….so I rushed and picked the next thing I saw that had a GF logo next to it, the Melanzanine. This was good, very good. Aubergine, garlic and loads of cheese in a tomato sauce. The silly size of the bowl meant that it was hard to cut the aubergine but I got there eventually! It had so much cheese and garlic that I commented that it was probably the next best thing after cheesy garlic bread. Only criticism would be that there was lots of tomato and it would have been nice to have something to mop it up with.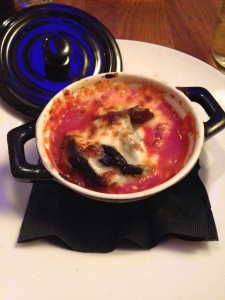 Whilst Pizza Express do have GF pizzas, I played it safe and went for the Risotto Pollo Funghi – a chicken, mushroom, pesto and rocket risotto. It was okay, the chicken tasted a bit too much of charcoal for my liking but apart from that it was alright. I think my lack of enthusiasm comes from my jealousy of the boyfriend's pizza, which looked and smelt awesome!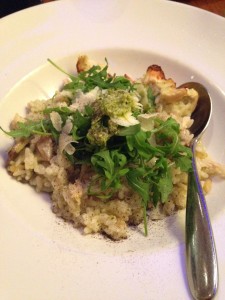 By this point I was stuffed, but who am I to turn down a GF Brownie?! This was good, very gooey, perhaps too much so, if such a thing is possible! It was to the point of being rather chewy. My colleague at work had gotten me a GF brownie from Lola's a day or two before and I have to say that was better. But, nonetheless it was just what I needed after a long day!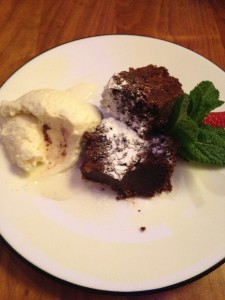 Probably the best part of the meal was the price. The two for one deal across starters, main courses and desserts meant the dinner was a complete bargain! For three courses each, and with one beer and an Appletiser, it came to £25. £25!! Absolute winner, for two people dining out. My Tastecard has expired now, but I'm starting to consider getting another one.
Sammy x