As I write this post, I'm sitting in the English sunshine with a chilled glass of Soave, and convincing myself that I'm back in Italy. I LOVE it there. I'm actually half-Italian, and I totally think that the laid-back Italian life really works for me. The boy and I spent a week in north Italy – 4 days by Lake Garda and 2 in Verona. And I'm not even going to lie, we spent a majority of the time drinking and eating. It was like 35 degrees, which means that in my book, it's totally acceptable to have an Aperol Spritz or glass of white in your hand at all times! Here's my list of the top 5 things that we did whilst we were out there:
Rented a speed boat
We rented a speedboat from Sirmione and it was SO much fun! It's a bit pricy, but totes worth it. We went out over lunchtime and took a little picnic along with us. The views are incredible, driving a boat makes you feel like you've made it in life, and going super fast whilst jumping over the waves is hilarious. A must do.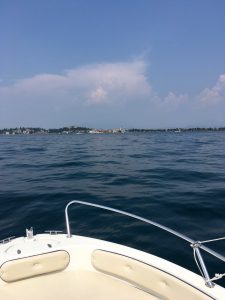 Visited other towns around the lake
Our hotel was based in Peschiera del Garda, at the bottom of the lake. Truth be told, the reason for staying here was more about convenience, due to it being one of only 2 towns with a train station. It's a decent size town with lots going on, but I think you could quite quickly do it all. As well as going to Sirmione for the speed boat, we visited both Bardolino and Torri del Benaco for the day – getting there by ferry. Each town has its own charm, and as you'd expect, they're all very pretty. Next time we go, I'm definitely going to be stopping by Lazise – it looks beautiful.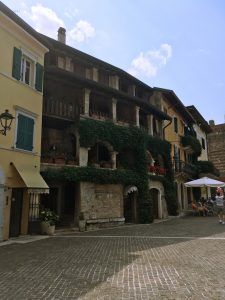 Went to the opera
I first went to the opera when I was about 12. I was forced to go and I hated it. But now, being the wise old age of 28 (!), I actually opted to go. We booked some tickets online before going for a performance of Aida at the Verona Arena. Top tip – under 30s get a discount, so make sure you take advantage! We went for some dinner before hand and then headed to the opera for 4 hours of culture. Surprisingly, the 4 hours goes extremely quickly and they have English subtitles. It was so good, very impressive, great choreography and just over all a really enjoyable evening. Luckily the boy was up for going, but if your travelling buddy isn't – they also come round and serve wine in the intermission and it's a great people watching place….so there's that.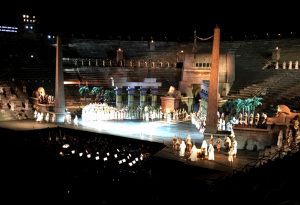 Sat in a bar and watched the world go by
That point is slightly misleading….we didn't just sit in A bar. We sat in lots of bars, restaurants, cafes and just watched the world go by. One of my favourite parts of travelling is immersing myself in local culture, finding where the locals go, eating as the locals eat. And when Italy is the home of Aperol Spritz, it would be rude not to partake in the local culture – non?!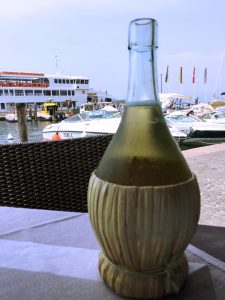 Had lunch (and a dinner) at Ristorante Osteria Casa Vino in Verona
I'd feel bad writing this post without mentioning this lil' gem of a restaurant. We enjoyed it so much the first time that we came back again for dinner before the opera. The staff are friendly and very clued up on GF dining. But even without that, the food is totally worth the visit. It all seemed like traditional Italian fare, as opposed to the restaurants in Peschiera which seemed much more suited to the tourist palette. We had plates such as potted shrimp with polenta, veal in a porcini sauce with mashed potato – all extremely tasty. And I totally could go for that meal right now.
Have you ever been to Lake Garda or Verona? What are your travel tips? We're totally planning on going back so that we can go to the opera again (yes, I've been converted!!), so hit me up!
Sammy x