By happy coincidence, I was able to get complimentary tickets to the BBC Good Food Eat Well Show at the same time that I decided to start doing this blog. As one of the things that I'm going to be talking about is healthy eating, it would have been rude not to pay a visit.
The show was full of a variety of stalls. Some showcasing the latest in kitchen gadgets (think spiralizers and smoothie makers) through to those shouting about the latest health food offerings. There were also stages featuring demos from chefs such as Lorraine Pascale and Natasha Corrett. Admittedly, the show wasn't as big as I was expecting and I wouldn't have been too happy had I paid the £17 they were asking for on the door.
One of my favourite things about food expos is the freebies! Of the things I tried on the day, my favourites were the Chia Seed and Nut Bread from Ugg Foods and the Cacao Mint Protein Bomb from Bounce.
The Chia Seed and Nut Bread was nice and moist, not at all dry and crumbly like some other gluten-free breads out there. Annoyingly, my boyfriend is allergic to nuts (yes, catering for us can be a bit of a nightmare!), and so I left without purchasing. Because, whilst it was nice, I couldn't see myself eating a whole loaf. In hindsight, I probably could have bought it, made it and frozen it….but hindsight is a wonderful thing!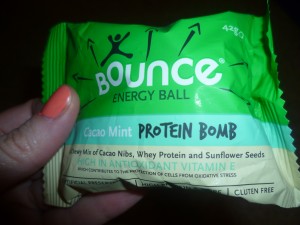 I had been meaning to buy some of the Bounce Balls for a while, but had always been reluctant as I thought that they might be quite hard. So, when I saw the stall giving away tasters, I dove straight in. Bounce Balls are gluten-free snack balls, perfect for an energy boost, pre or post work-out. I tried the Coconut & Macadamia and the Cacao Mint flavours. Both were delicious. The Coconut & Macadamia one was just like eating a Bounty bar. Except with this you knew that it was good for you! Luckily, the Cacao Mint one is nut free (they do say it may contain traces due to manufacturing methods) and so after tasting and enjoying, we went ahead and purchased 3 for £5. I do think that they are perhaps a bit expensive for what they are, but as a treat I think that's ok. They're also high in protein, fibre and manganese, so at least you know they're good for you and they're super tasty!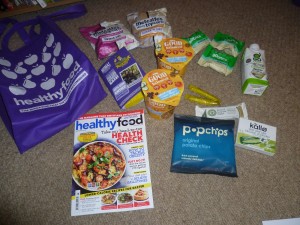 As I mentioned, they had a number of stalls selling electrical goodies and also a book stall, however I felt a bit loathed to buy anything from these, knowing that I could probably find them cheaper on Amazon! Therefore my last purchase of the day was from the team at Healthy Food Magazine. For just £5, I got a goody bag full of healthy products and also the March edition of the magazine. The magazine contains loads of recipes, fitness and diet tips – essentially, what you need to know for a healthy lifestyle. I did contemplate signing up for a subscription, but you can access things so easily on the web nowadays that I decided against it. The healthy food that came in the bag included Metcalfes Popcorn, Kallo Gluten-Free Stock Cubes, Popchips, agave nectar and a Doves Farm Banana and hemp seed flapjack. Of these, I'm most excited to try the agave nectar – think I might save it for the next time I have pancakes!
All-in-all, the show it's self was a good way to spend a few hours on a Sunday. It was nice to spend some time wandering round, looking at the new food crazes and seeing some demos from top healthy chefs (the stages are really busy though, so you need to get there early to get a good view). It's also given me some inspiration for some new recipes to try and convinced me that I need a spiralizer in my life!
Sammy x