If you follow me on Insta (you can find me here BTW), you'll have seen that I recently went to Disneyland Paris. After 6 years of me badgering him, the boy finally gave in and we booked 3 nights, 4 days in Disney. In hindsight, 4 days was probably a day too long, but we got the 3rd night and 4th day for free when we booked, so who are we to turn that down?!
I did so much research before we went. Partly because I was so excited that I needed to spend all of my time reading and watching vlogs about Disney. And partly because as it was the boys first time there, I wanted to make sure that he got to experience it properly.
So, if you're heading off to Disneyland Paris soon (lucky you, I'm not at all jealous!), then hopefully these tips will help you make the most out of your trip…
Do your research: I mean, you're reading this post so you're probably already doing that, but seriously, do some research first. Have an idea of what rides you want to go on, any restaurants you want to eat at. It will mean that you can try to attack the parks in a logical way, ensuring that you can get what you want out of your visit.
Download the MagiPark app: This app is a lot better than the official Disneyland one. It clearly lists out all of the rides and the wait times. There are also graphs so that you can see how busy they've been during the day, helping you to plan more effectively. You can also 'favourite' rides – we found this feature super handy as it meant that we could create a list of all of the rides that we wanted to go on, and then remove them from the list as we ticked them off.
Stay in a Disney hotel: If you can, stay in one of the hotels located in the Disney Village (not the Davy Crockett Ranch). These hotels are all about a 10 minute walk from the park and it's so handy to be close to your hotel. Too cold? Go back and grab a jumper. Too hot? Go back and ditch the layers. Got wet (which you inevitably will as it always seems to rain at Disneyland Paris)? Head back and change into some dry clothes. It also means that you can escape the hustle and bustle of the park and just chill out for a bit, which is definitely needed at times! We stayed in the Sequoia Lodge and they had a huge bar area which was perfect to escape to when the rain all got a bit much.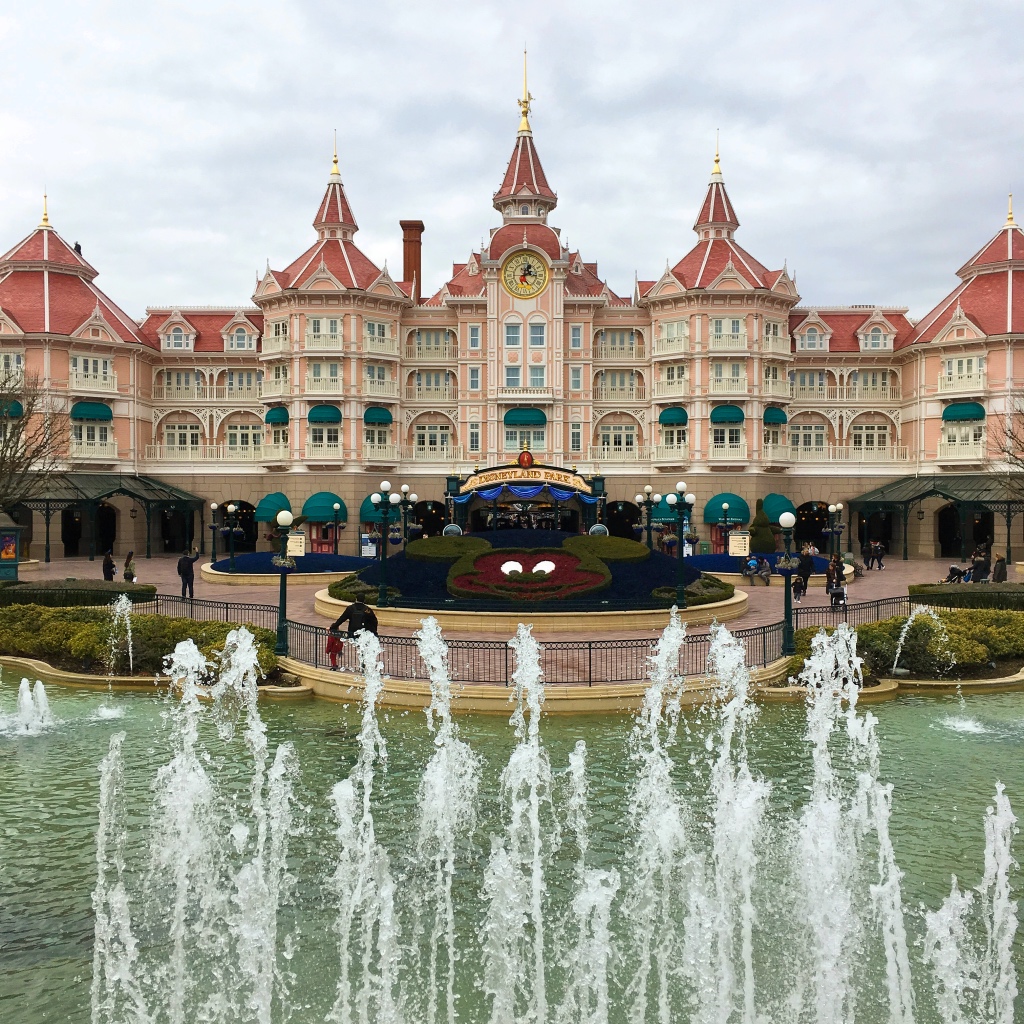 Take either a very small handbag or no bag at all: Probably one of the handiest tips I was given before I went. On the rides, there's no where for you to store your bag. If you have a rucksack, you need to put this in the foot well of the ride with your legs through the straps – I can imagine that being a complete pain on a ride like the Rock 'n' Roller coaster. I took a very small cross-body bag (a bag with a zip is a must!) which could just fit in my essentials for the day and it meant that I could just keep it on for the rides, without it getting in the way of any of the safety harnesses.
Get a meal-plan and pre-book your restaurants: Another tip I was given and this is a great money saver. Before going, we pre-booked the half-board Plus meal plan. This meant that we got breakfast in our hotel every day and also either lunch or dinner at a number of different restaurants. With the Plus plan, you have to eat off a set menu, but there's good choice and as you pay for the meal plan in advance, it means that you don't have to worry about taking a lot of spending money for each day. You can also call Disney in advance to book tables in the more popular restaurants. I totally recommend doing this – it means that you don't have to waste time queuing for a table and the staff on the help line are really helpful, they'll help you work out the best time to get a table so that you can get out in time to see the fireworks shows. We booked Bistrot Chez Remy and Captain Jack's – Restaurant des Pirates, which are two of the more popular restaurants.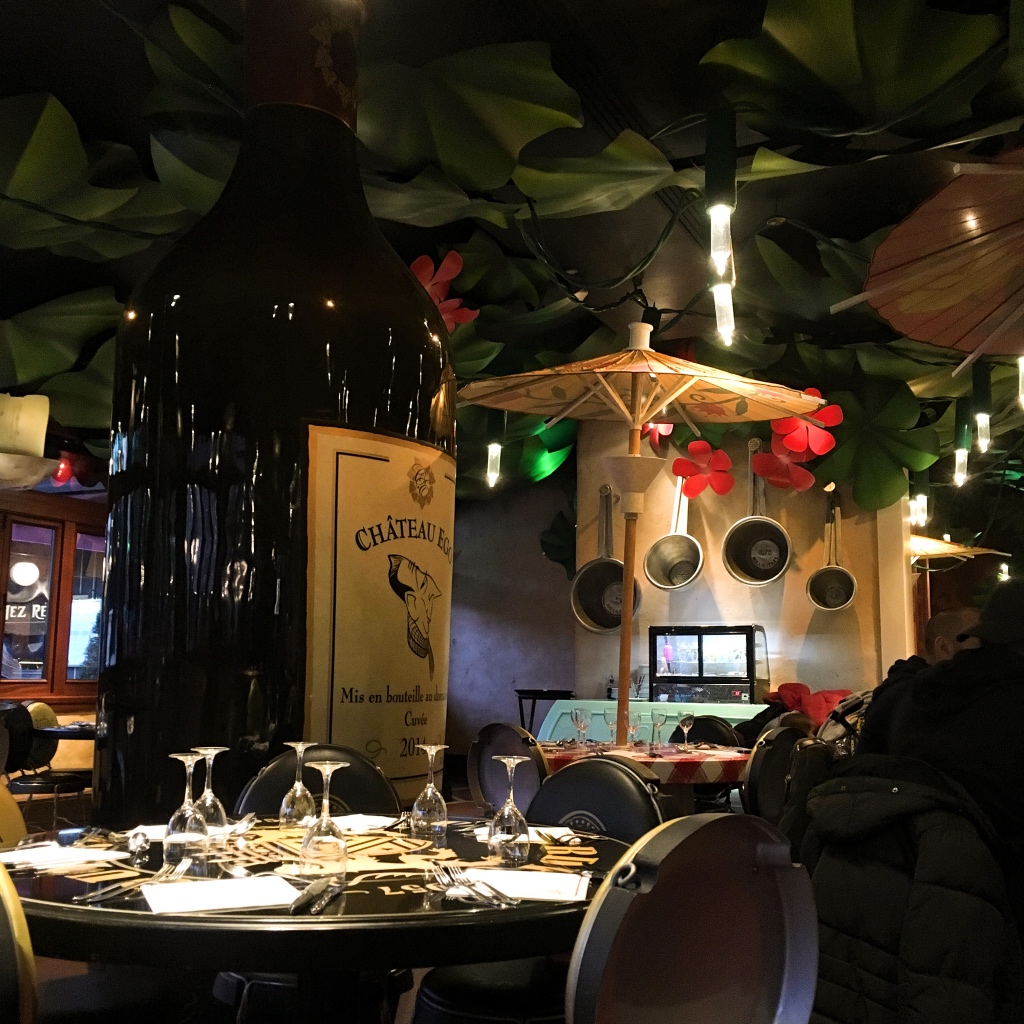 Grab lunch in the Village: We saved our meal plan for the evenings, when we knew that we could eat a bigger meal without the fear of then seeing it again a bit later on a ride! For lunch, we found it much cheaper to head to the Village – they have a Starbucks and a McDonald's which are considerably cheaper than getting a meal in the park. For example, most 'meals' in the park cost about €13 each on average. We were able to get a meal for two in McDonald's for €15.
Grabbing a drink at Disneyland Paris: After dealing with long queues, rain and a lot of people dawdling/stopping randomly, you may well need a drink to chill out! We had a drink in our hotel which turned out to be quite pricy, but if you're after a cheap drink then head to King Ludwig's Castle in the Village for their Happy Hour – I think it's about €6 for a glass of wine. And it's got a great interior, much cooler than the pubs back home! Another good drinking spot is in the Piano Bar on the 2nd floor of the Disneyland Hotel. It's a bit pricier but has a really nice (slightly more sophisticated) atmosphere.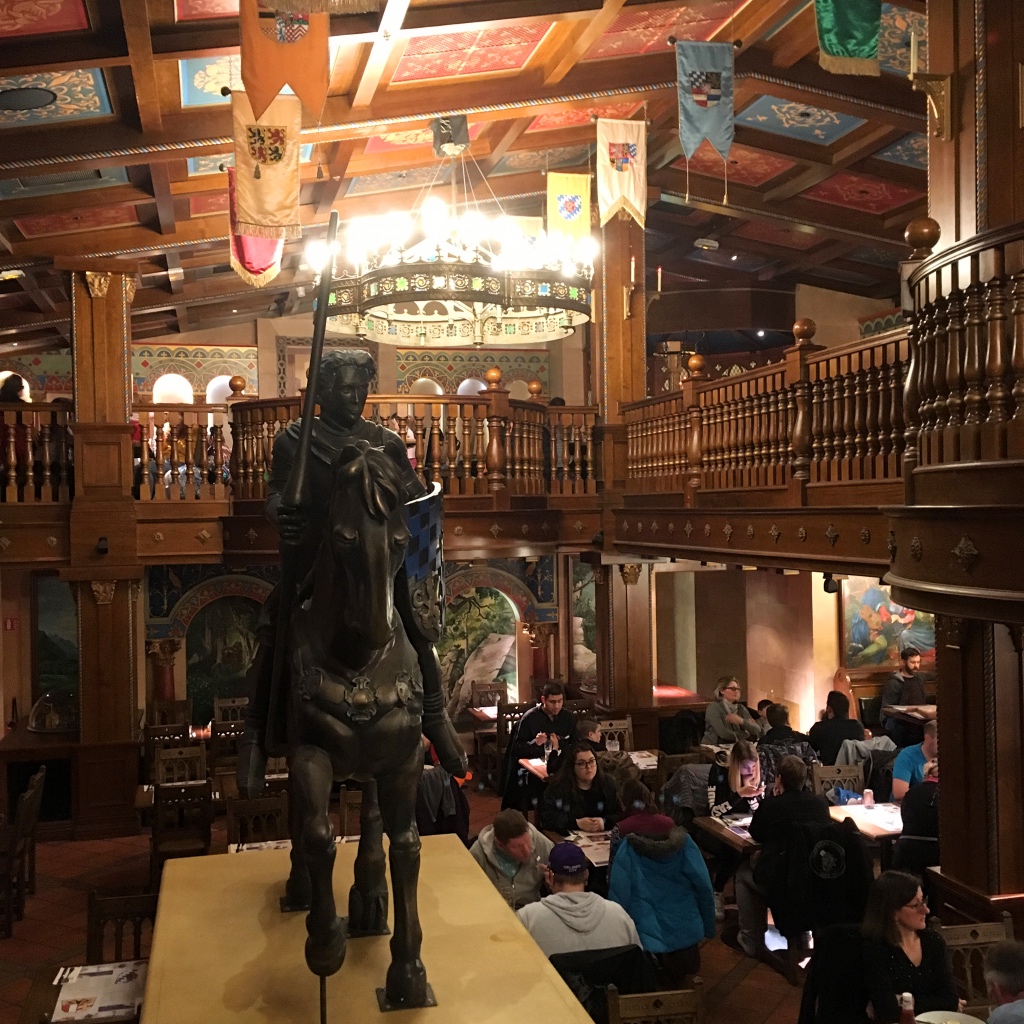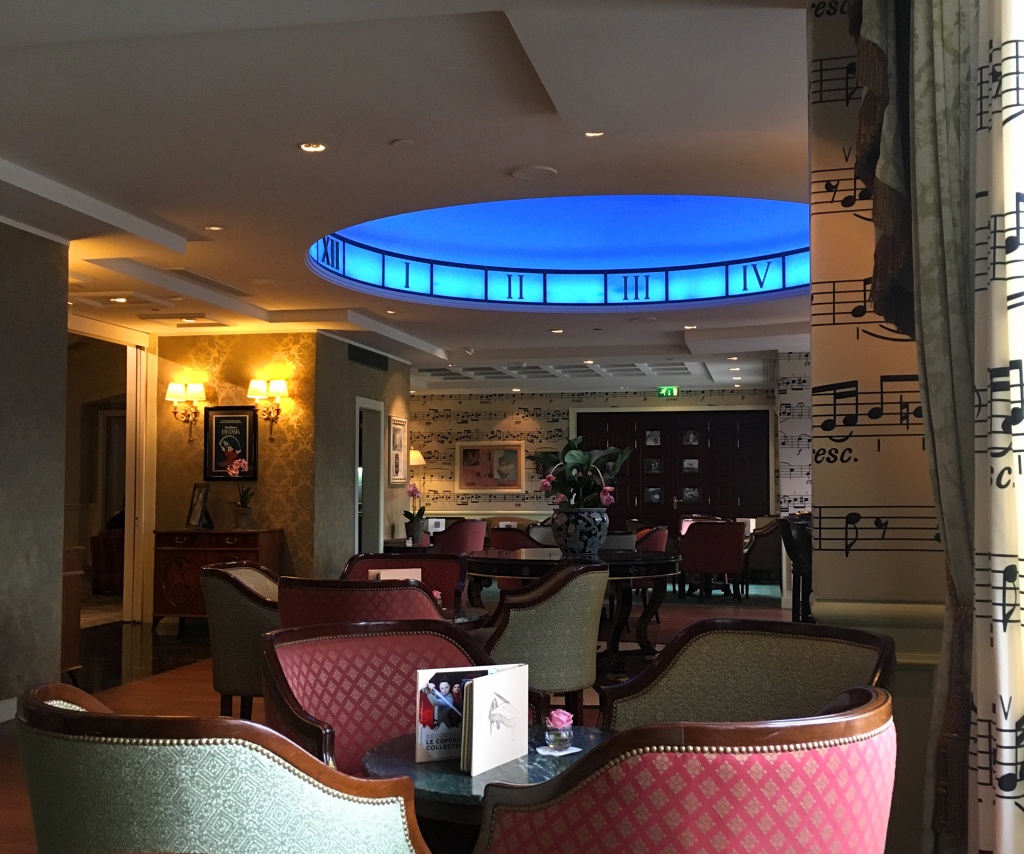 Take snacks with you: If you can fit them in your bag/coat, then take some snacks with you. Obviously you'll want to treat yourself to some of the amazing sugary goodies that they have on offer in the park, but it's also handy to take some cereal bars with you. This will save you money and mean that you can kill time in the queues by eating!
Strike up conversations with the staff: All of the staff are very friendly and helpful. It was only through chatting to the barman in our hotel that we really found out about the Star Wars show in the Studios park (it was Star Wars season when we went so this might not be on all of the time, but if it's on when you go I totally recommend seeing this!). From speaking to another member of staff, we found out that you can buy Disney branded wine to take home with you.
Use Extra Magic Hours: If you stay in a Disney hotel, then you also get the benefit of Extra Magic Hours. This means that the parks open to Disney hotel guests about an hour before the parks open to the general public. We were getting up super early to make the most of these (I mean, even earlier than what we do usually to go to work!). Apparently the queues for breakfast at the hotels can get a bit ridiculous, so we made sure that we were down for breakfast by about 7am so that we could beat the queues and let our food go down before going on the rides. The parks then opened at about 8.30. Not all of the rides are open, and in fact I'd recommend heading to the Studios Park, as a lot more rides are open there. Crush's Coaster typically has queues of about 75 minutes during the day (it doesn't have Fast Pass), but in Extra Magic Hours, we pretty much ran to the ride and only had to queue for about 25 minutes to get on. In the main park, it's mainly the rides in Fantasyland are open, but towards the end of Magic Hours, they do open up the other areas of the park so that you can start to queue for the rides before the public get in.
Head to the left of the castle for the best photo opp: I saw about this on a vlog and it's a great tip! When you walk up to the castle, head to the left (just before where the entrance to La Taniere du Dragon is) and there is an open space that is great for getting a picture in front of the castle, but without all of the crowds.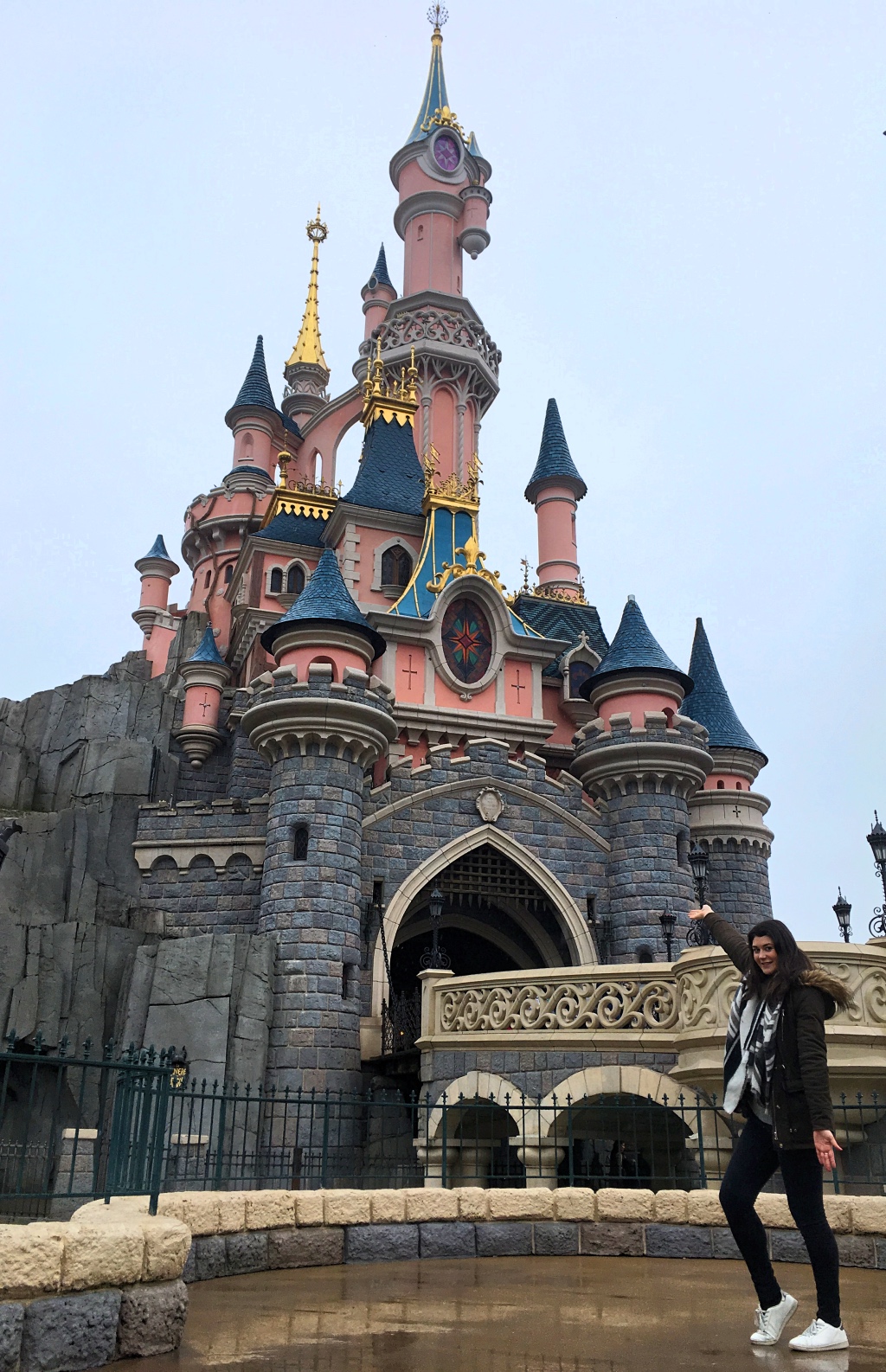 Wear comfy shoes: I saw some people wearing ridiculous footwear – we were walking on average 10 miles a day (it's amazing how far you walk without even noticing it!), so comfy shoes are an absolute must.
Get cheaper items in the Hotel Disney shops: Not applicable for all items, but we did find that some items were a Euro or two cheaper in our hotel shop, compared to the shops that you got in the parks.
Get some great Snapchat selfies: Sounds like a ridiculous tip, but when you're in Disneyland, you can get access to some exclusive Disneyland lenses on Snapchat. This Minnie Mouse one was super cute, and none of your friends will have it!
Take a portable battery pack: You will use your phone a lot when at Disney. I took so many photos, killed time in queues by flicking through Instagram and checked the MagiPark app frequently. We took a small portable battery pack with us and this was an absolute saviour and meant that we didn't have to head back to the hotel to charge our phones.
So, there you have it, one hell of a long post. I love that typing over 1500 words for an essay at school seemed to be impossible but writing the same amount about Disney is far too easy. Hopefully these will help you plan for your trip – have the most amazing time! Say hi to Mickey for me!
Sammy x