When we saw that Ryanair had a sale on, it seemed rude not to check it out. On there, we saw that we could get flights to Berlin in November for about £50 return, so instantly snapped them up. The flights were into Berlin Schonefeld airport which is about a 30 minute train journey from the centre of Berlin. We had heard great things about Berlin, but I think I was probably surprised at how much I ended up loving it.
I love countries like Spain and Italy due to their beautiful streets – typically Mediterranean with their quaint houses and bright colours. Berlin (as you may expect) is nothing like that. Having been so heavily bombed and then having to be quickly rebuilt, has resulted in the city being rather full of concrete and cold feeling in places. We found Warsaw to be similar when we went last year. However, there are little pockets of pretty buildings and some of the architecture is stunning. Read on to find out more…
Where we stayed in 
Berlin
After a bit of looking around, we found a really good deal on the Park Inn in Alexanderplatz. Alexanderplatz is one of the main areas of Berlin, very centrally located. It's one of the shopping districts and well placed for sight seeing. The hotel is located right in the square by the train station, so very handy for when you get the train from the airport.
It's one of the tallest buildings in Berlin and has a terrace on the 40th floor which offers stunning views across the city (more on that below). The rooms in the hotel are quite small but fine to act as a base for a city break. The bathroom element of things is quite open….everything is divided by glass and there isn't a bathroom as such. There's a toilet cubicle and a shower cubicle, but step out of those and you're right in the bedroom. Heads up, as everything is divided by glass, this does mean that you can hear EVERYTHING. Perhaps worth bearing in mind if you're visiting with someone who you're not 100% familiar with yet!! Our room was on about the 28th floor which meant that we had great views over downtown Berlin and beyond.
One thing that we did notice was that the hotel seemed to be a bit of a money spinner. Want to leave your suitcase? You have to pay. Want to use the toilets in reception? You have to pay. Perhaps to be expected when it's in such a central location, they probably want to avoid being a place that people take advantage of, but it did feel a bit odd.
Things to do in 
Berlin
Visit the roof terrace at the Park Inn, Alexanderplatz – I already gave this one away, but it's a definite recommendation. It costs only a few Euro to go to the top and when you get there, you can grab a drink and enjoy beautiful views of the city. We went up just as the sun was setting and it was perfect. You get a great view of the Fernsehturm and beyond. It's a good way to get your bearings of city.
Have dinner at the Fernsehturm – located 207m up, this rotating restaurant is a must-do. Make sure you book a table and get a clear evening as the views are great. The restaurant slowly rotates so you get a full 360 view of the city. The food is pretty good, albeit with slightly odd flavour combinations – I had a large bit of beef with a potato rosti and Asian style veg, all of it was tasty, just felt like an odd combo!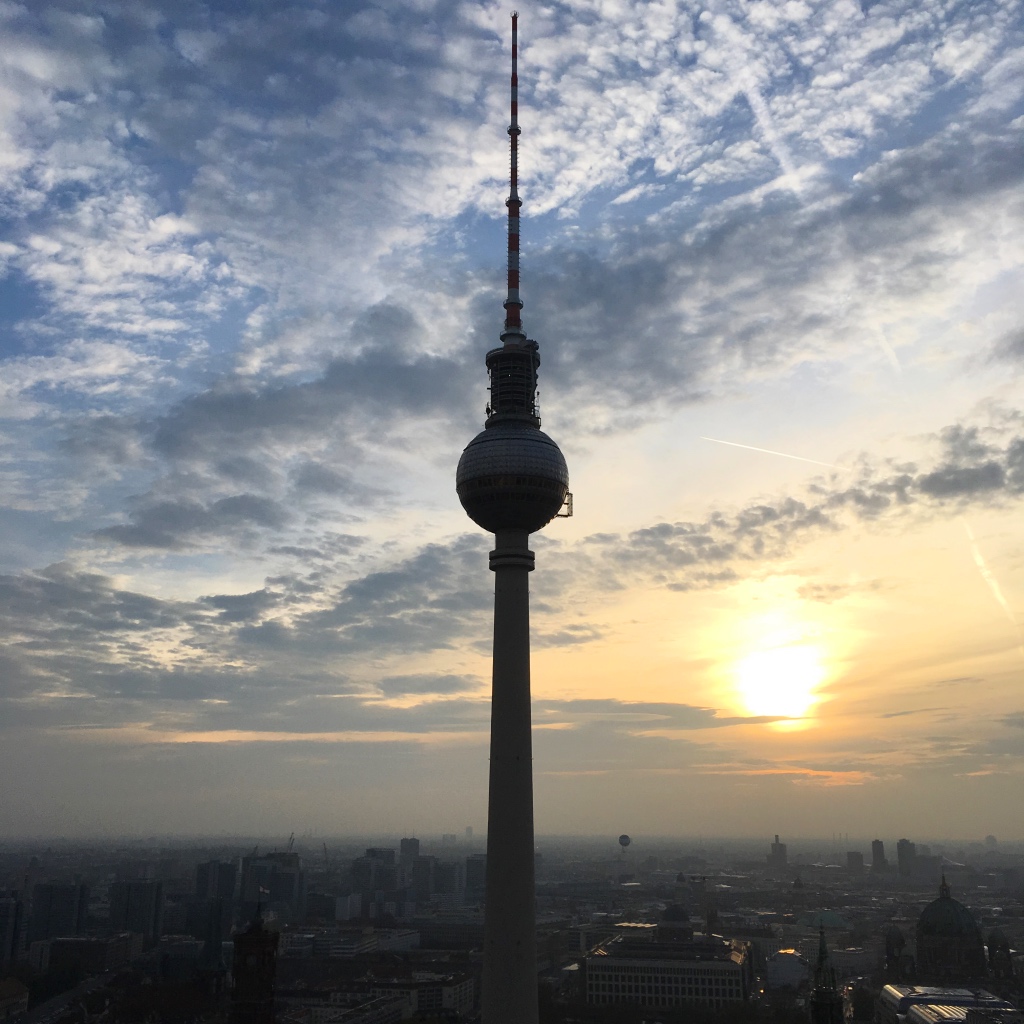 Visit Berliner Dom – best done early in the morning to get some good photos of the outside but without all of the tourists in the photo. I say early, we went at about 10am on a Sunday and it was dead!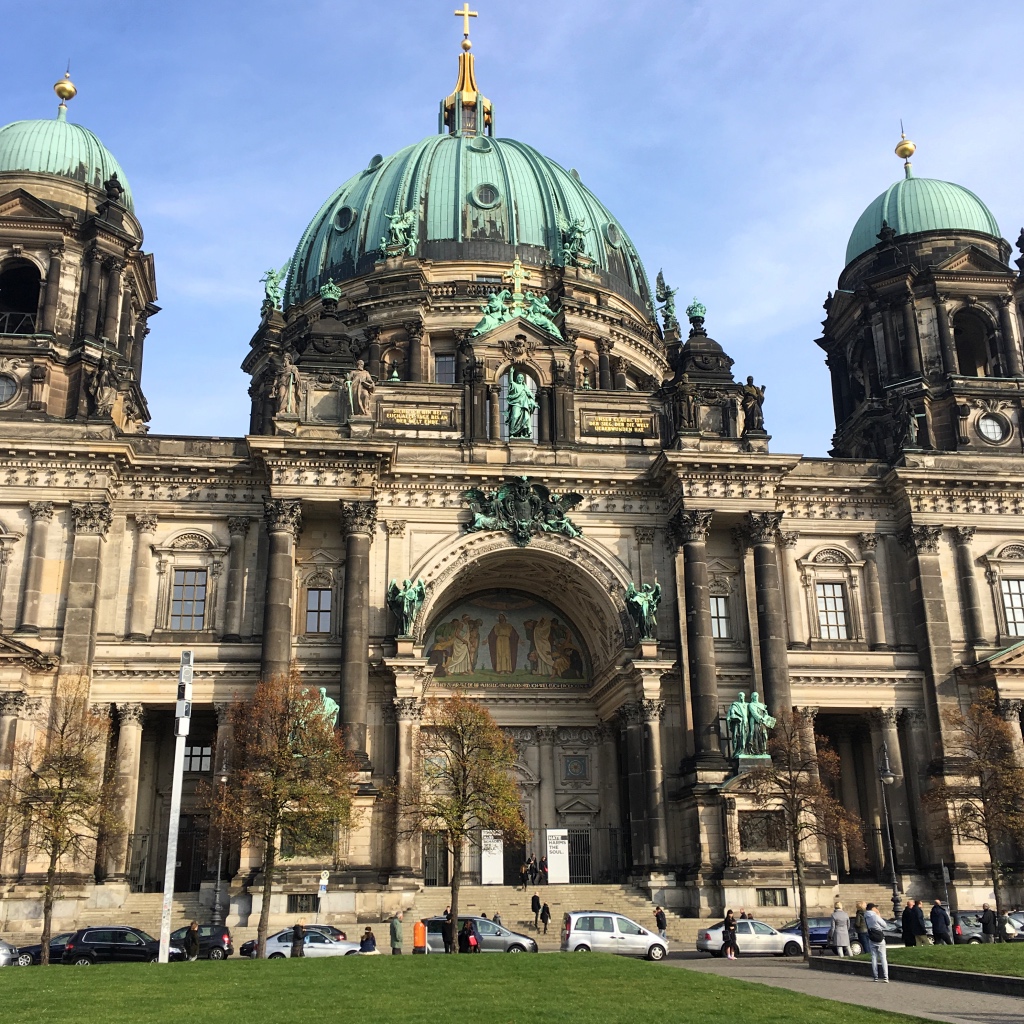 Walk along the East Side Gallery – parts of the Berlin Wall are still standing and this long expanse now serves as an art gallery. 118 artists were invited to paint murals along here. Many are full of political messages, some depicted in a humorous way and some more serious.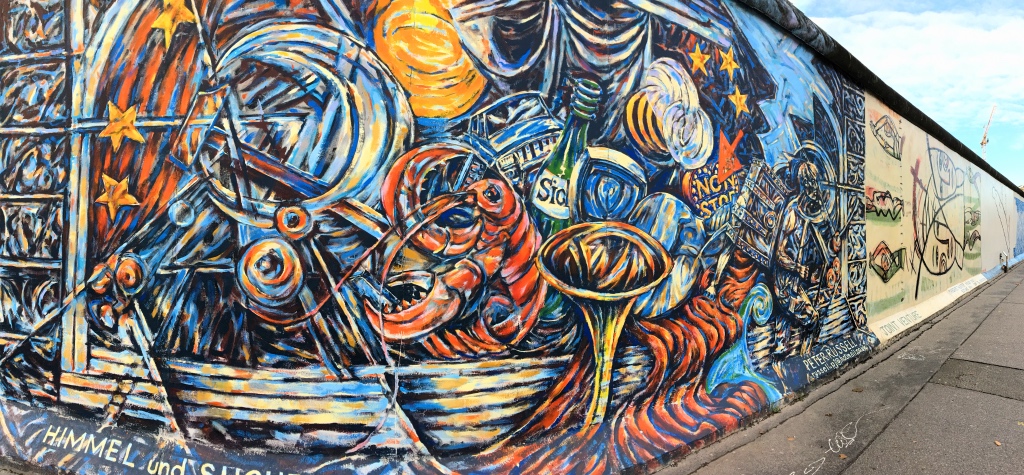 Walk up Unter Den Linden to Brandenburger Tor – by walking up Unter Den Linden from Berliner Dom, you go past some beautiful architecture such as the Humboldt Universitat and the Altes Museum. At the end you'll then come to Brandenburg Tor – it's worth visiting this both during the day, but also in the evening as it looks lovely when all lit up.
Take a walk around Treptower Park – as you may expect, there's a number of memorials around the city. The more popular one is at Tiergarten but I was recommended visiting here by a friend and it was a great recommendation. Located a bit further out of the city on the south east side, this park is strong in Soviet architecture, with large imposing structures – it's very different to anything we have in the UK, so definitely worth a visit.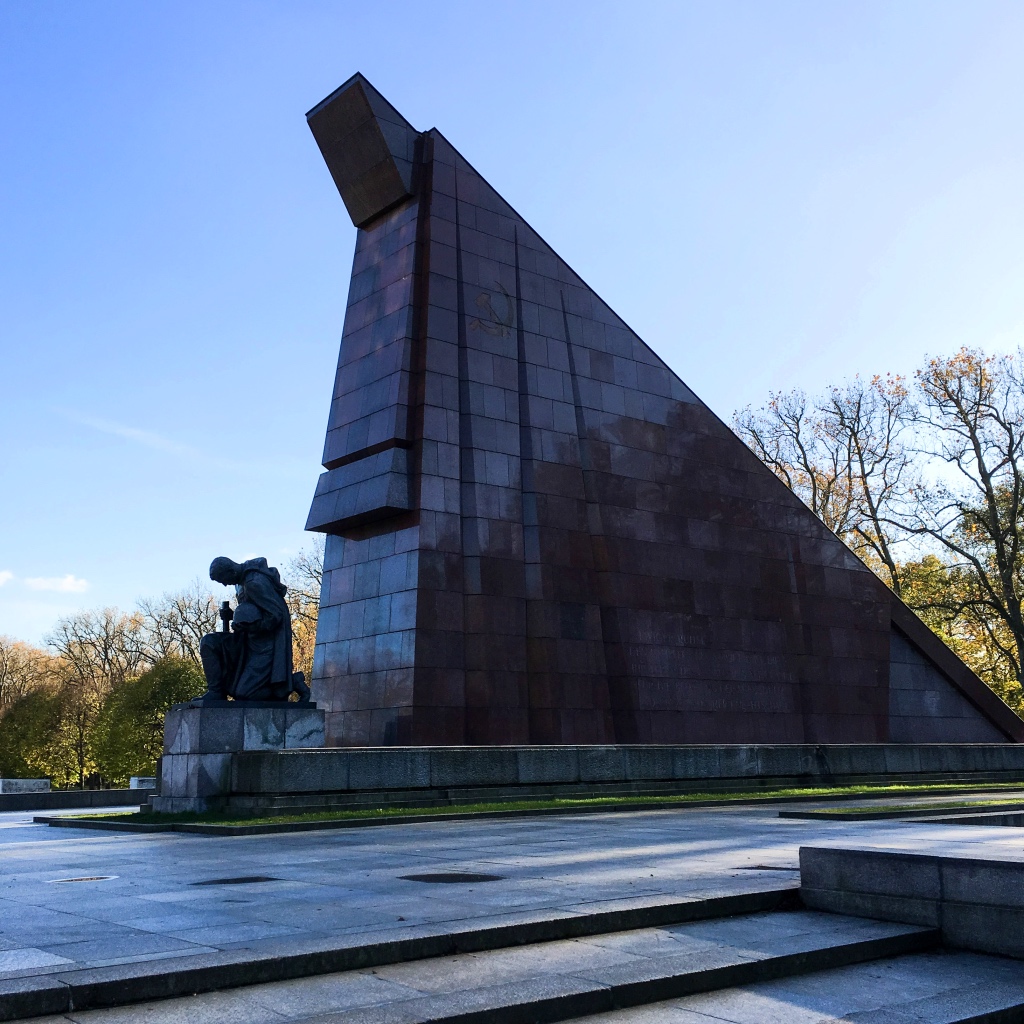 Stop by Propstrasse – this is a small area but I think it's one of the prettiest parts of Berlin. Hidden down by the river, its cobbled street, small church and pretty buildings make it completely different to the rest of the city. In the summer, I think it would be the perfect place to take a stroll and then have a nice cold drink at one of the places by the river.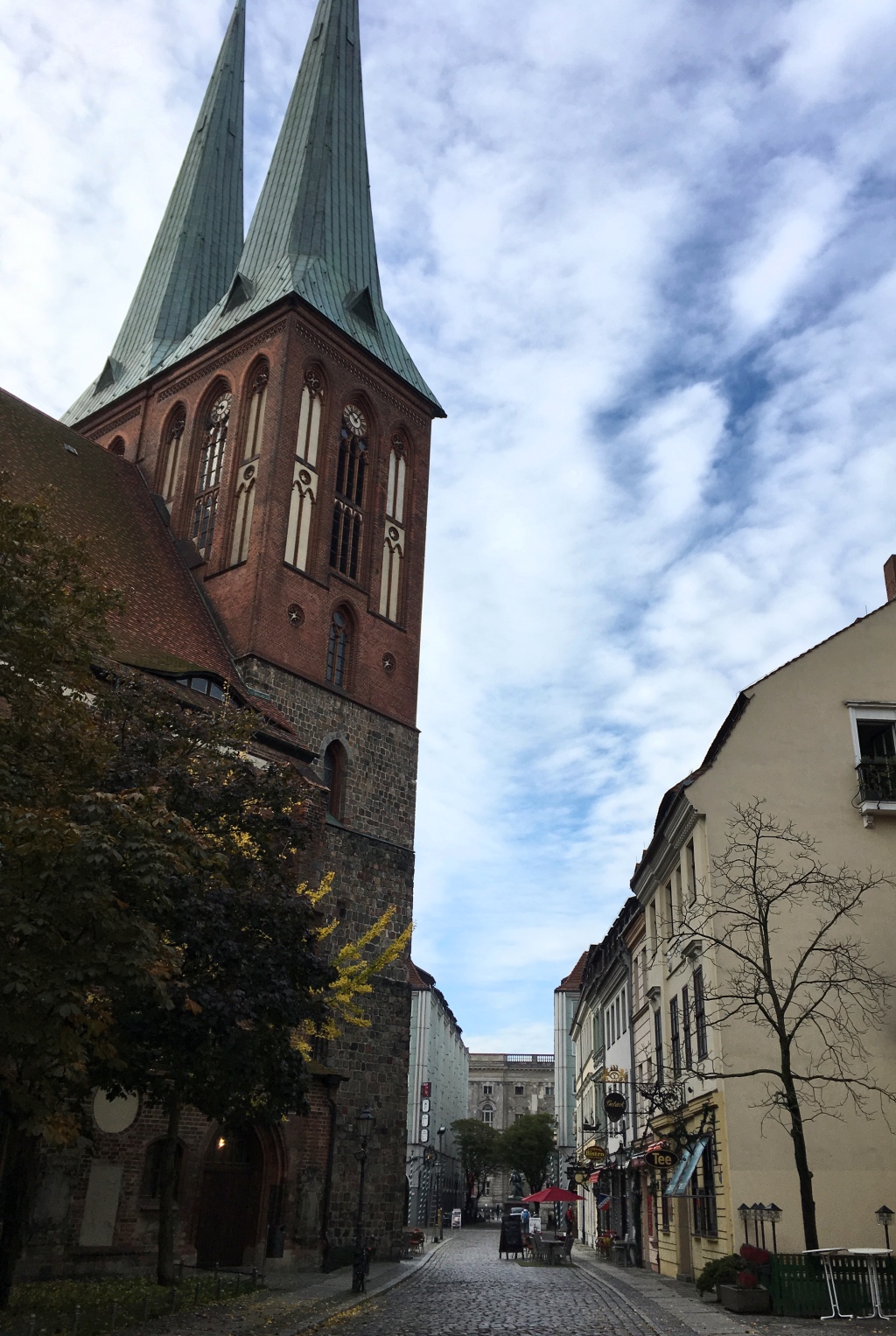 Visit a beer hall – yes, it's a bit cliched but our evening at Hofbrau was absolutely brilliant. There's a band, dancing on tables and jugs of wine/steins of beer. What's not to love?! We shared a table with a bunch of 50-somethings from Costa Rica and had the best time!
One thing that we weren't able to do (due to unforeseen circumstances) was to visit the dome at the Reichstag. You have to prebook to go inside this Parliamentary building but there is a glass dome which offers great views of Berlin. We had planned to go at dusk but received an email on the day of our visit to say that unfortunately they had had to cancel visits for that day due to a political event.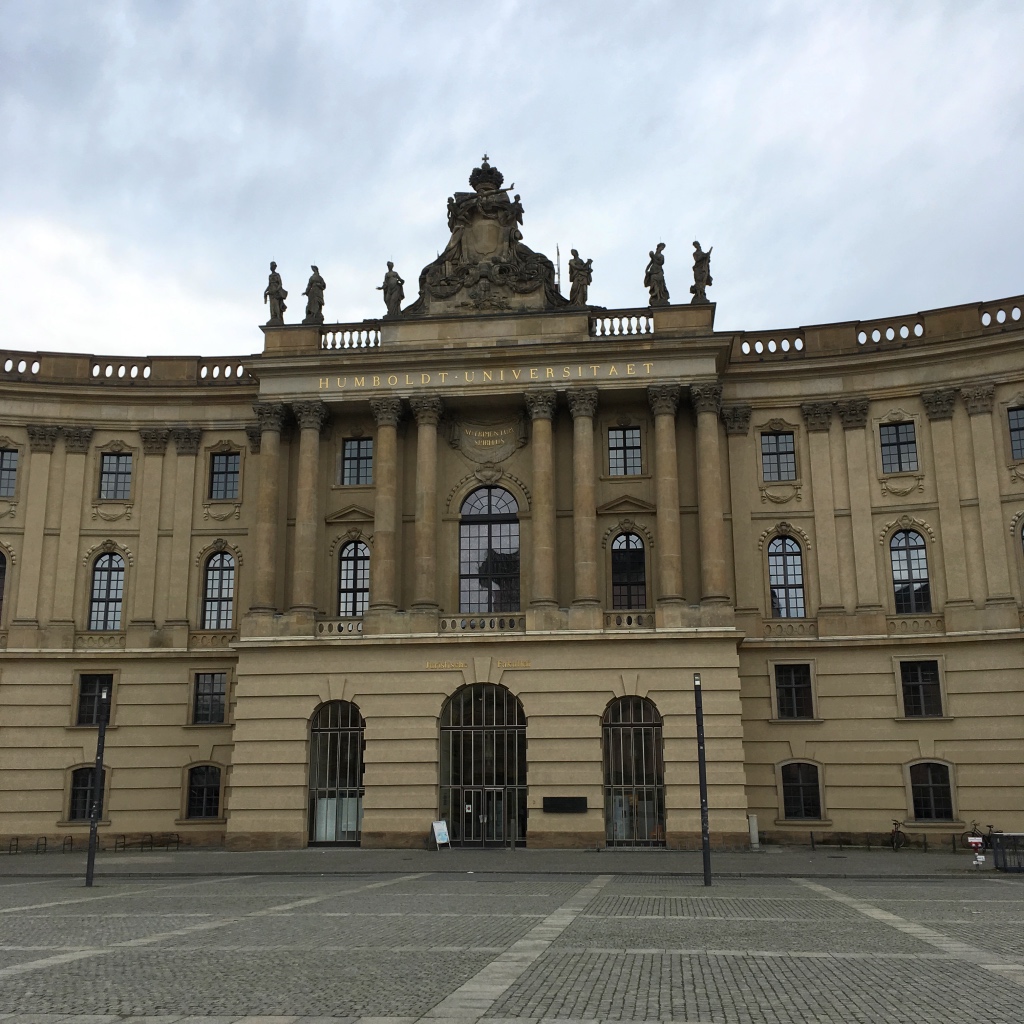 The Weather
We visited Berlin in early November and as you may expect, it was pretty cold (about 7 degrees) and a bit drizzly. However, for walking around and taking in the sights, it was fine. I would love to visit in the summer when you can take full advantage of the large areas outside by the river.
Overall
As I said, I didn't expect to like Berlin as much as i did. The people were lovely, the food was hearty and warming and there was SO much to see. I definitely want to return, I feel that there's a lot that we didn't do and it would be great to try and have more of a 'Berliner' experience rather than one of a tourist.
Have you been to Berlin? Any recommendations for a future trip?
Sammy x