So, that heatwave the other week rocked up out of no where, didn't it?! One week we had snow and then the next I was scrambling to find my summer wardrobe. Instead of my summer wardrobe, I found a distinct lack of work appropriate clothes. I find myself having to attend more formal meetings nowadays and so needed a few quick bits to help me get the look. Therefore a trip to New Look to find some affordable essentials was definitely in order…
Pink Stripe Tie Waist Culottes, £19.99
Black D-Ring Belted Waist Culottes, £17.99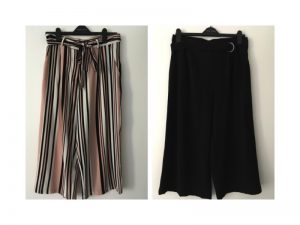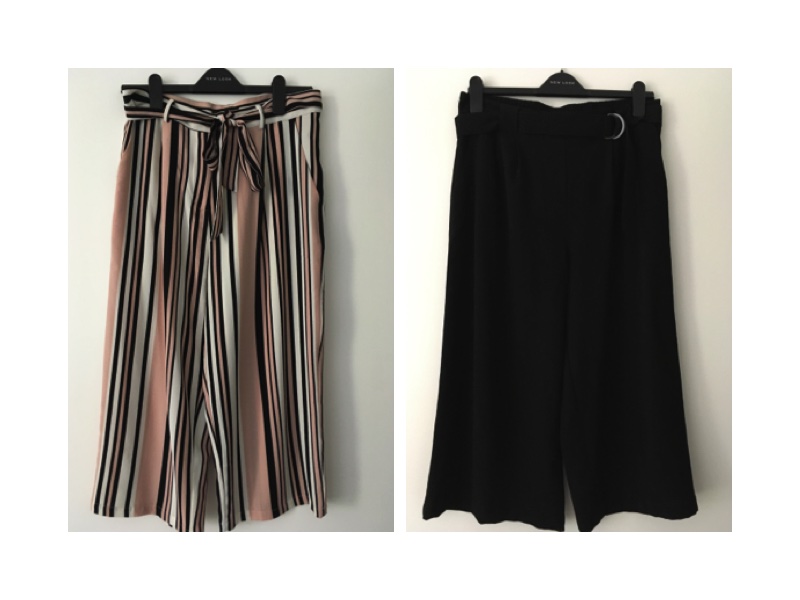 Culottes are my ultimate new fave. Well done 2016 for bringing these back in fashion! Super comfy and can make you look put together in no time. The more formal cut of both of these means that I can pop a vest top on with them and off I go to meeting central! They're also great as they're lightweight enough to keep you cool and you don't have worry about a gust of wind like you might have to with a skirt. In fact, I love them so much that I'm going to do a post on 3 Ways to Wear Culottes, so look out for that. Back to the matter at hand…
New Look have heaps of culottes and trousers for summer. This black pair are great for teaming with a blouse for a work look. On the smarter days they look good with a pair of shoes or sandals and on the more casual ones they look great paired with trainers.
The pink, white and black stripy ones got me heaps of compliments when I wore them to work. Slightly harder to pair with trainers but imagine they'd look good with a pair of Stan Smiths. They're slightly more fitted but that means that they look pretty tailored and sit well with a vest top tucked in.
Black Elasticated Waist Pleated Midi Skirt, £19.99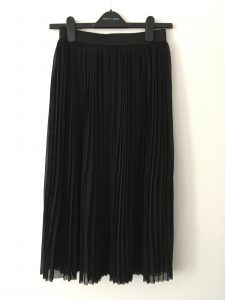 This black two layer skirt is another good purchase. It's super versatile and good when paired with a slightly baggy t-shirt. I think that this, a white t-shirt, my Addidas Gazelles and my denim jacket are going to be BFFs by the time the season is over!
Pointy Two Texture Pumps (no longer in stock, but similar here: Black Comfort Cut Out Ankle Strap Pumps and Wide Fit Black Suedette Pointed Ankle Strap Pumps)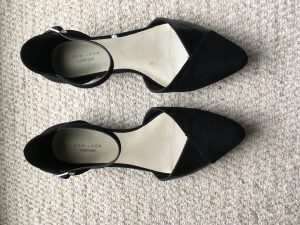 I'm going to get the bit that makes me sound like a grandma out of the way now….these are from the Comfort range and I love them. Wearing a pair of flats that you know your feet aren't hating you for is bliss! This shoes are pretty smart and work with all of the above. They're also good with a pair of jeans for the not so warm days which are surely just around the corner again!
What are your Spring/Summer wardrobe essentials? Are you a fan of the culotte trend?
Sammy x