Typically I've always bought my make-up from drugstores. Brands such as Max Factor and L'Oreal have always had a home in my make-up bag. But recently I've heard of Kiko Milano and after looking online, I decided to give it a go. It's reasonably priced (as you'll see below) and the packaging looks all fancy and smart – making for a much nicer looking make-up bag!
I bought four products – the Skin Evolution Foundation, the Flawless Fusion Bronzer Powder, the Deep Black Kajal and their Brush Cleanser. Before we get started, there are two things that I must confess in the interest of full disclosure:
I didn't plan to buy the Kajal eye pencil. The layout of the products in their Oxford Circus store is so confusing. I thought that I was getting the Deep Black Eye Marker, however it was only when I got home that I realised I'd bought this. Kiko, if you could kindly look at sorting this out, it would be ideal!
Secondly, I did something slightly silly….I accidentally threw out the Brush Cleanser before I'd even used it (insert monkey with hands over his eyes emoji here). I'd taken all of my photos with it and then popped it back in the packaging…..I then proceeded to chuck said packaging out. Oopsie. So you'll see some nice pics of the packaging, but sadly no review for this one! I'll need to go back and get some more so I can actually try using it.
Skin Evolution Foundation SPF10, 103 Natural Rose, £12.90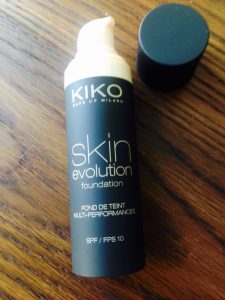 At first, I found the pump on this to be a little stiff, meaning that the foundation came out in little spurts. This was a bit annoying but after my third day of wearing it, it had sorted its self out and all is now okay.
Buying foundation is a pet hate of mine, and I'm sure that it is for most girls. Trying to find the right colour for your skin tone is an absolute nightmare. I had the boy with me and he categorically refused to help on the basis that he didn't want to be blamed for a poor recommendation! After some umming and ahhing, I chose the Natural Rose shade. Mistake! I now know that I should have gone for Light Rose 102. But oh well, let's get on to reviewing the product…
Despite this colour being a bit too orange for my skin, I've found that a small amount goes a long way. By using a stippling brush I've been able to get a light covering meaning that I don't end up looking like I've had a bad spray tan! Even though I only need a light coverage, it does a good job of evening out my skin tone and leaves it looking dewy. It has good staying power and whilst my make-up doesn't look like it's just been applied all day, it's definitely still there when I leave work in the evening and helps keep my bronzer in place.
Flawless Fusion Bronzer Powder, Almond 102, £12.90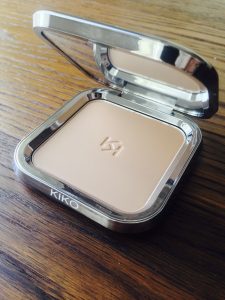 I hadn't always read the best reviews for the bronzer from Kiko, so I must say that I was pleasantly surprised by this. This colour, Almond, makes it look like I've caught a bit of sun, without being too full on. It's also worth noting that it's much browner in real life than in the photo. I was a little concerned by the texture as it seemed rather soft and chalky, unlike other bronzers which are much more powdery. However, there was no need for me to worry. If anything, it means that the bronzer does look a bit more natural once applied.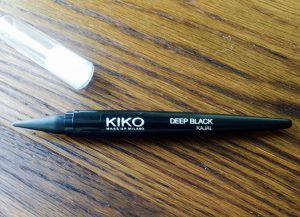 As already mentioned, this isn't at all what I was after, but I actually rather like it. I was after a liquid eyeliner, so this is quite different but a welcome change. The texture of it makes for a much softer look, which is much more suited for day-to-day use. It's not suitable really for doing flicks or anything fancy like that, but is great for lining your eyes for a low-key look. Apparently it doesn't need sharpening, so I am quite intrigued to see what happens as time progresses!
Kiko currently has a sale on their mascaras, where they'll all down to £3.90 each….very tempted to pop in there after work so that I can try one of those out (and buy a bottle of brush cleanser, obvs!). I think it's safe to say that I'm a Kiko Convert!
Have you tried anything from there? Any recommendations of products I should try?
Sammy x