You're broke from a lot of Christmas/NYE excess and you know that it's still FOREVER until payday. January crawls along until payday, which is inevitably 5 weeks since the last one and it just feels like the longest time. I feel that this statement is something that a lot of people can relate to. Luckily, last night we found a date night activity which was something a bit different, something which got us out of the house and made us explore more of London, something cultured and most importantly, something free! We decided to take the camera out and practice our night photography skills at Lumiere London.
Lumiere London is a short festival, this year it's running from the 18th – 21st January (yes, today is the last day). It takes place all over the city and is made up of loads of light and sound installations. They light up at 5.30pm and are on until 10.30pm.
We got the train into Waterloo and started our evening stroll from there. The train was packed and we had no idea why, but as we walked around, we found that it was likely full of people with the same plan as us. The Visit London app is the official app for the festival and has a map showing you all of the sights and gives you a bit more info on each installation too.
From Waterloo, we headed to Leake Street and to where The Vaults are found. I've never been down here, but it was really cool. There's heaps of street art, some random, some political and you have artists drawing more up as you wander down. Down here, we came across an installation called Ruby, Santiago and Adam. 3 large faces were projected onto the walls, each telling a different story. The videos were all very short, but kind of mesmerising.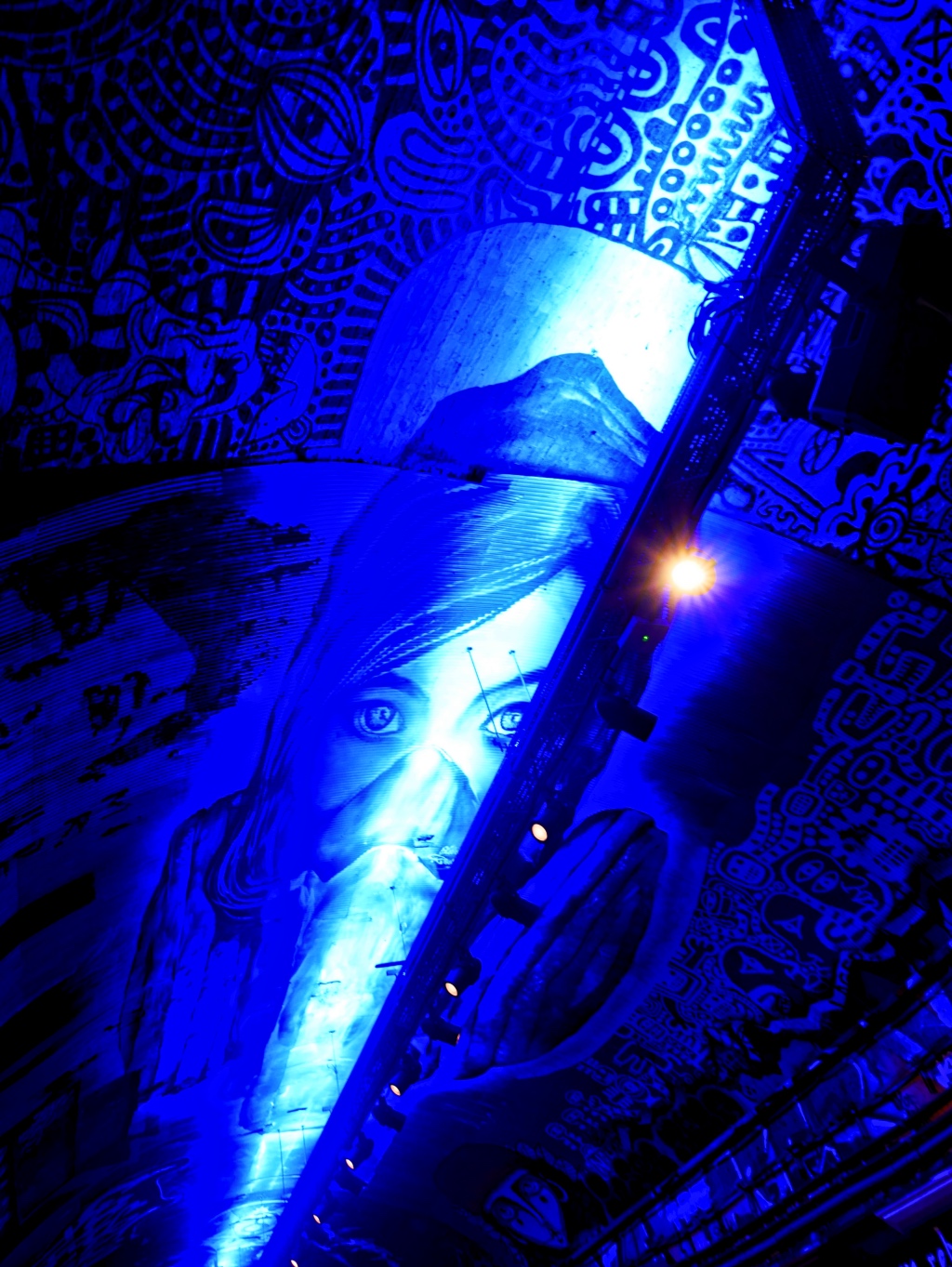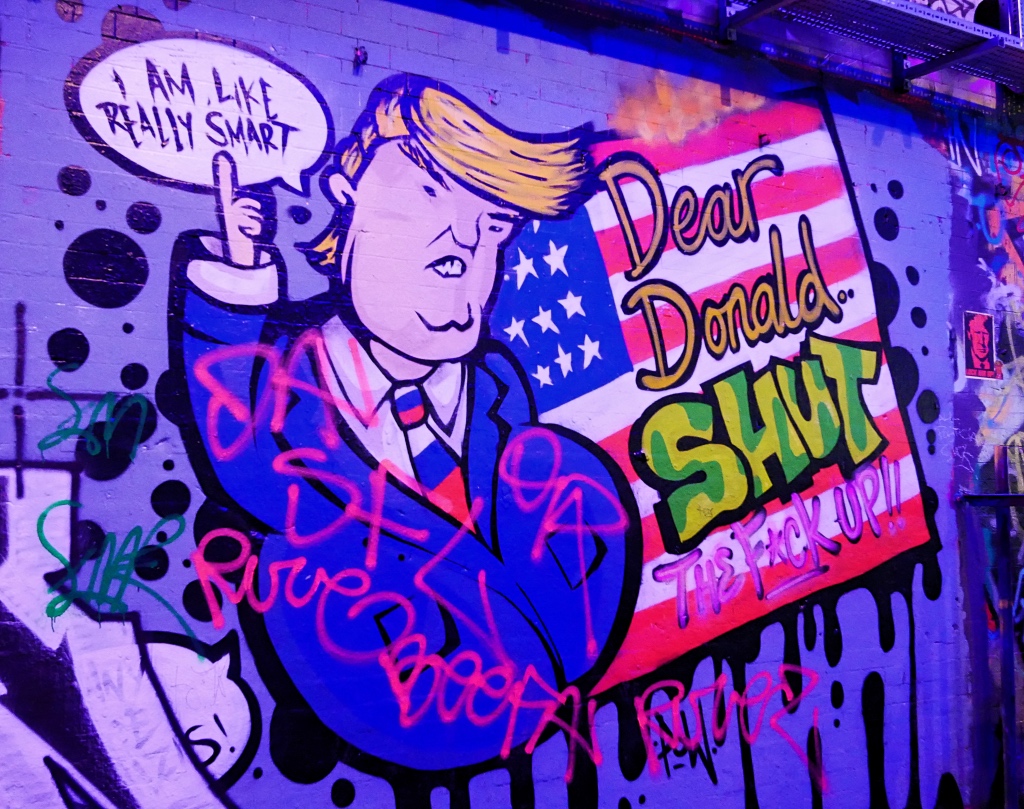 We then strolled down to the London Eye which had a special light show happening for the event, before crossing over the Golden Jubilee Bridge and walking up to Trafalgar Square. It was when we got to the Square that we realised the size of this festival. There were so many people trying to get a good glimpse of the installation that had taken over. Child Hood featured a huge number of balloons which were lit up in sequence along to music. They were secured by a cord which meant that they were able to move around in the wind and so it made it even more interesting to watch. According the app, the fact that the balloons could move added in an element of chaos. I'm not sure I agree with that, it was breezy, not gale force winds (!) but it definitely added to the effect.
The installation that I had really wanted to see was in Piccadilly so we took a walk up Haymarket and made our way along with the crowds. To allow people to see the installations, there are a lot of road closures and so getting to walk through Piccadilly without the fear of being run over meant that you could really take in the lights. Obviously, the huge advert board dominated the area, but then next to it was an installation called Voyage. This consisted of a huge journey (through space and time apparently) being projected on to a building. How they achieved this effect and the colours, imagery and music just made this amazing to watch.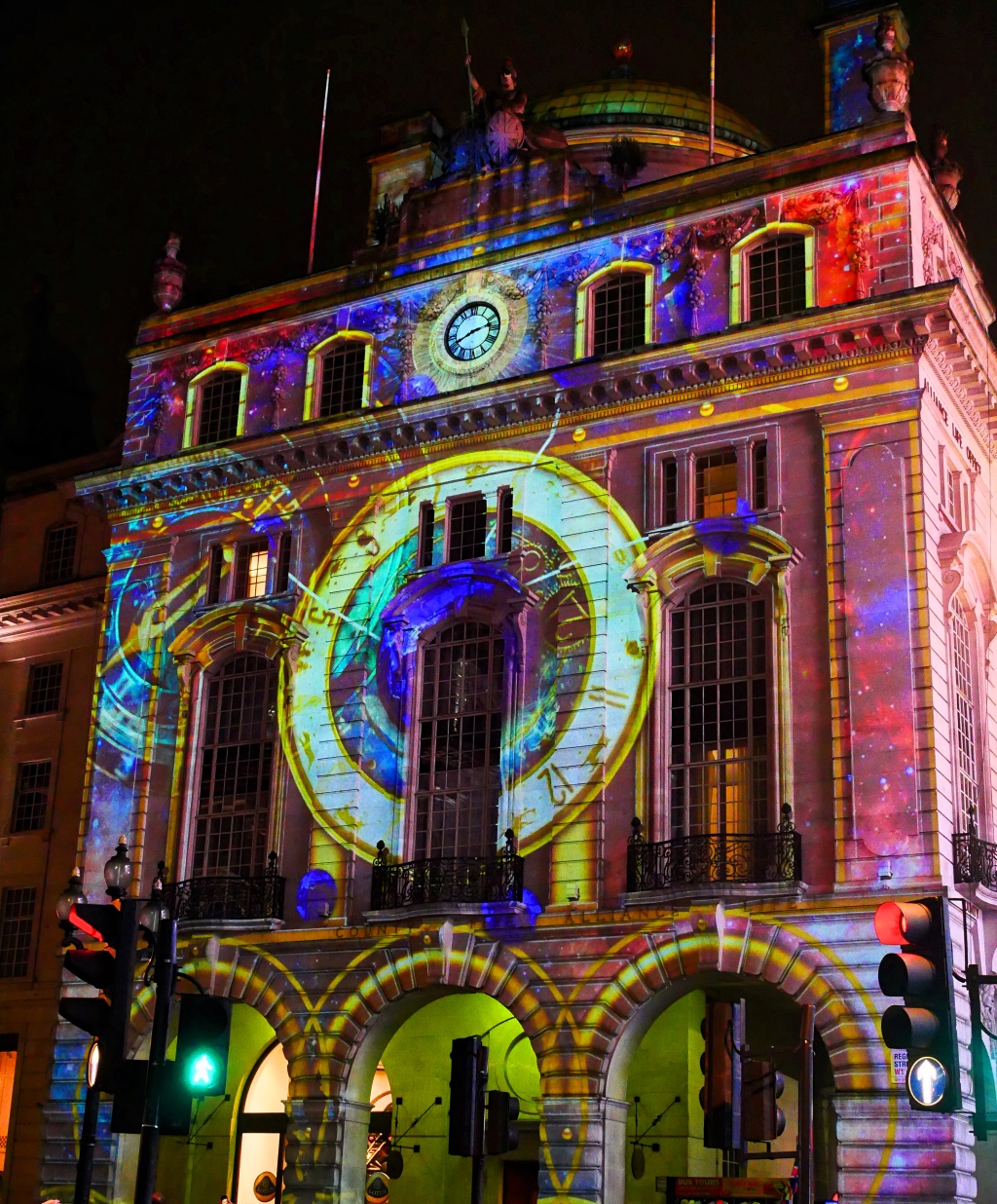 Lumiere London features large installations like the ones mentioned above, interspersed with smaller features too. We walked past some of these but because they are quite small and they still attract the crowds it does make it harder to see them. We made a point of walking past a few, but by this point we were starting to get pretty cold and so we headed to one last one. Spectral was a huge cord installation set up in St James's Square. The colours that they achieved were really vibrant and looked more like the effect that you get if you take a long exposure shot of a busy road.
If you have some spare time tonight and want to do something different without spending any of the precious pennies that are left in your bank account then I totally recommend wrapping up and taking a visit to Lumiere London. There are loads more installations in Kings Cross and Fitzrovia and so it's really easy to see some of the festival no matter where you are.