I totally meant to write this post sooner, but since coming back from Sweden, time has flown, so this post is going up later than expected. Better late than never though, right? Back in November, we decided to spend a few days in Sweden. First off we stayed in Gothenburg, you can read more about this here. We then got the comfiest train across to Stockholm.
I'm just going to take a moment and talk about the train, in the hope that the people at National Rail might take note. We pre-booked our train tickets and paid about £30 for the two of us to take the 3 hour train from Gothenburg to Stockholm. We had allocated seats which were so comfy with lots of leg room. There were tables, Wi-Fi and a well stocked cafe/bar. The journey flew by. Now, on to the good stuff…
Where we stayed
We stayed at the at the conveniently placed First Hotel Kungsbron – literally a stones throw from the train station. This was particularly welcomed when we arrived in Stockholm to heaps of snow and ice! The hotel staff were very friendly and there's a large bar/reception area, which is very cosy and great after a long day of exploring.
Despite paying for a standard room, we were so happy when we walked into our hotel room to find that we had been upgraded to a suite – I was genuinely speechless at the size of the bathroom! The bathroom was huge and featured a walk-in shower, jacuzzi bath and wait for it….an actual sauna. Mind. Blown. The rest of the room was also of really good size and we loved the little extras, like the bottle of wine and sweets on arrival and the Nespresso machine. Breakfast was of a similar standard that we soon came to associate with Scandinavia – a good continental spread including smoked salmon (of course) and then hot food too, including pancakes. Even without the upgrade, this hotel was definitely worth the money.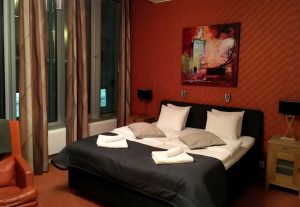 PS. Sorry for the bad pics, I was too excited and just took some awful iPhone ones in my excitement!
What we did
Being slightly concerned that we had just under 48 hours in Stockholm, we were keen to cram in as much as possible. Stockholm has lots of museums, but we weren't so interested in those – we were more interested in exploring and seeing as much of the city as possible….whilst trying not to slip over on the ice, or get hit by a falling icicle – that's a big risk apparently!
Marvelled at the architecture in Gamla Stan – the Old City of Gamla Stan is home to plenty of beautiful buildings and quaint streets. It's here that you'll find The Royal Palace and Storkyrkan (the cathedral).
Took to the water with a boat tour – not what we'd usually do, but as time was against us we opted for the Royal Canal tour. This 50 minute tour took us out past some of the further afield islands and allowed us to get some amazing views of Stockholm from the water.
Had a stroll around the grounds of the City Hall – this is one of the most impressive city halls I think I've ever seen! A huge red-brick building with beautiful views of the city.
Walked down by Norr Malarstrand – this walkway down by the water was one of my favourite parts of our trip. Being so close to the water and getting some beautiful views was a great start to our second morning.
Found gluten-free meatballs at Under Kastanjen – after doing some Googling, I finally found somewhere that sold GF meatballs (enter heart emoji)! This cute cafe/bakery in an even cuter part of Gamla Stan has a big emphasis on gluten-free. Not everything on the menu is gluten-free, they do have a separate GF bakery though so there is a good selection! I loved the GF meatballs though, super tasty and served with mashed potato. It was a good lunchtime portion size and I was so happy to be able to have meatballs whilst in Sweden!
Visited Djurgarden – this point is half-true…we walked up to the bright blue gates, stepped about 10 steps into the park and decided it was too icy. Such a shame as it would have been gorgeous to walk around – definitely one to do if we visit again though.
Saw the Changing of the Guards – this seems to be quite a big spectacle here and something which happens once a day (there's a book in the courtyard which tells you the time for that day). The ceremony is announced in Swedish and English and it's interesting to see how this varies between countries.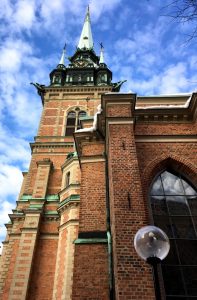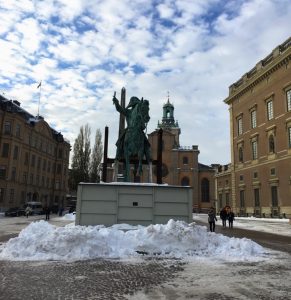 The weather
Whilst the snow did make adventuring a bit harder, it was so pretty that it didn't really matter! And let's be honest, it doesn't seem like we're going to be getting snow in the UK any time soon (sad face). We visited here in mid-November and it was about -1 to 1 degree most of the time. I think it was -6 at its coldest. However, as long as you're prepared and have good footwear, then you'll be okay!
Overall
Stockholm is much much bigger than I expected and I wish that we had had longer to explore. Taking the boat tour was a good idea as it meant that we got to see a lot more of the city. It is a bit pricy (not as bad as Oslo), but that just meant that we budgeted a bit more. It's an extremely pretty city with lots of water and greenery, I can imagine that it's beautiful in the spring time. I'd love to come back and visit, and undoubtedly see a completely different Stockholm.
Thanks for reading!
Sammy x